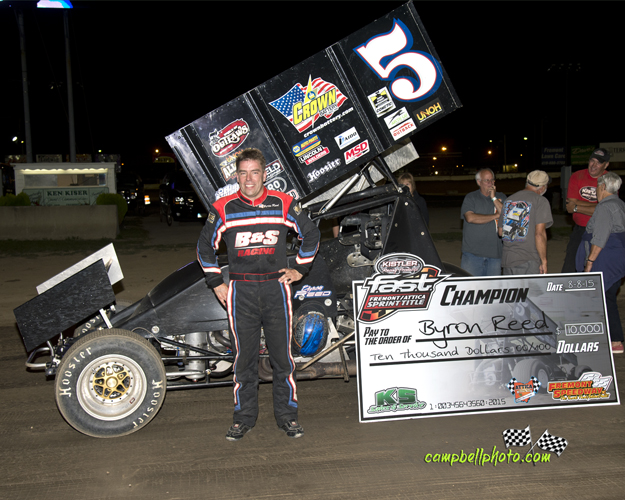 From Brian Liskai
Attica, OH — (August 21, 2015) — Byron Reed has had races taken from him on the last lap and has won races on the last lap. For Reed it was the later on Friday in dramatic fashion at Attica Raceway Park on NBC Toledo WNWO Channel 24 Night.
Chris Andrews seemed to have the race in hand as he and Reed raced to the checkers of the O'Reilly Auto Parts 410 Sprint feature. But, Tyler Gunn spun in turn four right in front of Andrews who had to check up and Reed scooted by on the bottom to collect his first win of the year at Attica.
For Reed, a six time track champion, it was his 31st career victory at Attica as he sits second on the track's all-time win list.
"Probably shouldn't have won. I started on the pole and that's nice. I'd rather start on the pole than the tail all the time. That's racing. He's taken some away from me so I got one back tonight. We've been as good as anyone during the races here all season. But we have struggled on the starts. Hopefully we've turned that around," said Reed beside his Crown Battery, Kistler Engines, Fremont Auto Parts backed #5.
In a caution plagued Summit Racing Equipment UMP Late Model feature, Wooster, Ohio's Doug Drown continued his phenomenal summer as he scored his seventh win of the year at Attica. Drown also has 8 wins at Wayne County Speedway and his victory Friday at Attica all but assures him the $1,500 Attica Wayne County Speedway Late Model Series title. The victory is the 13th of his career at Attica and moves him into a tie with Jon Henry for second on the track's all-time win list behind Rusty Schlenk.
"I actually gambled out there. Nobody has ever run a hard tire on the right front and I did tonight. I had my hands full and that's why I kept driving it off the race track because it wasn't gripping. I was nervous…probably the most nervous I've been. And then all those cautions when you have hard tires on…it's nerve racking," said Drown beside his Hall's Auto Sales, Malcuit Racing Engines, Nationwide Vehicle Protection, Wooster Glass, Kar Konnections backed #240.
"I made a mistake there in three and four. If I hadn't done that I was pulling away. That's what happens…when you make mistakes you'd better recover quickly. I'm very thankful and blessed that I've had this opportunity. It's been a rough year. We've had crew members come and go but we keep after it. A lot of people don't see the behind the scenes things. This is a team that keeps working hard. Hopefully when the big boys (Lucas Oil Late Model Series) we'll have something for them and represent Attica and the local guys well," added Drown.
In the Foster's Auto Body 305 Sprint feature it looked like rookie teenager Tyler Street was going to pick up his first sprint car win. But, Steve Rando utilized the track's extreme outside lane to drive into the lead with three laps to go and scored his first win of the year at Attica and the fourth of his career at the track. It's the second straight win for Rando who won last Saturday at Fremont Speedway.
"Last week at Fremont and tonight seems like we're on a roll. That's a good thing. We've went through three frames in the last three weeks so we've been pretty busy. But, it all paid off in the end. We haven't won here since last year," said Rando beside his Davis Fabricators, Westway Farms, North Coast Sealing, North Coast Asphalt, Attitudes Hair Salon, Thornbahn Woodworking backed #19R.
Kansas, Ohio's Eric Devanna has been close to a win all season in the Fremont Fence Dirt Trucks. It finally all came together for him Friday…but barely. Devanna held off a charging Brian Arnold to record his first career racing victory – by a front bumper.
"That was a long race for me. We had a lot of motor issues to start the season out. Thank you to Cory my teammate for introducing me to Dave Dickens and getting us a hell of a motor. I want to thank everyone on the truck for all their help," said Devanna beside his Hammer Farms, Crown Battery, Kear's Speed Shop, A&D Auto Parts and Repair, Blue Eagle Inn, Walsh Farms, Same day Signs backed machine.
In the 30 lap 410 sprint feature Reed and Caleb Griffith would bring the field to green with Reed gaining the upper hand over Griffith, Max Stambaugh, D.J. Foos, Andrews, Stuart Brubaker and T.J. Michael. Reed would pull away slightly over Griffith and Stambaugh with Foos, Andrews and Michael in a tremendous battle for fourth.
Rob Chaney would bring out the caution after three laps were scored. Two laps later Mark Coleman would spin for another yellow with the running order Reed, Griffith, Stambaugh, Andrews, Michael, Foos, Brubaker, Dean Jacobs, Nate Dussel and Tyler Gunn.
Andrews would drive into third on lap seven as both Stambaugh and Michael challenged. Foos would stop in turn four on lap 9 to bring out the final caution of the feature. On the restart Andrews would drive around Griffith into second and closed quickly on Reed. The two would race side by side over the next three laps before Andrews gained the slight advantage.
As the leaders raced into lapped traffic on lap 18, the running order was Andrews, Reed, Griffith, Brubaker, Stambaugh, Michael, Jacobs, Dussel, Gunn, Duane Zablocki and Parker Price Miller. Reed began to inch closer to Andrews as he was better using the high line in three and four and Andrews was better using the low line in turns one and two.
With seven laps to go Reed raced to Andrews outside for the lead with Griffith, Brubaker, Stambaugh, Michael and Jacobs in tow. Andrews went high in three and four a couple of laps to get around slower traffic and actually pulled away slightly from Reed.
After taking the white flag, Andrews and Reed raced nose to tail down the back stretch. Andrews went high to get around a lapped car and Reed went low. Gunn would spin right in front of Andrews who slowed to avoid hitting him and Reed drove by on the bottom to the checkers.
Behind Reed were Andrews, Griffith, Brubaker and Stambaugh.
Matt Irey and Drown would bring the field to green for the 25 lap late model feature but before a lap could be recorded a multi-car crash took place. When the green flew so did Drown but he could not build a lead as several cautions kept the competition close.
After a yellow with two laps in, Irey would drive into the lead but by lap four Drown was back in command over Irey, Mike Bores, Devin Shiels and Ryan Markham. Cautions on lap five and lap 7 kept Irey close with the race for third entertaining between Bores, Shiels and Markham.
A caution for one of the infield tractor tires being pushed on the track on lap 10 saw the running order Drown, Irey, Shiels, Bores, Markham, Larry Kingseed, Chris Keller and Ryan Missler. A spat of three cautions on lap 12 – one for a spin and the other two for crashes on restarts – would keep the field close. When the green flew Irey again challenged Drown as Markham moved into third with Shiels, Keller and Missler staying close.
Shiels would drive into second on lap 15 as Drown pulled away. Shiels, Irey and Markham waged a tremendous battle for second over the next hand full of laps before Josh Haynes brought out the final yellow with seven laps to go. On the restart Markham would drive into second but Drown pulled away slightly.
As the laps ticked off, Markham gained on Drown and when they took the white flag Markham raced to Drown's inside. It was a drag race off turn four to the checkers and Drown scored the win over Markham, Shiels, Irey and Keller.
In the 25 lap 305 sprint feature John Ivy and Tyler Street would pace the field but before a lap could be scored Kyle Peters would win. On the ensuing restart Ivy would gain the upper hand over Street with Rando charging from sixth to third while Bobby Clark and Dustin Dinan gave chase.
After two laps were scored the caution flew for a multi-car incident with the running order Ivy, Rando, Street, Clark, Dinan and Dan McCarron. When the green reappeared Ivy would lead while Street drove under Rando for second. Street would then challenge Ivy for the lead as the two raced side by side over the next four laps before Street would take the lead on lap eight.
Just as Street was going to have to figure out what to do with lapped cars racing in his bottom groove the caution would fly for a Kyle Capodice spin on lap 11. On the restart Paul Weaver would stop for another caution. With a clear track, Street would pull away when the green flew again as Ivy and Rando battled for second. Rando would take the runner-up spot on lap 14 and began to eat away at Street's lead.
With five laps to go Dustin Stroup would spin and that would put Rando right on Street's rear bumper. When the green flew Rando charged to Street's outside. The pair raced wing to wing over the next two laps before Rando would blast off turn four to grab the top spot on lap 23.
Rando would pull away for the victory with Bobby Clark edging Street for second at the checkers while Ivy and Jordan Ryan rounded out the top five.
Devanna and Keith Sorg battled for the lead early in the 15-lap dirt truck feature with Sorg holding the lead the first two laps before the caution flew for Randy Ryan, Brad Keckler and Norm Van Ness. On the restart Sorg and Devanna picked right back up on their battle with Dustin Keegan, Brian Arnold and Matt Foos in tow.
Devanna would take the lead on lap five just before the caution flew for Foos who coasted to a stop in turn one. When the green flew Devanna would pull away from Sorg with Keegan and Arnold locked in a battle for third.
With two laps to go the truck on the move was Arnold as he took second. As Devanna took the white flag Arnold was glued to his rear bumper. The pair drove side by side into turns three and four and it was a drag race to the checkers with Devanna literally winning by a front bumper over Arnold, Sorg, Curt Inks and Keegan.
Attica Raceway Park will be back in action on Friday, Aug. 28 as Ohio Logistics and Kistler Racing Products Presents the Mark Keegan Classic Season Championship Night. Double points are on the line to determine who wears the coveted Attica Raceway Park crowns for all four divisions.
For more information go to www.atticaracewaypark.com
Attica Raceway Park
WNWO NBC Channel 24 Night
Friday, Aug. 21, 2015
Starting position [*]
O'Reilly Auto Parts 410 Sprints (18 cars)
Nitro Black Performance by Engine Pro Heat 1 – (8 Laps, top 9 to A)
1. 5R-Byron Reed[5] ; 2. 19-Chris Andrews[9] ; 3. 9x-Rob Chaney[2] ; 4. 8M-TJ Michael[4] ; 5. 60-Jody Keegan[3] ; 6. 83X-Nate Reeser[8] ; 7. 68G-Tyler Gunn[7] ; 8. 9P-Parker Price-Miller[6] ; 9. 53-Cap Henry[1]
Summit Racing Equipment Heat 2 – (8 Laps, top 9 to A)
1. 16-Stuart Brubaker[2] ; 2. 33M-Caleb Griffith[4] ; 3. 6M-Max Stambaugh[1] ; 4. 21-DJ Foos[7] ; 5. 9Z-Duane Zablocki[3] ; 6. 97-Dean Jacobs[9] ; 7. 40DD-Nate Dussel[5] ; 8. 9-Jimmy Colvin[8] ; 9. 37-Mark Coleman[6]
A-Main 1 – (30 Laps)
1. 5R-Byron Reed[1] ; 2. 19-Chris Andrews[3] ; 3. 33M-Caleb Griffith[2] ; 4. 16-Stuart Brubaker[8] ; 5. 6M-Max Stambaugh[5] ; 6. 8M-TJ Michael[6] ; 7. 97-Dean Jacobs[12] ; 8. 40DD-Nate Dussel[14] ; 9. 9Z-Duane Zablocki[10] ; 10. 9P-Parker Price-Miller[15] ; 11. 21-DJ Foos[4] ; 12. 9-Jimmy Colvin[16] ; 13. 68G-Tyler Gunn[13] ; 14. 37-Mark Coleman[18] ; 15. 83X-Nate Reeser[11] ; 16. 60-Jody Keegan[9] ; 17. 9x-Rob Chaney[7]
Hard Charger: Nate Dussel +6
Foster's Auto Body 305 Sprints (27 cars)
Nitro Black Performance by Engine Pro Heat 1 – (8 Laps, top 5 to A)
1. 5R-Jordan Ryan[1] ; 2. 77I-John Ivy[3] ; 3. 3J-Trey Jacobs[2] ; 4. 22M-Dan McCarron[9] ; 5. 4T-James Taddeo[7] ; 6. 24-Alex Paden[4] ; 7. 8J-AJ Sleek[8] ; 8. 42-Kevin Shirey[6] ; 9. 32H-Dan Hennig[5]
Summit Racing Equipment Heat 2 – (8 Laps, top 5 to A)
1. 19R-Steve Rando[3] ; 2. 8-Bobby Clark[2] ; 3. 1X-Dustin Dinan[6] ; 4. 11G-Luke Griffith[8] ; 5. 39-Jamie Miller[9] ; 6. 97-Kyle Peters[4] ; 7. 87-Brian Gibbs[1] ; 8. 9R-Dustin Rall[7] ; 9. 75-Jerry Dahms[5]
Ultra Shield Race Products Heat 3 – (8 Laps, top 5 to A)
1. 2-Ricky Peterson[2] ; 2. 4*-Tyler Street[6] ; 3. 1W-Paul Weaver[8] ; 4. 12-Kyle Capodice[5] ; 5. 10X-Dustin Stroup[9] ; 6. 2L-Landon LaLonde[1] ; 7. 7S-Thomas Schinderle[4] ; 8. 36-Seth Schneider[7] ; 9. 18-Frank Neill[3]
Computer Man B-Main 1 – (10 Laps, top 5 to A)
1. 24-Alex Paden[1] ; 2. 7S-Thomas Schinderle[6] ; 3. 97-Kyle Peters[2] ; 4. 36-Seth Schneider[9] ; 5. 18-Frank Neill[12] ; 6. 87-Brian Gibbs[5] ; 7. 9R-Dustin Rall[8] ; 8. 75-Jerry Dahms[11] ; 9. 42-Kevin Shirey[7] ; 10. 2L-Landon LaLonde[3] ; 11. 32H-Dan Hennig[10] ; 12. 8J-AJ Sleek[4]
A-Main 1 – (25 Laps)
1. 19R-Steve Rando[6] ; 2. 8-Bobby Clark[3] ; 3. 4*-Tyler Street[2] ; 4. 77I-John Ivy[1] ; 5. 5R-Jordan Ryan[7] ; 6. 39-Jamie Miller[14] ; 7. 22M-Dan McCarron[4] ; 8. 7S-Thomas Schinderle[17] ; 9. 3J-Trey Jacobs[11] ; 10. 2-Ricky Peterson[10] ; 11. 36-Seth Schneider[19] ; 12. 24-Alex Paden[16] ; 13. 12-Kyle Capodice[9] ; 14. 11G-Luke Griffith[5] ; 15. 18-Frank Neill[20] ; 16. 1X-Dustin Dinan[8] ; 17. 4T-James Taddeo[13] ; 18. 97-Kyle Peters[18] ; 19. 10X-Dustin Stroup[15] ; 20. 1W-Paul Weaver[12]
Hard Charger: Thomas Schinderle +9
Summit Racing Equipment UMP Late Models (22 cars)
Qualifying
1.240-Doug Drown, 14.625; 2.50Y-Ryan Missler, 15.041; 3.00-Chris Keller, 15.088; 4.00G-BJ Gregory, 15.147; 5.5M-Ryan Markham, 15.163; 6.15B-Mike Bores, 15.274; 7.21-Larry Kingseed, 15.288; 8.71I-Matt Irey, 15.300; 9.51-Devin Shiels, 15.307; 10.2*-Kyle Moore, 15.316; 11.9C-Troy Cattarene, 15.432; 12.59-Larry Bellman, 15.435; 13.92-Cody Scott, 15.572; 14.27L-Lauren Longbrake, 15.611; 15.03-Jim Gingery, 15.690; 16.27-Ken Hahn, 15.741; 17.30-Nate Potts, 15.806; 18.5J-Josh Haynes, 15.842; 19.1-Ben Mott, 15.847; 20.69R-Doug Baird, 16.989; 21.12-Kent Brewer, 17.238; 22.6-Graeme Short, 17.574;
Nitro Black Performance by Engine Pro Heat 1, Group A – (8 Laps, top 8 to A)
1. 21-Larry Kingseed[3] ; 2. 2*-Kyle Moore[2] ; 3. 1-Ben Mott[7] ; 4. 59-Larry Bellman[5] ; 5. 27L-Lauren Longbrake[6] ; 6. 50Y-Ryan Missler[4] ; 7. 9C-Troy Cattarene[1] ; 8. 6-Graeme Short[8]
Summit Racing Equipment Heat 2, Group B – (8 Laps, top 7 to A)
1. 71I-Matt Irey[2] ; 2. 15B-Mike Bores[3] ; 3. 27-Ken Hahn[5] ; 4. 00G-BJ Gregory[4] ; 5. 30-Nate Potts[6] ; 6. 03-Jim Gingery[1] ; 7. 12-Kent Brewer[7]
Ultra Shield Race Products Heat 3, Group C – (8 Laps, top 7 to A)
1. 5M-Ryan Markham[2] ; 2. 51-Devin Shiels[1] ; 3. 240-Doug Drown[4] ; 4. 00-Chris Keller[3] ; 5. 5J-Josh Haynes[6] ; 6. 92-Cody Scott[5] ; 7. 69R-Doug Baird[7]
A-Main 1 – (25 Laps)
1. 240-Doug Drown[2] ; 2. 5M-Ryan Markham[6] ; 3. 51-Devin Shiels[3] ; 4. 71I-Matt Irey[1] ; 5. 00-Chris Keller[12] ; 6. 50Y-Ryan Missler[16] ; 7. 21-Larry Kingseed[8] ; 8. 92-Cody Scott[18] ; 9. 00G-BJ Gregory[11] ; 10. 27L-Lauren Longbrake[13] ; 11. 03-Jim Gingery[17] ; 12. 12-Kent Brewer[20] ; 13. 69R-Doug Baird[21] ; 14. 5J-Josh Haynes[15] ; 15. 15B-Mike Bores[7] ; 16. 27-Ken Hahn[5] ; 17. 30-Nate Potts[14] ; 18. 1-Ben Mott[9] ; 19. 59-Larry Bellman[10] ; 20. 6-Graeme Short[22] ; 21. 2*-Kyle Moore[4]
Hard Charger: Ryan Missler +10
Fremont Fence Dirt Trucks (12 trucks)
Nitro Black Performance by Engine Pro Heat 1 – (8 Laps, top 6 to A)
1. 2-Matt Foos[1] ; 2. 17X-Dustin Keegan[2] ; 3. P51-Brad Keckler[3] ; 4. 33-Brian Arnold[5] ; 5. 9-Curt Inks[4] ; 6. 16-Brandon Leighton[6]
Summit Racing Equipment Heat 2 – (8 Laps, top 6 to A)
1. 37-Eric Devanna[2] ; 2. 4S-Keith Sorg[1] ; 3. 7F-Dana Frey[4] ; 4. 88-Norm VanNess[3] ; 5. 13-Len Benyak[5] ; 6. 25-Randy Ryan[6]
A-Main 1 – (15 Laps)
1. 37-Eric Devanna[1] ; 2. 33-Brian Arnold[7] ; 3. 4S-Keith Sorg[2] ; 4. 9-Curt Inks[9] ; 5. 17X-Dustin Keegan[6] ; 6. 16-Brandon Leighton[11] ; 7. P51-Brad Keckler[3] ; 8. 13-Len Benyak[10] ; 9. 25-Randy Ryan[12] ; 10. 2-Matt Foos[4] ; 11. 88-Norm VanNess[8]
Hard Charger: Brian Arnold +5