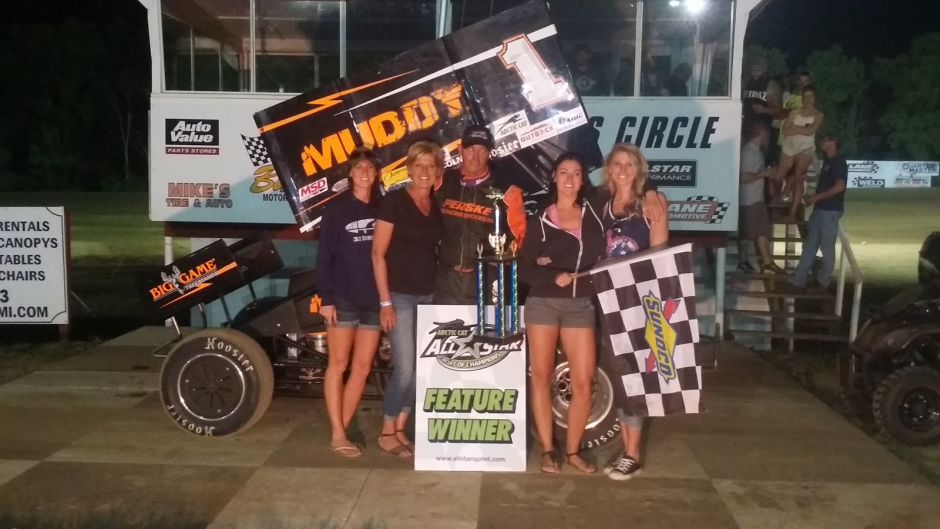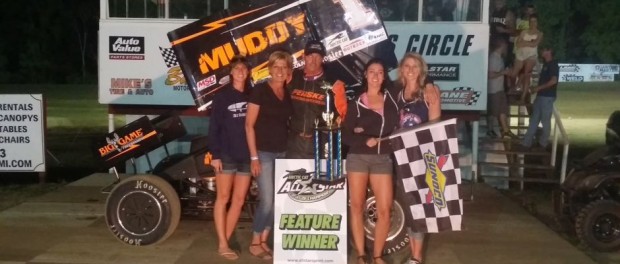 From Tyler Altmeyer
Quincy, MI — (June 11, 2016) — For the fourth time in 2016, the "Low Rider" Dale Blaney earned a trip to Arctic Cat All Star Circuit of Champions victory lane, this time at the Butler "Battlegrounds" Speedway in Quincy, Michigan on Saturday night, June 11.
After starting from the pole position, Blaney led the entire distance, surviving two green-white-checkered restarts and a late race takeover attempt by Sheldon Haudenschild to clinch the $5,000 winner's share. The victory was Blaney's fifth during Arctic Cat All Star Circuit of Champions competition at Butler Speedway, raising his Arctic Cat All Star career win total to a staggering 131.
"It never gets old standing up here. I owe it all to this race team," said Dale Blaney, driver of the Big Game Treestands/GoMuddy.com/CH Motorsports/No. 1. "I put myself in a good position all night with my qualifying time. The track was a little tricky at times, so having the opportunity to start up front really worked in our favor. We'll take this one and move forward. Hopefully we can keep things going in the right direction Friday when we start speedweek."
Sheldon Haudenschild, who started third on the feature grid, made an aggressive attempt to take over the top spot during the first of two green-white-checkered restarts on lap 24, but would fail to succeed. The Wooster, Ohio, native slipped over the edge of the racing groove, ultimately bringing out the caution. The next green-white-checkered attempt would go according to plan with Blaney taking the double checkers over fellow front row starter Kraig Kinser, followed by a fourth starting Chad Kemenah.
"I had a feeling somebody was going to attempt to slide hard under me if I left room," explained Dale Blaney. "I didn't get a real good restart off of four during that first green-white-checkered restart. I saw Sheldon get below me going into one, so I knew I had to drive back down underneath him and hope to get a little bit of bite. He kinda got up too high and opened the door back up for me. Regardless, it was a pretty exciting finish. I think we have something really positive going with this team just in time for Ohio Sprint Speedweek."
Arctic Cat All Star Circuit of Champions competitors will continue their 2016 campaign on Friday night, June 17, at Attica Raceway Park in Attica, Ohio. The opening night of Ohio Sprint Speedweek presented by Cometic Gasket will headline action at the Attica highbanks, the first of eight race nights at eight different Ohio ovals, all over the course of nine days.
In addition to Attica Raceway Park, Ohio Sprint Speedweek presented by Cometic Gasket will feature Arctic Cat All Star Circuit of Champions competition at Waynesfield Raceway Park, Millstream Speedway, Wayne County Speedway, Sharon Speedway, Atomic Speedway, Limaland Motorsports Park and Eldora Speedway. The speedweek finale at the World's Greatest Dirt Track in Rossburg, Ohio, will award $10,000.
Attica Raceway Park will open gates at 4:00 pm on Friday night, June 17. Racing is scheduled to hit the speedway at 7:45, sharp. Those seeking additional information should visit Attica Raceway Park live on the Web at www.atticaracewaypark.com.
Contingency Awards/Results – Butler Speedway – Saturday, June 11, 2016
EMi Driver's Meeting: 25 Entries
State Water Heaters Warm-Ups: Dale Blaney – 13.078 seconds
Lincoln Electric Fast Qualifier: Caleb Helms – 12.756 seconds
Kistler Racing Products Heat #1: T.J. Michael
All Pro Aluminum Cylinder Heads Heat #2: Danny Holtgraver
Hunt Brothers Pizza Heat #3: Cap Henry
JE Pistons Dash: Dale Blaney
Daido Engine Bearings Main Event Winner: Dale Blaney
MSD Performance Hard Charger Award: Lee Jacobs
Outback Steakhouse A-Main 5th Place Finisher: Caleb Helms
Outback Steakhouse A-Main 10th Place Finisher: Kyle Locke (11th)
Outback Steakhouse A-Main 15th Place Finisher: Andrew Palker
(Lincoln Electric, Daido Engine Bearings, MSD Performance, Outback Steakhouse; Need decal to qualify for contingency award)
Qualifying
1.40-Caleb Helms, 12.756; 2.93-Sheldon Haudenschild, 12.761; 3.1-Dale Blaney, 12.789; 4.70-Danny Holtgraver, 12.831; 5.10H-Chad Kemenah, 13.065; 6.5QB-Quentin Blonde, 13.170; 7.25M-Ken Mackey, 13.478; 8.11R-Chase Ridenour, 13.479; 9.60-Kory Crabtree, 13.540; 10.7C-Caleb Armstrong, 13.557; 11.11K-Kraig Kinser, 13.583; 12.21-Cap Henry, 13.680; 13.8M-TJ Michael, 13.737; 14.81-Lee Jacobs, 13.777; 15.19-Joe Kubiniec, 13.786; 16.27-Shelby Bilton, 13.912; 17.51-Roger Campbell, 13.970; 18.27K-Ben Rutan, 14.031; 19.3-Kyle Locke, 14.189; 20.20A-Andy Chehowski, 14.194; 21.95-Hunter Mackison, 14.372; 22.57X-Andrew Palker, 14.545; 23.49H-Bradley Howard, 14.697; 24.12-Mikel Baker, 14.699; 25.1080-Jordan Mackison, 17.410;
Heat 1, Group A – (8 Laps)
1. 8M-TJ Michael[1] ; 2. 60-Kory Crabtree[2] ; 3. 5QB-Quentin Blonde[3] ; 4. 19-Joe Kubiniec[5] ; 5. 20A-Andy Chehowski[6] ; 6. 40-Caleb Helms[4] ; 7. 49H-Bradley Howard[8] ; 8. 57X-Andrew Palker[7] ; 9. 1080-Jordan Mackison[9]
Heat 2, Group B – (8 Laps)
1. 70-Danny Holtgraver[2] ; 2. 10H-Chad Kemenah[1] ; 3. 93-Sheldon Haudenschild[4] ; 4. 1-Dale Blaney[3] ; 5. 27-Shelby Bilton[6] ; 6. 11R-Chase Ridenour[5] ; 7. 51-Roger Campbell[7] ; 8. 27K-Ben Rutan[8]
Heat 3, Group C – (8 Laps)
1. 21-Cap Henry[1] ; 2. 11K-Kraig Kinser[2] ; 3. 25M-Ken Mackey[4] ; 4. 7C-Caleb Armstrong[3] ; 5. 81-Lee Jacobs[5] ; 6. 3-Kyle Locke[6] ; 7. 12-Mikel Baker[8] ; 8. 95-Hunter Mackison[7]
Dash 1 – (6 Laps)
1. 1-Dale Blaney[1] ; 2. 11K-Kraig Kinser[2] ; 3. 93-Sheldon Haudenschild[4] ; 4. 10H-Chad Kemenah[6] ; 5. 5QB-Quentin Blonde[3] ; 6. 70-Danny Holtgraver[7] ; 7. 60-Kory Crabtree[5] ; 8. 40-Caleb Helms[8]
B-Main 1 – (8 Laps)
1. 51-Roger Campbell[1] ; 2. 57X-Andrew Palker[4] ; 3. 27K-Ben Rutan[2] ; 4. 95-Hunter Mackison[3] ; 5. 49H-Bradley Howard[5] ; 6. 1080-Jordan Mackison[7] ; 7. 12-Mikel Baker[6]
A-Main 1 – (30 Laps)
1. 1-Dale Blaney[1] ; 2. 11K-Kraig Kinser[2] ; 3. 10H-Chad Kemenah[4] ; 4. 70-Danny Holtgraver[6] ; 5. 40-Caleb Helms[8] ; 6. 8M-TJ Michael[10] ; 7. 81-Lee Jacobs[16] ; 8. 25M-Ken Mackey[11] ; 9. 60-Kory Crabtree[7] ; 10. 11R-Chase Ridenour[17] ; 11. 3-Kyle Locke[18] ; 12. 19-Joe Kubiniec[12] ; 13. 27K-Ben Rutan[21] ; 14. 93-Sheldon Haudenschild[3] ; 15. 57X-Andrew Palker[20] ; 16. 21-Cap Henry[9] ; 17. 49H-Bradley Howard[23] ; 18. 95-Hunter Mackison[22] ; 19. 1080-Jordan Mackison[24] ; 20. 27-Shelby Bilton[15] ; 21. 5QB-Quentin Blonde[5] ; 22. 7C-Caleb Armstrong[13] ; 23. 20A-Andy Chehowski[14] ; 24. 51-Roger Campbell[19]
Current Arctic Cat All Star Circuit of Champions Standings (6/11/2016):
Dale Blaney: 1520
Chad Kemenah: 1466
Sheldon Haudenschild: 1382
Cap Henry: 1352
T.J. Michael: 1348
Danny Holtgraver: 1338
Lee Jacobs: 1300
Caleb Helms: 1252
Kraig Kinser: 1242
Andrew Palker: 1194