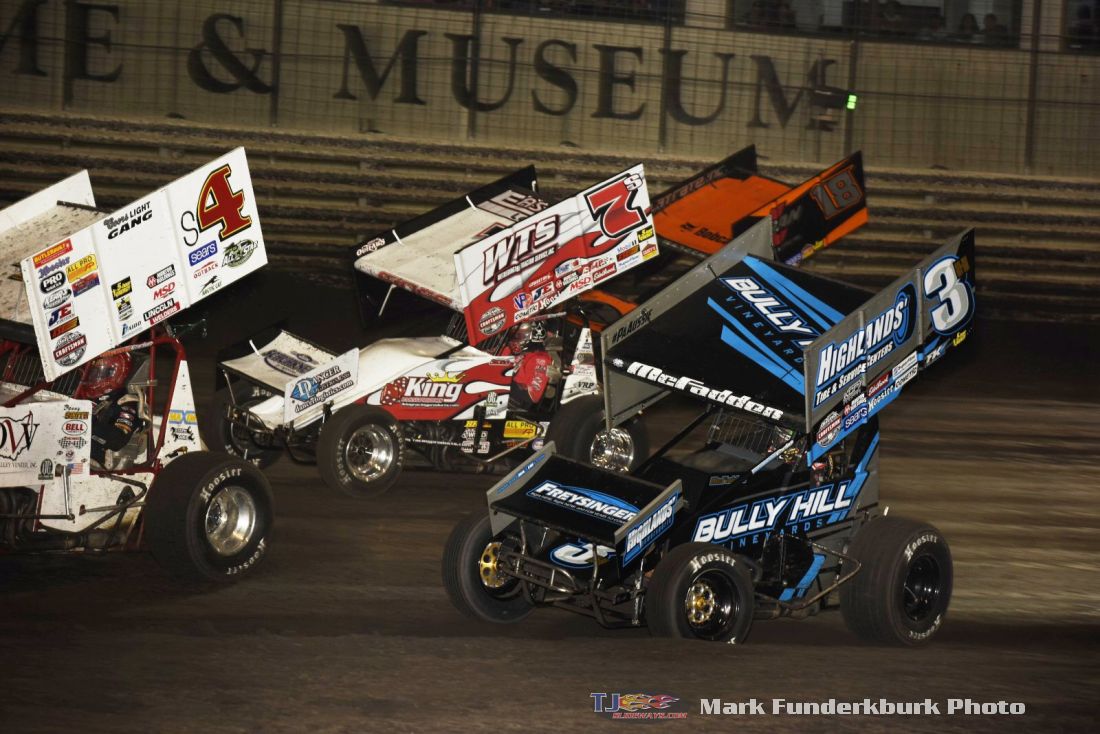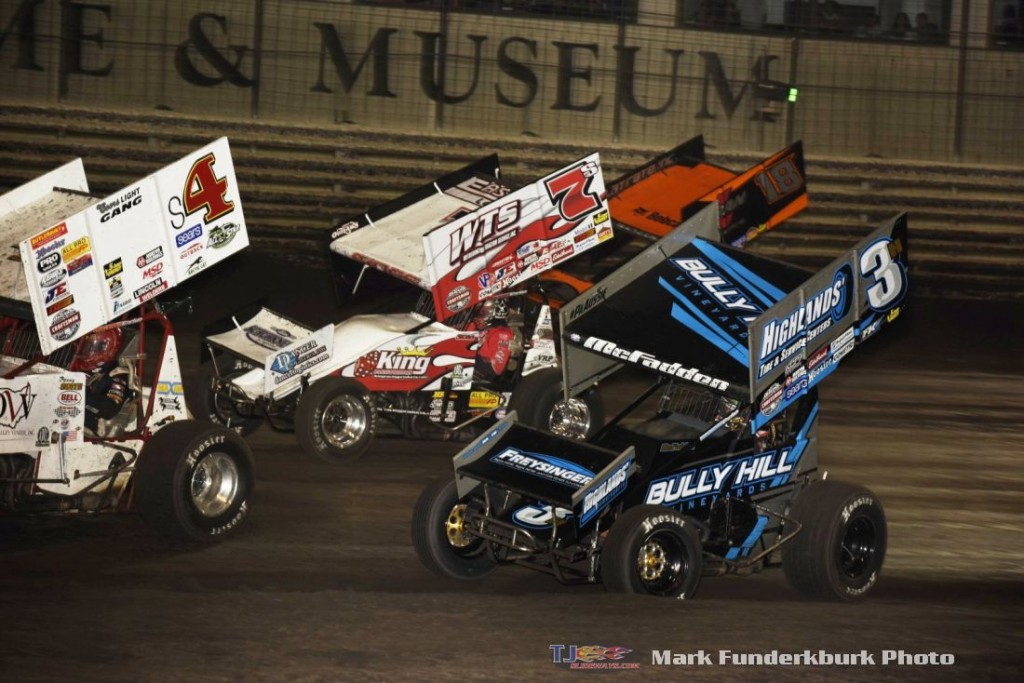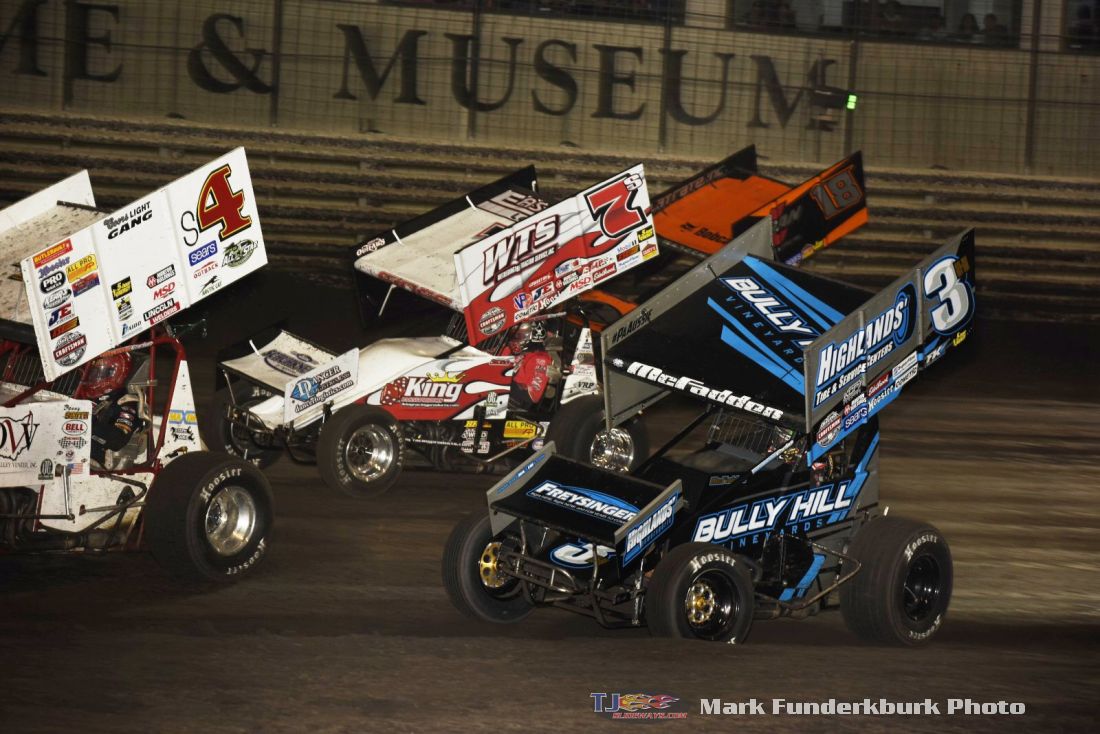 By T.J. Buffenbarger
Years ago I would attend the press conference following Friday night's feature at the Knoxville Nationals see a most morose feature winner I would interview all season. Once in a while you would get someone that was relatively happy about winning a feature at Knoxville Raceway, but most of the time the mood was what you would expect of someone that was essentially being told, "Congratulations for winning, your reward is starting mid-pack in the C-Main."
The format for fans was sort of bland as well. Friday was insurance in case of rain on Wednesday and Thursday nights. After all kinds of gimmicks to drum up interest in Friday I think Knoxville Raceway officials have come up with what is the most entertaining night of racing at the Nationals.
The "Hard Knox" Friday program has produced great storylines every Nationals since I've returned where the format could be used. David Gravel used it to springboard into the Nationals, Bryan Clauson picked up a feature win last year to lock himself into a feature, and this year Brian Brown went from rebound to heart break in a matter of one corner.
The new Friday format produces great racing and great drama.
While I have been on board with the new Friday night race format initially I was not a fan of the SPEED SPORT World Challenge getting what essentially a 25th provisional starting spot in Saturday's A-Main. I have turned on this as well. It's expensive to bring a car to Nationals and for international teams it's even more so when you factor in bringing a car overseas in a container or fielding a full time team in America.
The racing in this year's SPEED SPORT World Challenge was exceptional. Early on Kraig Kinser and Jason Sides diced for the lead before James McFadden, Jamie Veal, and Danny Dietrich had a spectacular tussle for the second position with some jaw dropping passes through traffic.
Years ago when someone would ask me about going to the Nationals I would tell them Wednesday and Thursday night were a must because of the famous Knoxville Nationals format. While I still feel that is the case I find myself telling people the racing with the new Friday format is some of the best I see all season.
Notes:
One year ago Bryan Clauson picked up his first feature victory during the Knoxville Nationals during the "Hard Knox" program on Friday night to qualify for his second career Nationals A-Main. This year one of Clauson's close friends, Rico Abreu, picked up his first career Knoxville Raceway victory to qualify for his second A-Main at the Nationals.As soon as Abreu exited the car and got near a microphone he shouted, "We parked it for BC!". Later in the post-race press conference Abreu had the answer before a reporter could finish asking the question what it meant for him to win that race in Clauson's honor."Damn special," Abreu said enthusiastically. "That's what I was thinking tonight when I was putting myself in a good position starting third. Bryan won this race last year and this one is definitely for him."Abreu used a tremendous start to race out to a lead that turned out to be unsurmountable.

"I made sure I had clean air on my nose. I wasn't going to do anything too crazy on the beginning of this, just get in line," said Abreu. "Lucas (Wolfe) kind of took off there and took Greg's (Hodnett) line away and had a big head of steam at the start. Our Speedway Motor took off really good. We've been struggling with them taking off and this one takes off really good."

For Abreu this will be the first time he will get to start the Nationals A-Main after having to leave last year to compete in the NASCAR K&N East Series. To be able to make the main and pick up his first career victory at Knoxville Raceway meant a lot to the St. Helana, California driver.

"Definitely good. I was just telling Danny (Lasosk) I'm a 109 away from him or however many he's won," said Abreu. "It's very special especially with everyone racing here with heavy hearts for Bryan. Lauren's (Stewart) here, the family was here the last few days, it's awesome to see them come out here. Everyone knows out tough it is and what they are going through right now, I could only imagine. One of the coolest things today was being at that auction, being a part of it, and seeing what Tony did and seeing what the family did and Tony giving that helmet back (to Lauren Stewart) is just damn special."
Friday was a big night for the Pennsylvania Posse locking Greg Hodnett and Lucas Wolfe into Saturday night's A-Main. Both Wolfe and Abreu did not have laps at Knoxville this season prior to the Nationals. Even though the Marion County Fairgrounds track may appear from the outside to have similarities to the large, fast tracks in Pennsylvania size is where the similarity ends."Obviously it's a unique track compared to anything that we have at home," said Lucas Wolfe after the feature. "Other than it being a half mile there not too many similarities, especially as slick it gets in spots and as challenging as it is."Even though both Hodnett and Wolfe have extensive experience visiting Knoxville while on the World of Outlaws circuit and coming to the Nationals while racing in Pennsylvania coming to the Nationals once a year to compete at Knoxville Raceway is a daunting task."I think it's pretty special to come back here and be somewhat competitive," said Hodnett. "Obviously we didn't want to get into the A-Main this way, but we will take whatever we can get. It's a huge undertaking for us just to even get here because we race for points and things back home. It's very rewarding to put it in the A-Main and at least give it a shot to move forward. I can't speak for Lucas but it's pretty special to be here. It's always been very special for me and I've been coming here for a long time. I'm just darn glad to be able to do it and still be competitive."

Wolfe's performance that earned him an A-Main starting spot on Saturday showed that the new Friday night format can give teams more incentive to come out to the Nationals because it gives them more laps and a chance at Saturday's feature.

"I think it's probably a place you can never get enough laps at. Danny (Lasoski) probably has the most laps of anybody and probably still wants more all the time," said Wolfe. "Coming here for events the prelim nights can be miserable because you only get a few laps in the heat race and depending on how your night goes 12 laps in the B-Main. Even when we ran last night, you don't feel like you ran hardly enough laps to get a feel for the place again. If you were going to try and do it right you would try and come out here to race all year, but that's just not feasible for us. It's certainly a relief to be in the race and I don't care how you have to do it. Hopefully we can put 50 laps together tomorrow."
After a disappointing preliminary night performance Kraig Kinser's team made major changes before Friday night's Hard Knox program. Kinser had faced some adversity leading into the Nationals that eventually lead to a decision that turned around his Nationals."We tore up a couple of cars real early in our All Star year and started getting the feel back and about that time last week we destroyed another car," said Kinser. "We pulled a couple of all nighters are got this car fixed and we didn't really have it at Pevely and coming into here, we were missing that little bit of drive we had earlier in the season."After finishing 16th in Thursday's B-Main event Kinser and decided to take his Dad's car out for a spin."We struggled so bad to get my Dad's frame for next week for when he races and ended up stealing it this morning and swapped all the body and the motor over to it, so it was a brand new frame going in blind tonight. Made small gains at it, didn't feel like we gained much until we got out front in the SPEED SPORT World Challenge. It's amazing how quickly luck can turn."
After a tough preliminary night missing the feature through the B-Main by one position Brian Brown appeared to be on his way to securing a feature spot through the Friday program. Qualifying third fastest and winning his heat race Brown was racing for the fourth and final position that would secure a spot in Saturday night's feature with Logan Schuchart when Brown got tangled up with the wall and the spun car of Trey Starks.That tangle moved Brown from a Saturday night A-Main starting spot for a position near the front of the B-Main event to starting eighth in C-Main.
During downtime long time car owner Gil Sonner was brought up on stage with his driver Jeff Swindell to a warm reception by the large crowd at Knoxville Raceway. Sonner has fielded race cars for over 50 years at the Knoxville Nationals with Swindell putting the famous #47 car into Saturday's A-Main for the 11th time. Knoxville Raceway social media manager Eric Arnold informed us over those 11 starts Lasoski gave Sonner his best Nationals finish of third in 1994.
Speaking with Knoxville Raceway official ticket buyers for the 2016 5-Hour ENERGY Knoxville Nationals presented by Casey's General Stores were from 48 states and 24 countries.