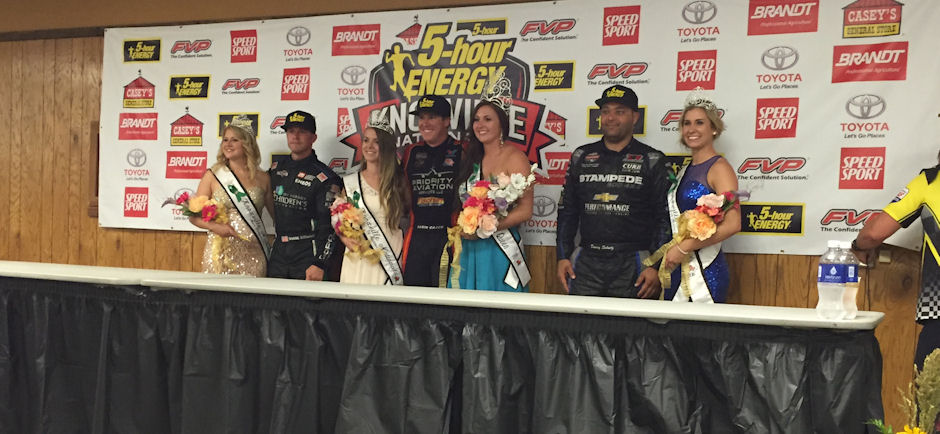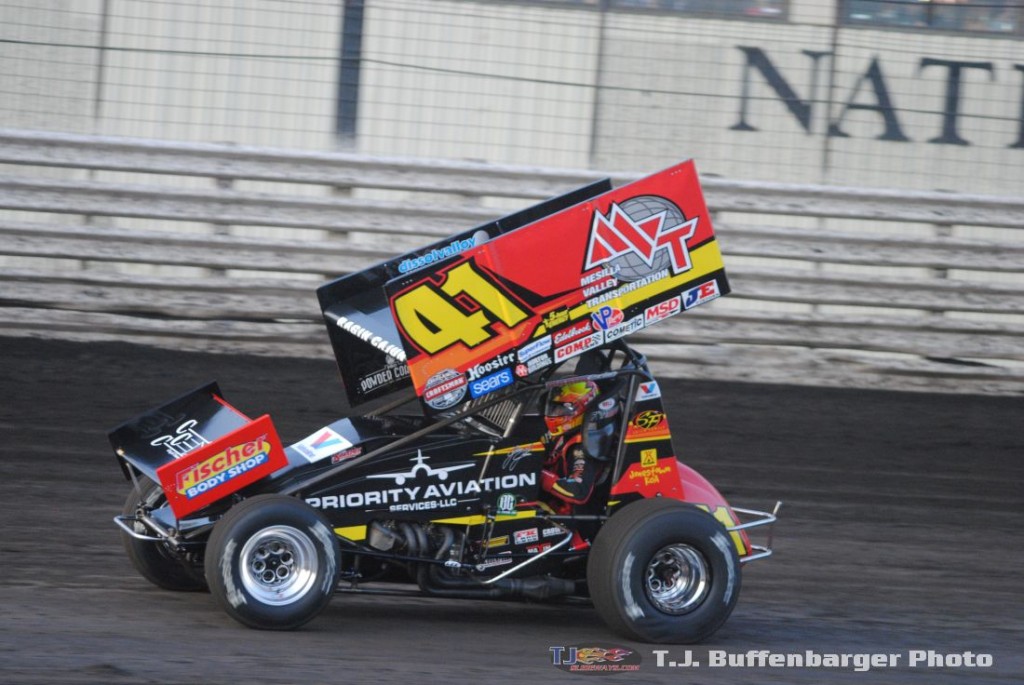 By T.J. Buffenbarger
KNOXVILLE, Iowa – (August 13, 2016) – Jason Johnson ran the best race of his life Saturday night at Knoxville Raceway to win the 56th Annual 5-hour ENERGY Knoxville Nationals presented by Casey's General Store. Johnson raced back and forth with nine time Knoxville Nationals champion Donny Schatz passing Schatz with six laps to go, holding off Schatz's last lap surge for the victory.
Johnson was emotional in victory lane following the biggest victory of his career following a hard fought battle for the win.
"I wasn't giving up. This is the biggest race of the year and biggest race of my career. It was a golden opportunity and I had to make the most of it. I know (Schatz) wasn't happy for me crowding him, but shit I wanted to win!"
Daryn Pittman and Johnson were on the front row for the for the main event. Pittman took the lead with Johnson in tow with Australian drivers Jamie Veal and Kerry Madsen racing for third. Schatz asserted himself early driving by Schatz, Veal and Johnson through turns three and four up to second on lap two, Johnson fought back though to take back the second spot.
10 laps into the feature Johnson closed in on Pittman for the lead. On lap 11. Johnson drove by Pittman on the high side of turns three and four to take the lead. One lap later Pittman countered by taking the lead back from Johnson. On lap 13 Donny Schatz caught Pittman and Johnson in traffic and took the lead off of turn four.
Schatz pulled away while Johnson raced around the outside of Pittman for the second spot. The first caution flag appeared with 16 laps complete when Craig Dollansky slowed off of turn four. Engine problems sidelined Dollansky for the remainder of the event.
Schatz and Johnson pulled away while Pittman raced three wide with Veal and Stewart for third.
With 18 laps complete Johnson hung to Schatz's back bumper to the halfway break on lap 26.
Following the stoppage Johnson continued to hound Schatz for the lead and got a huge run on Schatz to take the lead off turn four on lap 27. Johnson continued to pound the cushion while Schatz used the bottom to close in again. Johnson and Schatz pulled away from the rest of the field. With 17 laps to go Kerry Madsen joined the battle in the third spot closing in on Schatz as the leaders went through traffic.
With 16 laps to go Johnson got crossed up off of turn four and allowed Schatz and Madsen to close in. Madsen continued to put pressure on Schatz and passed him for second on lap 12 and started to close in on Johnson. Schatz gained momentum and took second back from Madsen on lap 41.
This setup the final nine laps with Schatz running down Johnson in traffic. Johnson got stuck behind a lapped car on lap 43 and Schatz quickly closed the gap. One lap later Schatz got caught behind that same slower car and allowed for Johnson to get away.
With six laps to go Schatz made his move driving by Johsnon on the inside off of turn four only to have Johnson drive back by him in turn one. Nearly making contact with Johnson on the high side and Schatz sliding off four Johnson retained the lead with five laps to go.
Johnson started to encounter slower traffic as the final laps clicked down and Schatz closed in for one last shot at Johnson. Schatz dove to the bottom of turns three and four, but Johnson used his momentum to edge Schatz at the finish line. Shane Stewart finished in the third spot while Daryn Pittman and Kyle Larson from 21st starting position picked up the hard charger award with his fifth place finish.
56th Annual 5-Hour Energy Knoxville Nationals presented by Casey's General Stores Finale
Knoxville Raceway
Knoxville, IA
Saturday August 13, 2016
A-Main (50 Laps): 1. 41 – Jason Johnson, 2. 15 – Donny Schatz, 3. 2S – Shane Stewart, 4. 9 – Daryn Pittman, 5. 57 – Kyle Larson, 6. 71 – Jamie Veal, 7. 10H – Chad Kemenah, 8. 27 – Greg Hodnett, 9. 18 – Ian Madsen, 10. 5 – David Gravel, 11. 49 – Brad Sweet, 12. 24 – Rico Abreu, 13. 2 – Danny Lasoski, 14. 3K – Tim kaeding, 15. 11K – Kraig Kinser, 16. 1S – Logan Schuchart, 17. 7X – Terry McCarl, 18. 1 – Sammy Swindell, 19. 1Z – Lucas Wolfe, 20. 82 – Dusty Zomer, 21. 47 – Jeff Swindell, 22. 1AUS – Kerry Madsen, 23. 1H – Dale Blaney, 24. 2KS – Craig Dollansky, 25. 3H – James McFadden.