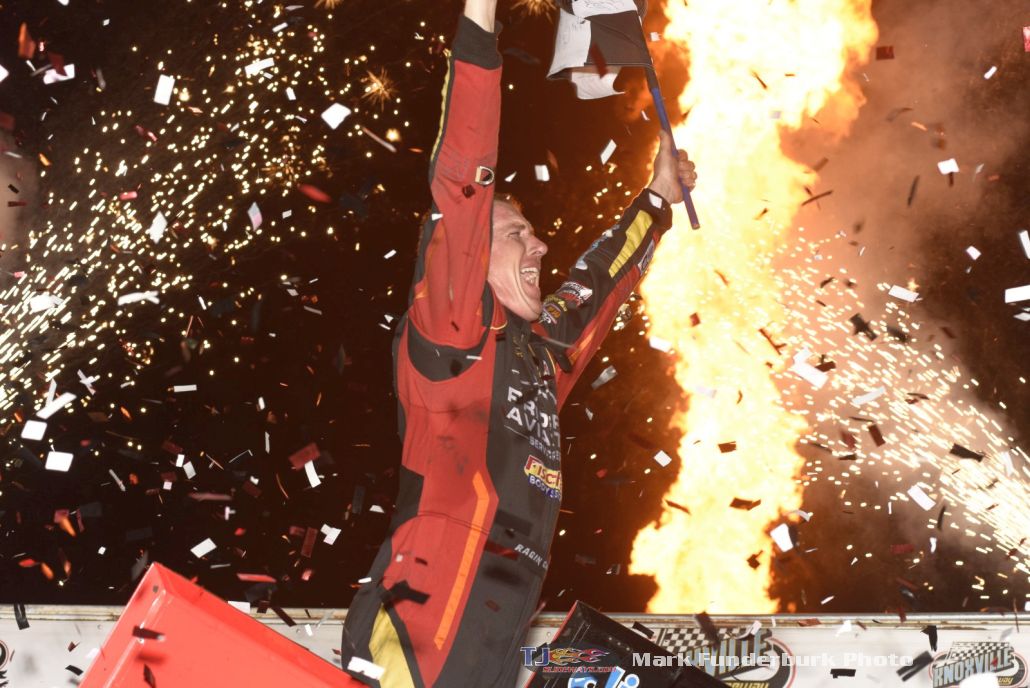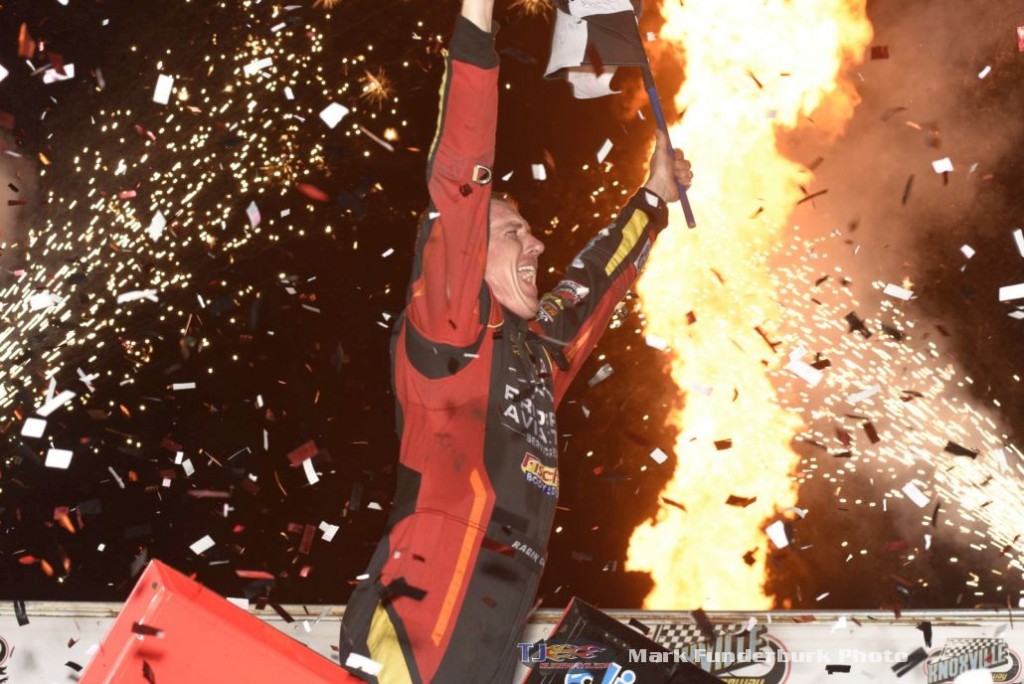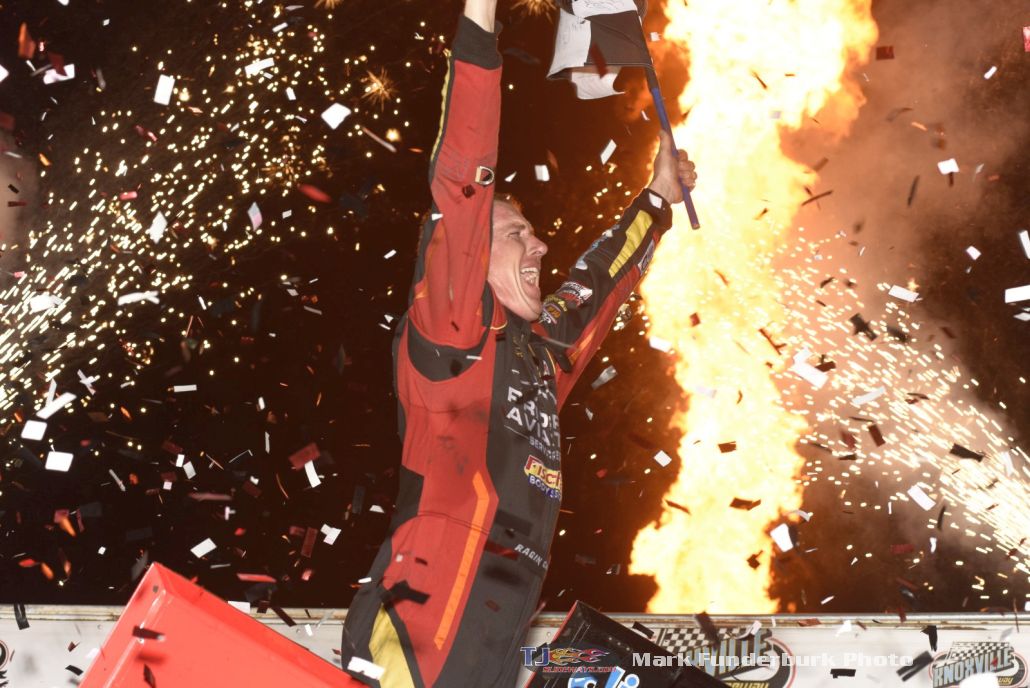 By T.J. Buffenbarger
I have lucky been witness to a lot of great sprint car moments in person during my 39 years on the planet. Among those moments are upsets and outstanding performances. This year after Jason Johnson's victory during the 5-hour ENERGY Knoxville Nationals presented by Casey's General Stores I wondered could a winner be both?
Johnson's victory was an upset. Knoxville had been Donny Schatz's domain on Saturday night at the Nationals nine of the last 10 years including winning the race from the B-Main. Last year Schatz decimated the field at Knoxville and the entire World of Outlaws tour. Meanwhile Jason Johnson had not won on the Outlaw tour since March 23rd at Placerville Speedway. Johnson's best finish leading into the Nationals was a fifth place on August 5th at Federated Auto Parts Raceway at I-55 in Pevely, MO.
If you look at Johnson's preliminary night, the signs were there that he would be impactful on Saturday night's A-Main. Johnson qualified fifth fastest on his preliminary night after going out 54th out of 60 cars in time trials. One of the few fast qualifiers to transfer out of his heat race to the feature Johnson was in the hunt finishing second in Thursday's feature. It's one thing to qualify well at the Knoxville Nationals but another to transfer through the heat race and finish up front in the feature.
That performance earned Johnson a front row starting spot where he drove the race of his life. Johnson not only countered every challenge by Schatz, but was able to keep Schatz from taking advantage of any mistakes he made.
Was Jason Johnson's victory an upset or should we have seen it coming? The answer is yes on both. Johnson winning is a microcosm of the rollercoaster ride the World of Outlaws have been all season. While Schatz leads the series with 16 victories David Gravel, Brad Sweet, and Daryn Pittman all have seven. There have been moments where Schatz wins one night and an upstart like Logan Schuchart, Greg Wilson, or a regional driver like Terry McCarl will win a race the following night.
Upset or expected Johnson's victory made for a storybook ending that will be told for years to come.
Notes:
In an era of staged celebration with mascots, giant sponsor props, and enough fireworks and confetti to turn the winner's circle into an Independence Day celebration Johnson's reaction in victory lane at the Knoxville Nationals was about as sincere as it gets. Quotes included these gems:Johnson's first thought out of the car was the same one as most of us had on our minds all week."Parked it, BC" followed by screams of joy.

As good as the victory lane quotes were (used in our race story here along with "Hell no, we're going to have a party" when asked by Dave Agrabright if he was starting to think about next year) the post-race press conference was enjoyable and rather long by Knoxville standards.

Johnson and Schatz ran each other extremely hard over the final 25 laps and Schatz was initially less than pleased with some of the sliders following the race on the cool down laps. Johnson explained though he was just doing what he felt was needed to win the Nationals.

"I wasn't giving up. I mean this is the biggest race of the year and the biggest race of my career. It was a golden opportunity and I had to make the most of it. I know (Schatz) wasn't happy for crowding him, but shit I wanted to win!"

"It really did. My guys gave me a great race car and I was worried about blistering my tires. I got to thank my fellow competitor Shane Stewart. I spent a little time talking with him about how to race this track. I was just trying to stay patient and run him down. I got by him, I stayed patient for a few laps, and I couldn't stay patient no more. It was time to go."

Schatz actually passed Johnson just before the halfway stop in the feature. Johnson rallied his crew to figure out a way to pass the 9 time Knoxville champion.

"Donny got by us before the halfway point and just like every night in and night out he makes you step your game up for sure," said Johnson. "Phil (Dietz) and I were cramming trying to figure out what to do and I said, "Man, whatever you do you have to get aggressive. You got to do something because this guy already got back by us, so you have to make me faster than him. I don't know where he's beating me at.' (Phil) kept telling me he was cutting through the middle and I just kept drilling the top. He says, 'where do you want to run?' and I said the only place I felt comfortable was rail the top. He said, 'Well all right, I'll get you up there. You better get going. It's time to run the top as hard as you can and make the best 25-laps you can possibly run'. I didn't know if I had anything for Donny or not, but I knew if I stayed up there and stayed persistent I knew I could get to him. I actually thought I would need lapped traffic and I think we got by him in clean track, I don't know, it's all a fuzz right now. Just hat's off to my race team, I can't thank though enough."

Schatz's reaction on the cool down laps did bother Johnson.

"I'm actually watching the replay right now because I think I actually had my eyes closed there a couple of times," said Johnson. "I know Donny wasn't really happy with me after the checkered and that really kind of bothered me because I respect Donny as a driver and I want his respect as well. I don't want to wreck nobody and I want to race clean, but like I told him 'God damn dude this is the Knoxville Nationals!' All I could do is say I gave it my all and I just wanted to win as bad as Donny wanted to win, as bad as Shane wanted to win, and probably everybody that started that A-Main. My guys gave me a great race car and everything played into play, and got really fortunate."

The race between Johnson and Schatz was the stuff that you often dream about seeing over the final laps to decide the winner of the Knoxville Nationals. Johnson was also very aware of the company on either side of him on the podium.

"I don't know if we were banging wheels, it was close. It depends on who you ask that question to," said Johnson. "I'm sitting between two of the best race car drivers there are. It's what it is today. If you are going to compete with these guys, you have to step up to their level. My son idolizes this guy right here, Donny Schatz, because he wins all the time and I listen to it night in and night out. So I admire it and I got my best friend (Stewart) sitting on my other side. We do business with and share a t-shirt trailer. We carry a lot of fond memories together. He's helped me out a ton. Especially this week. Not just this week, but life in general. So it's an honor to be sitting here."

As for Johnson's reaction to being asked what he thought about next year's Knoxville Nationals by Dave Argabright.

"Hell no, we're going to have a party!"
Third place might seem like a disappointment for a veteran driver like Shane Stewart that has been so close to winning the Nationals, but due to mechanical issues the last half of the feature a podium finish was remarkable on seven cylinders."I just legged it, I wasn't going to let off," Stewart explained on how he kept his car up front while misfiring. "You don't get many opportunities to win this race or finish on the podium. About halfway through the second segment it went down. It was really hot after the first 25. It went away there shortly after we took the green at the second segment. Great race. It was fun to watch the last couple of last with these guys. I was telling Jason we were having a hard time lapping the 19, and I thought Donny was the 19, I'm like "How did he get back in front of me". I actually looked up at the board going down the back straightaway and I'm like 'Wow, Jason's leading this race'. I saw Donny peel off the last corner and I knew it was getting pretty close there at the start/finish line. When you have 50 laps and you're going as hard as we do, to come to a finish that was that close it says a lot about the race track. It says a lot about the people that worked hard for prepare this week."
Though Schatz was less than pleased after the checkered he was gracious in the post race press conference."The last 10 laps were pretty intense," said Schatz. "Jason was pretty married to the top. I just kept going I kept trying to do something to get by. I'd slide by, but he'd just turn to go back by. He did one hell of a job. To run the last 10 laps, or last lap, any lap during this race while your leading is the worlds' toughest spot in sprint car racing. He figured out how to make it work and get there first. Hats off to him, I'm happy, naturally I'd like to be the one winning but he won. He earned it, he did one hell of a job and he figured out how to do it.
"