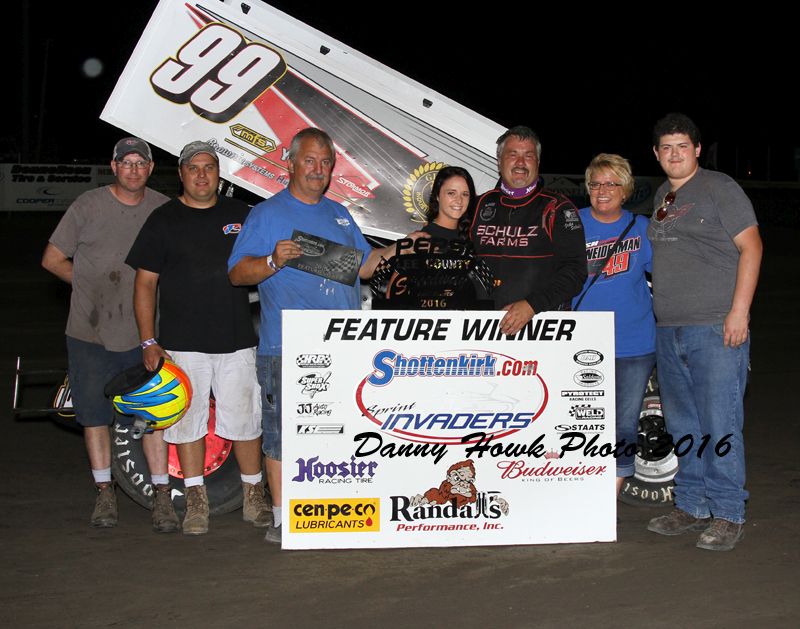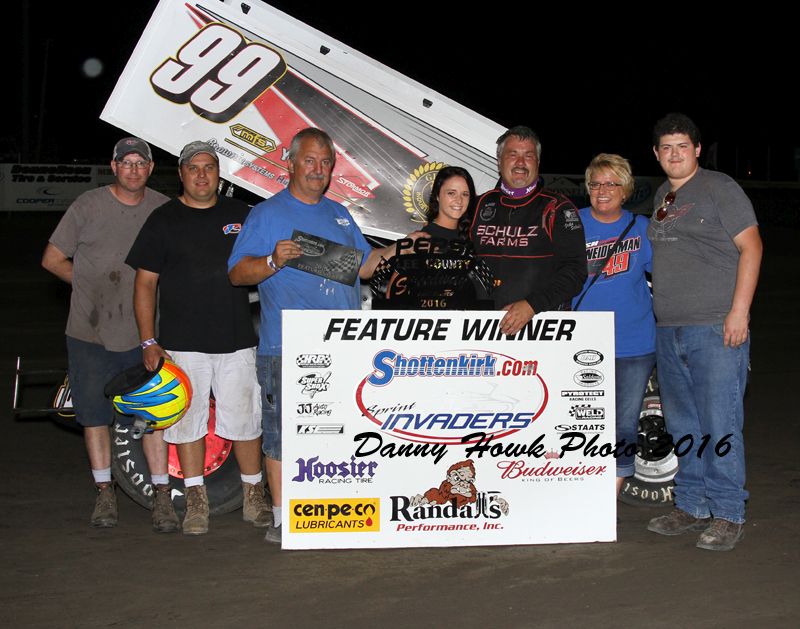 From Bill Wright
DONNELLSON, Iowa (August 19, 2016) — John Schulz emerged victorious Friday night at the Lee County Speedway in Donnellson, Iowa with the Shottenkirk.com Sprint Invaders. It was the West Burlington, Iowa native's fourth career win in Donnellson with the Sprint Invaders and the thirteenth of his career with the series. Schulz's win was worth $1,500 and came ahead of a talented 27-car field.
Schulz's nephew, Josh Schneiderman, won the Shake-up Dash, and drew a three, putting his uncle on the pole of the 25-lap feature. Before a lap could be completed, Harold Pohren, who started fifth, spun in turn one and collected Damian Getchell, who flipped. Pohren tipped over as well, but neither was injured.
Schulz claimed the lead as the green fell with Chris Martin, Josh Schneiderman and Wayne Johnson in tow. With two laps in the books, the turn four cone was hit, bringing out the caution flag. Once green, Johnson went to work on Schneiderman, and passed him for third on lap five. The top three drivers began to separate themselves and moved into heavy traffic.
The veteran Schulz maintained his lead, but Martin wasn't going away. Jon Agan moved into the top four, but would pull in with a broken rocker arm on lap 19. The top three maintained their spots, but Danny Lasoski put on some late pressure after starting in row five.
When Cody Wehrle tangled with the lapped car of Bailey Goldesberry, Schulz was a half lap from victory. The caution set up a one-lap showdown. Schulz would hold off the field for his third Sprint Invaders win of the year. The series' point leader, Martin, would finish second, while Lasoski would pass Johnson for third in the last corner. Schneiderman would finish fifth.
Jarrod Schneiderman, Ryan Jamison, Jake Blackhurst, Nate Van Haaften and Justin Buchholz would round out the top ten.
Pohren, Josh Schneiderman and Schulz won heat races. Buchholz took the B main. Richard Brod took a tumble in the B main, but was uninjured. Jamie Ball and Randy Martin both suffered mechanical issues in the first heat and were scratches for the night.
"I can't say enough about (owner) Jimmy Davies," said Schulz. "When he gives me cars like this, I'm the lucky one that gets to drive it. There was a lot of traffic out there, but it stayed mostly to the bottom. Chris challenged me a couple of times down there, but Jimmy really had this car working."
"We started the night off with a tough draw," said Chris Martin. "We had a great racecar though, and I was able to pass cars and make the most of it. It was a really fun night. Schulz has been around these tracks. He's no joke. It always seems like we're racing hard together at these Sprint Invaders races. It's always a lot of fun. We raced each other clean."
"It was driver error on my part," said Lasoski. "I smoked the brakes off the first ten laps. I didn't have brakes at all. Then on the caution (with one to go), they came back. I think if we would have had a green, white, checker we would have been a factor."
The Shottenkirk.com Sprint Invaders will complete their Sprint Invaders Nationals weekend, Saturday night at 34 Raceway in West Burlington, Iowa! For more information on the Shottenkirk.com Sprint Invaders, visit www.SprintInvaders.com!
Results
Shottenkirk.com A main (started), 25 laps: 1. 99, John Schulz, West Burlington, IA (1) 2. 44, Chris Martin, Ankeny, IA (2) 3. 1m, Danny Lasoski, Dover, MO (10) 4. 2c, Wayne Johnson, Oklahoma City, OK (7) 5. 49, Josh Schneiderman, West Burlington, IA (3) 6. 3G, Jarrod Schneiderman, West Burlington, IA (13) 7. 51J, Ryan Jamison, Mediapolis, IA (9) 8. 25, Jake Blackhurst, Hanna City, IL (11) 9. 3, Nate Van Haaften, Otley, IA (6) 10. 69, Justin Buchholz, Davenport, IA (15) 11. 83, Dave Getchell, Sperry, IA (8) 12. 85, Chase Wanner, Agency, IA (18) 13. 58, Andy Krieger, Burlington, IA (17) 14. 40c, Cody Wehrle, Burlington, IA (14) 15. 4x, Bailey Goldesberry, Springfield, IL (19) 16. 59, Jacob Glasgow, West Burlington, IA (12) 17. 4, Jon Agan, Knoxville, IA (4) 18. 19, Rob Weuve, Oakland Acres, IA (20) 19. 50P, Harold Pohren, Lowell, IA (5) 20. 83x, Damian Getchell, Sperry, IA (16) DNS – 5J, Jamie Ball, Knoxville, IA. Lap Leaders: Schulz 1-25. Hard-charger: Lasoski. KSE Hard-charger: Ja. Schneiderman.
Randall's Performance Heat one (started), Top five to A main, Top two to Dash, 8 laps: 1. Harold Pohren (2) 2. Jamie Ball (3) 3. Nate Van Haaften (8) 4. Ryan Jamison (1) 5. Jacob Glasgow (5) / 6. 13, Brayden Gaylord, Wever, IA (4) 7. Damian Getchell (7) 8. Bailey Goldesberry (6) 9. 14, Randy Martin, California, MO (9)
CenPeCo Lubricants Heat two (started), Top five to A main, Top two to Dash, 8 laps: 1. Josh Schneiderman (1) 2. Jon Agan (6) 3. Wayne Johnson (8) 4. Danny Lasoski (5) 5. Jarrod Schneiderman (4) / 6. Andy Krieger (2) 7. Justin Buchholz (3) 8. Rob Weuve (7) 9. 09, Andrew Genkinger, Mt. Pleasant, IA (9)
Fraise Mowersports Heat three (started), Top two to Dash, 8 laps: 1. John Schulz (3) 2. Chris Martin (8) 3. Dave Getchell (2) 4. Jake Blackhurst (6) 5. Cody Wehrle (7) / 6. Chase Wanner (4) 7. 10T, Tim Moore, Rock Island, IL (5) 8. 9B, Richard Brod, Plainfield, IL (1) 9. 1st, John Greenwood, Woodward, IA (9)
Budweiser King of Beers – Golden Eagle Distributors Shake-up Dash (started), 6 laps: 1. Josh Schneiderman (2) 2. Jon Agan (4) 3. Harold Pohren (1) 4. John Schulz (3) 5. Chris Martin (5) DNS – Jamie Ball
B main (started), Top six to A main, 12 laps: 1. Justin Buchholz (5) 2. Damian Getchell (4) 3. Andy Krieger (2) 4. Chase Wanner (3) 5. Bailey Goldesberry (7) 6. Rob Weuve (8) / 7. Brayden Gaylord (1) 8. John Greenwood (10) 9. Tim Moore (6) 10. Richard Brod (9) DNS – Randy Martin, Andrew Genkinger
Contingencies
Pyrotec – Andy Krieger
Saldana Racing Products – Cody Wehrle
Kreitz Oval Track Products – Jon Agan