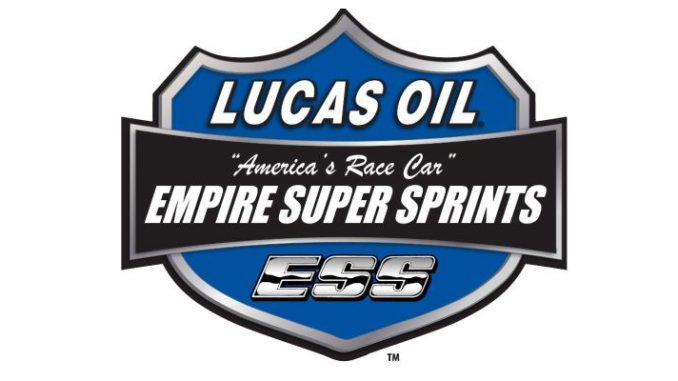 By Dean Reynolds
SYRACUSE, NY – The Labor Day Weekend annually closes down the Summer Season and it's no different with the Lucas Oil Empire Super Sprints (ESS). Three $2,000 to win full point events will kick off what is now a four-race weekend.
The Brewerton, Thunder Mountain and Utica-Rome Speedways will see the battle of the Lucas Oil Championship continue to kick off the American Holiday Weekend. A special 360 Open by the ESS gang will bring down the curtain on Monday at the Weedsport Speedway (See separate release).
Last year, a rain out at the Brewerton was rescheduled to Friday of Labor Day Weekend and what was discovered was that the fans and competitors approved with a big field and a packed grandstand. So a new tradition was started with the ESS winged warriors joining the big block modifieds to make for a special night.
The next evening it's known as Sprint Car Saturday Night as the sprinters climb the hill for the second show of 2016 at the Thunder Mountain Speedway. Back in May, Jason Barney picked up the $3,000 victory which helped keep him in the season long points battle with Steve Poirier.
On Sunday, it's the annual "Cole Cup Tune Up" at the Utica-Rome Speedway. Not only will it be the final point event of the weekend but also serves as the last chance for sprint teams to get a feel for the big half-mile before the $10,000 to win Cole Cup is run the very next week.
As mentioned earlier, Poirier and Barney have been neck and neck going for the 2016 championship. Poirier, who has become the ESS all-time winningest driver, leads Barney by a mere 76 points coming into the busy weekend.
While they have their battle to wage, many of the ESS faithful and others will see action this weekend. Paul Kinney, Matt Tanner, Chuck Hebing, Jeff Cook, Parker Evans, Shawn Donath, Danny Varin, Bryan Howland, Paulie Colagiovanni, Tim and Dave Axton, Chad Miller, Brandon Kidd, Mike Stelter, and Scott Kreutter are expected to be at all three events.
Other drivers that will be in the fields during the events will be Mark Smith, Jonathan Preston, Larry Wight, Sam Reakes IV, Tommy Wickham, Joe Trenca, Denny Peebles, Keith Granholm, Mike Mahaney, Pete Richardson, James Hanson, George Suprick, Paul Habeck, Jordan Thomas, Kelly Hebing, Jimmy Stitzel, Dave Just, Darryl Ruggles, Steve Hutchinson, Colman Gulick, Bob Gray and others.
Brewerton, Thunder Mountain and Utica-Rome…  The battle for the Lucas Oil ESS Championship continues and it will be tradition continued of excitement guaranteed!!
For more Information on Brewerton Speedway:
Web: http://www.brewertonspeedway.com/
Twitter: @brewertonspdway
Facebook: https://www.facebook.com/BrewertonSpeedway/?fref=ts
For more Information on Thunder Mountain Speedway:
Web: http://thundermtnspeedway.com/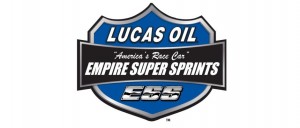 Twitter: @thundermtnspeed
Facebook: https://www.facebook.com/ThunderMountainSpeedway/?fref=ts
For more Information on Utica-Rome Speedway
Web: http://www.uticaromespeedway.com/
Twitter: @UR_Speedway
Facebook: https://www.facebook.com/uticaromespeedway/?fref=ts
For more Information on the Lucas Oil Empire Super Sprints:
Web: www.empiresupersprints.com
Twitter: @ESSprints
Facebook: https://www.facebook.com/EmpireSuperSprints
Android App: Empire Super Sprints
The Lucas Oil Empire Super Sprints are brought to you by: Lucas Oil, Mach 1 Chassis, Einstein Construction, SUNY Canton, NAPA Auto Parts, Hoosier Racing Tires, Donath Motorworx, Insinger Performance, Car Mate Trailers, Fondations 4 Saisons, Beard Sewer and Drain, Cobra Coaches, Westward Painting Company, Fondations 55, E&V Energy, Panther Frameworx, 911 Restoration, YorkMont Auctions, Engler Machine and Tool, Northwood 2 Construction, Brodix Cylinder Heads, Lacaillade Masonry, FX Chevy, ASI Racewear and many, many associate sponsors!!