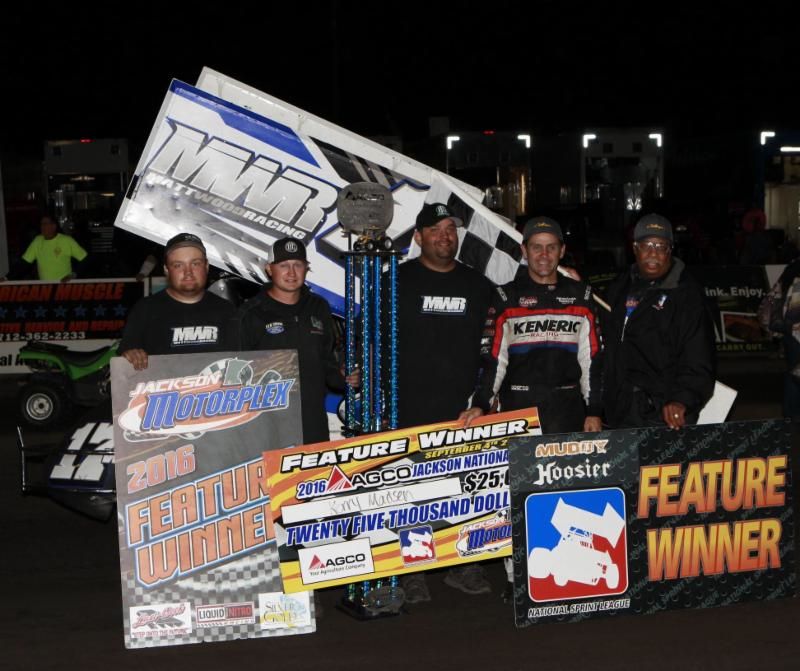 By Bill W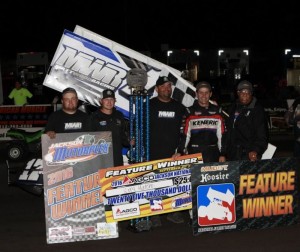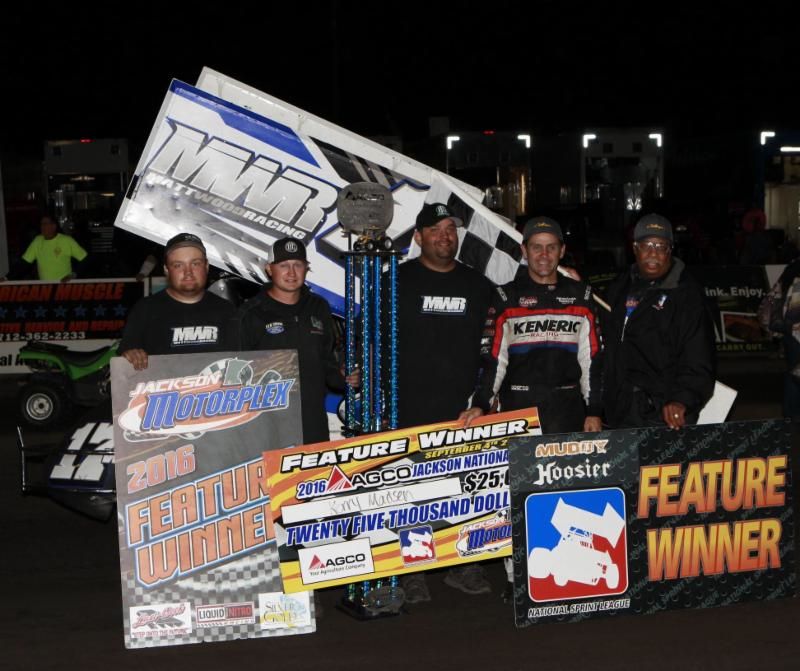 September 6, 2016 – The Matt Wood Racing #17w team and Kerry Madsen topped the $25,000 Jackson Nationals in just their second weekend together. The St. Mary's, New South Wales, Australia driver not only won, but made his winning charge after starting eighth in the stout NSL lineup. In addition, the team scored a second place finish Friday in the 360 ASCS portion of the Nationals, and registered third in Sunday's finale. Kerry and the #17w team will next tackle the World of Outlaws at the Clay County Fair Speedway in Spencer, Iowa on September 16 and the US36 Raceway near Cameron, Missouri on September 17.
Kerry finished eighth in Saturday's NSL prelim. "The top eight from Friday went to (Sunday's) pole shootout," he says. "We were in the first round and we lost. I wanted to get a row at least, but Tim (Kaeding) got a really good start. We weren't that good to be honest. Sammy (Swindell), (Brian) Brown and Ian (Madsen) looked good early in the night. I figured we had our hands full at that point."
The team had their focus on a solid finish in the finale. "I was a little worried starting eighth," says Kerry. "There were a lot of good cars up front and we were starting a little deep. I said to (crew chief) Shane (Bowers), 'Let's do the best we can, and get a good finish.' But the car was just awesome and we went straight through there."
Kerry had intentions of keeping the tires under him early in the 25-lapper, but made his way through the pack rather quickly, grabbing the lead with five laps to go. "We got a good start, but I wanted to pace things a little bit," he says. "We just had a better pace than the other guys and we picked them off rather quickly. The track was awesome. When you can start eighth and get to the front, the track has been prepared well."
In addition to topping the NSL event, the team also competed with ASCS. On Friday, Kerry went from sixth to second in his heat before starting eighth in the feature. "I had a lot of fun on Friday night," he says. "I sucked at the start. I lost a bunch of positions. I got my head out and started driving better, and we got back up there to second. I think it laid rubber with about five to go, and if it doesn't, we win that one too. I was happy to be honest."
That locked him into Sunday's $10,000 to win finale. He would draw the pole. "I was a little disappointed Sunday night," says Kerry. "We were in second there behind Ian and had a restart with two to go. You had to pick top or bottom, and I picked the wrong line. We ended up third. That's racing. The car was really good."
Kerry's luck actually started on Thursday. "It was an incredible weekend," he says. "On top of everything, I had a hole in one at the golf tournament on Thursday. It was a bit of a prize hole, so Big Game got me one of those high-dollar box blinds."
No word on what he'll actually do with that blind! Kerry is extremely thankful for his opportunity with Matt Wood Racing. "I need to thank Matt Wood, Shane and the team," he says. "They gave me an incredible car all weekend. I'm looking forward to teaming up with them again at Spencer and Cameron."
Matt Wood Racing would like to thank: Elk Grove Ford, Quick Lane and Impact Signs, Awnings & Wraps!