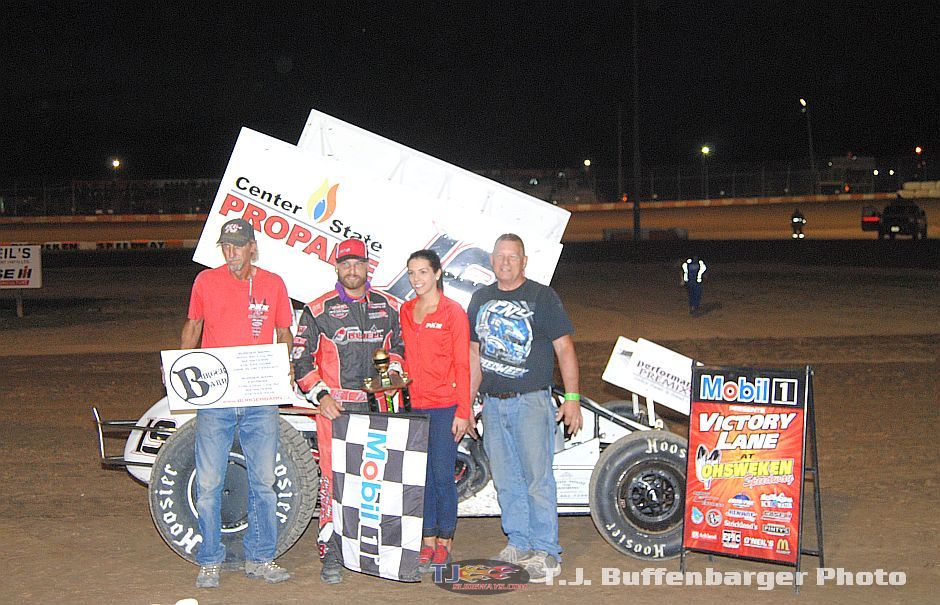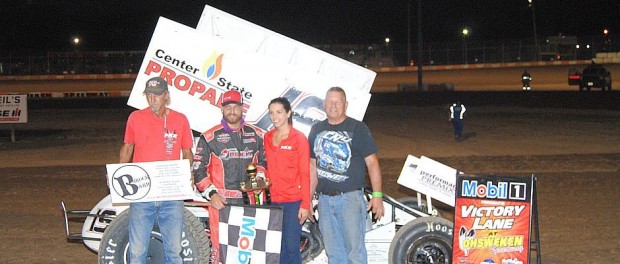 OHSWEKEN, Ont. (September 16, 2016) – Paul Kinney make the trip back to Ohsweken Speedway worthwhile by winning the final Lucas Oil Empire Super Sprints feature on Friday night. Kinney battled back after losing the lead early in the event to pass Shawn Donath with two laps to go for the victory. The win was Kinney's first at Ohsweken Speedway.
Jordan Poirier and Kinney swapped the lead on the initial lap with Kinney leading the opening lap before Poirier slid around Kinney to lead lap two. Kinney and Poirier continued to exchange sliders back and forth before Kinney took hold of the lead on lap four and opened up a three car length advantage.
By lap six the race for the lead became a three car affair with Dylan Westbrook joining the fray with the trio nearly racing three wide off the fourth corner for the top spot. Westbrook was able to wrestle away the top spot just as the caution appeared for Dave Dykstra slowing with a flat tire.
Kinney chose the outside for the restart and pulled away after Westbrook spun the tires during the restart. This allowed Donath to challenge Westbrook for second with Donath taking the spot on lap 14.
Donath quickly closed in on Kinney for the lead by lap 16. Three laps later Donath got a run on Kinney off of turn two to take the lead. Donath pulled away to what appeared to be a comfortable advantage until Kinney erased the gap and setup a pass for the lead off turn four coming to the white flag.
Donath attempted a final corner dive for the lead, but could not make the pass with Kinney taking the victory. Donath, Westbrook, Barney, and Jordan Poirier rounded out the top five.
The feature was a makeup day from the feature that was rained out on August 5th.
The front row for the 25-lap feature a family affair with Jordan and Steve Poirier.
Lucas Oil Empire Super Sprints
Ohsweken Speedway
Ohsweken, Ontario
Friday September 16 2016
Feature (Makeup from August 5th): 1. 19 – Paul Kinney, 2. 53 – Shawn Donath, 3. 47X – Dylan Westbrook, 4. 87 – Jason Barney, 5. 67P – Jordan Poirier, 6. 88C – Chad Miller, 7. 10 – Jeff Cook, 8. 0 – Glenn Styers, 9. 10B – Mitch Brown, 10. 69K – Scott Kreutter, 11. 80 – Chris Steele, 12. 91 – Ryan Turner, 13. 10C – Paulie Colagiovanni, 14. 33 – Brandon Kidd, 15. 90 – Matt Tanner, 16. 31 – John Burbridge, 17. 99A – Tim Axton, 18. 2A – Dave Axton, 19. 14H – Jim Huppunen, 20. 5D – Dave Dykstra, 21. 61 – Parker Evans, 22. 17X – Dain Naida, 23. 38 – Tyler Hendricks. DNS: 28 – Steve Poirer.