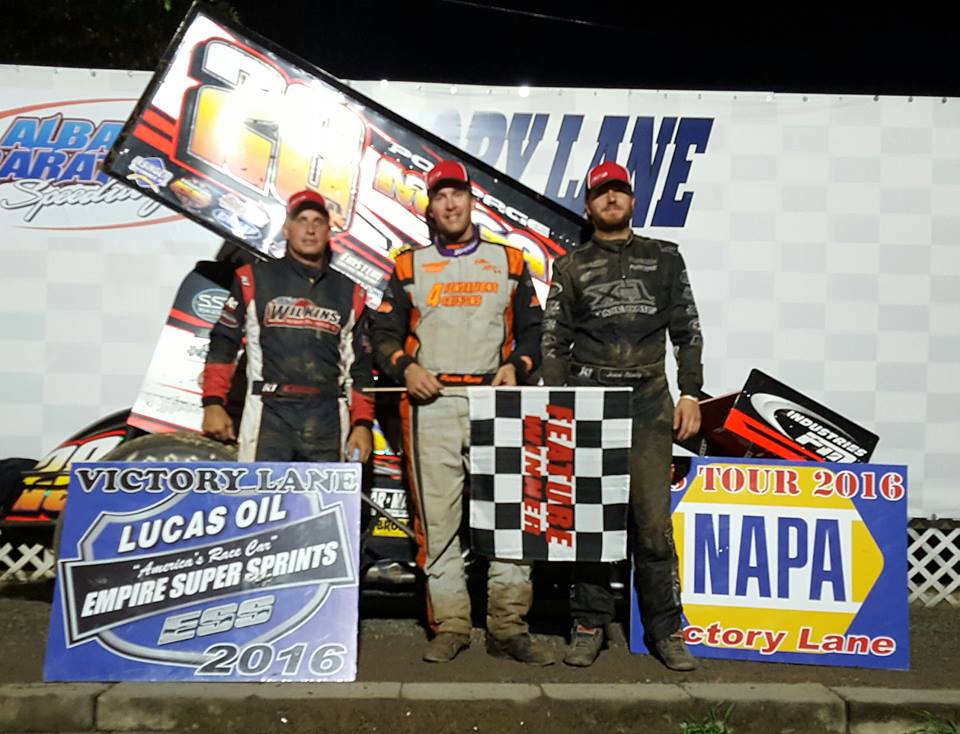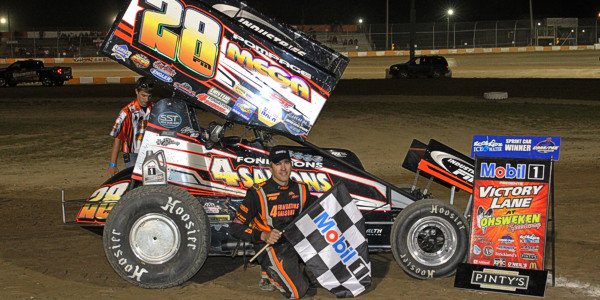 By T.J. Buffenbarger
After winning the 2006 Canadian Sprint Car Nationals I've touted Steve Poirier as one of the best sprint car drivers that a majority of the world is unaware of. Racing primarily in Canada and the northeast most of his career a lot of the country has not had the opportunity to see Poirier in action.
Pondering Poirier's prowess in sprint car racing I wondered why is he so good? The person I decided to ask is Poirier's crew chief Kevin Loveys. Loveys has wrenched for various World of Outlaws teams and is very accomplished in the sport on the mechanical side. When asked about his boss and driver of seven years Loveys enthusiastically described some of the talents that have made his boss the winningest driver in Empire Super Sprints history.
"He never seems to give up ground. I said to him the other day we just need to start Chuck Hebing or Jason Barney in front of him every week. He's really competitive and finds a way to catch them searching the race track."
One observation I noticed about Poirier's driver was how he drove the corner the first couple of times seeing him at the Canadian Nationals. I never saw anything quite like it until I noticed some of the same tendencies when Donny Schatz came from the B-Main to win the Nationals.
"Steve is really good because he can manipulate the car and can balance it with his driving," said Loveys. "Guys that understand that are the ones that win sprint car races. I can do so many things with the car compared to someone who doesn't."
Poirier is not only a great driver but also takes pride in having a good mechanical understanding of his car.
"He's a very good mechanic and works on the car as much as I do," said Loveys. "He probably works 80 hours a week then works on car. His work ethic is almost alien like. Mechanically his best skill is he understands the wing, how it works and using it to his advantage. He can balance the car with his driving and also make it tight the way he drives it.
"I know if I don't give him a good enough car it's frustrating because I know he has the talent to win every night. That's why I'm out here in the shop working on the shock dyno until 9:00 because he gives such exact feedback I can split hairs with stuff. He gets out of the car and has so much information. Can feel the smallest of changes and give the feedback."
Another attribute Poirier has is his temperament. Poirier remains as calm behind the wheel as he is outside the race car.
"Steve's the most laid back dude I've ever met. He doesn't get flustered in the race car," said Loveys. "Some drivers when they get slid they screw the next four corners up where Steve is always chipping away, gaining on them."
Being a highly decorated driver in modified before transitioning over to sprint car racing brings up the question if Poirier had focused on sprint car racing earlier in his career could he have been a World of Outlaws level talent? Loveys, who has spent time on the Outlaw tour as a mechanic, is quick to answer.
"He's got the natural ability. If he had been racing sprint cars since he was a kid, he would be a World of Outlaws driver for sure."