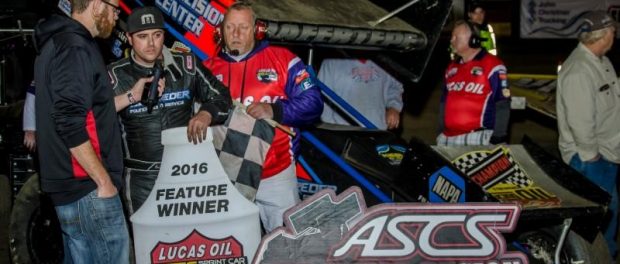 From Bryan Hulbert
SAPULPA, Okla. (November 4, 2016) – Using a late race caution to his advantage, Sam Hafertepe, Jr. bounced his way around the infield berm to pick up his eighth victory of the season with the Lucas Oil American Sprint Car Series presented by the MAVTV Motorsports Network, and first at the Creek County Speedway in the John Christner Trucking Fall Fling powered by Pizza Express.
"It was tough conditions. They re-worked the track there before that Midget main, and however we got by him, we got by him," said Hafertepe of the late race pass.
"It is what it is. Everyone doesn't see it the same way, but I don't make the rules. I just race the car, and we had a really good car tonight. Ryan did a hell of a job and we did the best we could do to come out on top."
Working through Heats and Qualifier to the fifth starting position in the Hwy. 79 Collision No. 15h, Hafertepe wasted no time advancing to a spot on the podium behind Blake Hahn and Wayne Johnson. Avoiding the spinning No. 52 while the field worked the second round, Sam leapt to the lead for a moment, but the caution would fly, thus sending Hafertepe back to second behind Wayne Johnson.
Chasing Johnson into slower traffic, the City Vending No. 2c make quick work of slower cars. Putting as many as four between himself and Hafertepe at one point, the Texas shoe has his hands full at both ends as Seth Bergman made his return well known with the pair exchanging the runner-up spot on Lap 10, and again on Lap 12 amid traffic and an eventual restart.
Giving chase to the No. 2c once again, Wayne seemed to have the field covered, but a caution on Lap 19 would be the difference as Hafertepe bonsaied the berm through turns one and two to take over the lead from Wayne Johnson. The pass, while unconventional, was enough to secure Hafertepe the win.
While displeased with the result, Wayne Johnson crossed second and locked into Saturday's A-Feature, stating simply. "The car was great, we just got beat in the infield," exclaimed Johnson.
With time out of the seat due to engine woes and the birth of his daughter, Seth Bergman returned to competition at the Creek County Speedway with a new setup that proved effective.
"That baby girl is probably the biggest win I've ever had, and we certainly can't hang our head about a podium finish. It's been along couple of months but to come out here with a new chassis, and new shock package on all four corners, it was different but we adapted and got a solid run out of it. Happy we can lock it in, and I feel we can players here tomorrow."
Battling several times with Seth for third, and then having to hold off the charge of Herrera, the Lubbock Wrecker No. 11x of John Carney II rolled to the fourth and final transfer into Saturday's A-Main. Johnny Herrera, who was on a rebound of sorts, from 10th held on to complete the top-five.
Recovering from the spin, Blake Hahn rolled across the line sixth with Sean McClelland clawing from 16th to seventh. Jason McDougal was eighth, followed by an impressive run by Alex Sewell from 17th to ninth. Logan Forler brought his No. 2L to a 10th place showing.
A field of 41 was on hand for the opening night of the John Christner Trucking Fall Fling powered by Pizza Express. Heat Races numbering five went to Thomas Kennedy, Wayne Johnson, Johnny Herrera, Sean McClelland, and Logan Forler. Qualifiers were topped by Brandon Hanks, Matt Covington, and Jason McDougal. B-Main wins went to Alex Sewell and Chance Morton.
Kyle Bellm utilized a Provisional start based on National Tour owner points. A Regional provisional was awarded to Kade Morton.
The John Christner Trucking Fall Fling powered by Pizza Express at Creek County Speedway continues on Saturday, November 5, 2016 with gates opening at 5:00 P.M. and racing at 7:00 P.M. (CDT). For continued updates on the Lucas Oil ASCS presented by the MAVTV Motorsports Network, log onto http://www.ascsracing.com.
Race Results:
ASCS National / ASCS Red River
Creek County Speedway – Sapulpa, Okla.
J.C.T Fall Fling – Night 1
Friday, November 4, 2016
Car Count: 41
ButlerBuilt Heat Races (Top 30 in Race Passing Points advance to Qualifiers on a 24 car invert)
Heat 1 (8 Laps): 1. 82-Thomas Kennedy[1]; 2. 11W-Joe Wood Jr[2]; 3. 8-Alex Sewell[4]; 4. 24L-Layne Himebaugh[5]; 5. 2-Mickey Walker[3]; 6. 26M-Fred Mattox[9]; 7. 10-Terry Gray[7]; 8. 8M-Kade Morton[6]; 9. 7H-Brian Gramm[8]
Heat 2 (8 Laps): 1. 2C-Wayne Johnson[1]; 2. 95-Matt Covington[2]; 3. 23-Seth Bergman[6]; 4. 17-Dustin Gates[3]; 5. 0J-Jeremy McCune[4]; 6. 14K-Kyle Bellm[5]; 7. 17B-Ryan Bickett[7]; 8. 22T-Frank Taft[8]
Heat 3 (8 Laps): 1. 45X-Johnny Herrera[5]; 2. 11X-John Carney II[6]; 3. 52-Blake Hahn[7]; 4. 23X-Jimmy Taylor[2]; 5. 05M-Charles McManus[1]; 6. 53-Brett Wilson[8]; 7. (DNF) 11AM-Mike Goodman[3]; 8. (DNF) 50Z-Zach Chappell[4]
Heat 4 (8 Laps): 1. 87F-Sean McClelland[2]; 2. 15H-Sam Hafertepe Jr[5]; 3. 9$-Kyle Clark[3]; 4. 11M-Jason McDougal[6]; 5. 92-Waylon Weaver[4]; 6. 97-Kevin Cummings[1]; 7. 58-Gary Floyd[7]; (DNS) 54-Will Scribner
Heat 5 (8 Laps): 1. 2L-Logan Forler[1]; 2. 7M-Chance Morton[2]; 3. 55-Johnny Kent[4]; 4. 84-Brandon Hanks[6]; 5. 85-Forrest Sutherland[5]; 6. 44-Jared Sewell[7]; 7. 20G-Jake Greider[8]; 8. 10X-Kevin Brewer[3]
Hoosier Tire Qualifiers (Top 16 in combined Passing Points advance to the A-Feature)
Qualifier 1 (8 Laps): 1. 84-Brandon Hanks[1]; 2. 52-Blake Hahn[5]; 3. 11W-Joe Wood Jr[3]; 4. 8-Alex Sewell[2]; 5. 82-Thomas Kennedy[4]; 6. 53-Brett Wilson[8]; 7. 45X-Johnny Herrera[6]; 8. 92-Waylon Weaver[9]; 9. 05M-Charles McManus[10]; 10. (DNF) 26M-Fred Mattox[7]
Qualifier 2 (8 Laps): 1. 95-Matt Covington[3]; 2. 2C-Wayne Johnson[4]; 3. 9$-Kyle Clark[1]; 4. 85-Forrest Sutherland[8]; 5. 11X-John Carney II[6]; 6. (DNF) 87F-Sean McClelland[5]; 7. (DNF) 17-Dustin Gates[7]; 8. (DNF) 14K-Kyle Bellm[10]; 9. (DNF) 44-Jared Sewell[9]; 10. (DNF) 55-Johnny Kent[2]
Qualifier 3 (8 Laps): 1. 11M-Jason McDougal[2]; 2. 24L-Layne Himebaugh[1]; 3. 23-Seth Bergman[5]; 4. 15H-Sam Hafertepe Jr[6]; 5. 2L-Logan Forler[4]; 6. 7M-Chance Morton[3]; 7. 2-Mickey Walker[9]; 8. 23X-Jimmy Taylor[7]; 9. 0J-Jeremy McCune[8]; 10. 20G-Jake Greider[10]
BMRS B-Features (Top 3 finishers transfer to the tail of the A-Feature)
B Feature 1 (12 Laps): 1. 8-Alex Sewell[1]; 2. 53-Brett Wilson[2]; 3. 92-Waylon Weaver[4]; 4. 0J-Jeremy McCune[6]; 5. 10-Terry Gray[8]; 6. 8M-Kade Morton[11]; 7. 58-Gary Floyd[9]; 8. 54-Will Scribner[13]; 9. 10X-Kevin Brewer[12]; 10. 05M-Charles McManus[5]; 11. (DNF) 2-Mickey Walker[3]; 12. (DNF) 11AM-Mike Goodman[10]; 13. (DNF) 14K-Kyle Bellm[7]
B Feature 2 (12 Laps): 1. 7M-Chance Morton[1]; 2. 50Z-Zach Chappell[11]; 3. 26M-Fred Mattox[6]; 4. 44-Jared Sewell[5]; 5. 20G-Jake Greider[7]; 6. 55-Johnny Kent[2]; 7. 23X-Jimmy Taylor[4]; 8. 7H-Brian Gramm[12]; 9. 17B-Ryan Bickett[8]; 10. 22T-Frank Taft[10]; 11. 97-Kevin Cummings[9]; 12. (DNF) 17-Dustin Gates[3]
Protect the Harvest A-Feature
A Feature (25 Laps): 1. 15H-Sam Hafertepe Jr[5]; 2. 2C-Wayne Johnson[2]; 3. 23-Seth Bergman[4]; 4. 11X-John Carney II[7]; 5. 45X-Johnny Herrera[10]; 6. 52-Blake Hahn[1]; 7. 87F-Sean McClelland[16]; 8. 11M-Jason McDougal[6]; 9. 8-Alex Sewell[17]; 10. 2L-Logan Forler[14]; 11. 53-Brett Wilson[19]; 12. 24L-Layne Himebaugh[11]; 13. 7M-Chance Morton[18]; 14. 95-Matt Covington[3]; 15. 50Z-Zach Chappell[20]; 16. 85-Forrest Sutherland[12]; 17. 9$-Kyle Clark[15]; 18. 92-Waylon Weaver[21]; 19. 8M-Kade Morton[24]; 20. (DNF) 84-Brandon Hanks[8]; 21. (DNF) 26M-Fred Mattox[22]; 22. (DNF) 11W-Joe Wood Jr[9]; 23. (DNF) 82-Thomas Kennedy[13]; 24. (DNF) 14K-Kyle Bellm[23]
Lap Leader(s): Blake Hahn 1; Wayne Johnson 2-19; Sam Hafertepe, Jr. 20-25;
FSR High Point Driver: Blake Hahn
Hard Charger: Sean McClelland +9
Provisional(s): Kyle Bellm; Kade Morton (Regional)
2016 ASCS National Driver Standings (Top 10): 1. Sam Hafertepe, Jr. 4,691; 2. Johnny Herrera 4,468; 3. Wayne Johnson 4,258; 4. Blake Hahn 4,114; 5. Matt Covington 4,024; 6. Logan Forler 3974; 7. Aaron Reutzel 3,756; 8. Seth Bergman 3,605; 9. Josh Baughman 2,968; 10. Kyle Bellm 2,836;