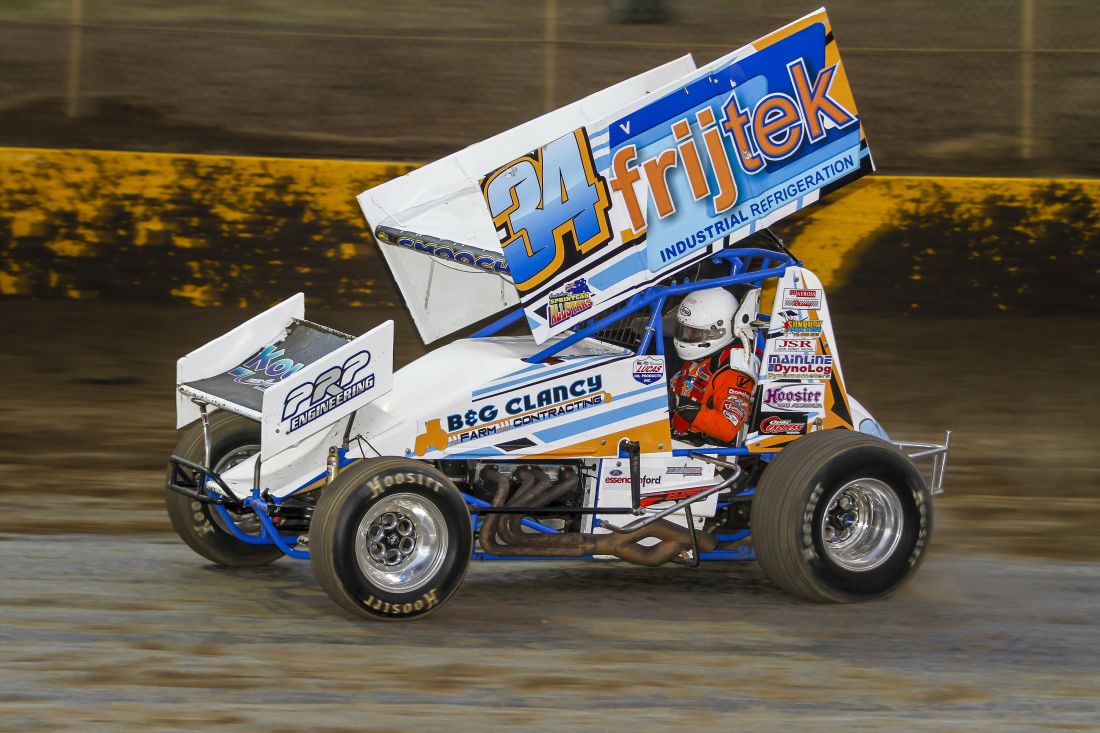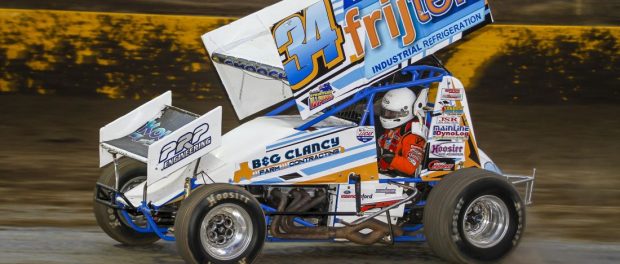 From Murray Bridge Speedway
MURRAY BRIDGE, Au. (November 23, 2016) — A solid field of 25 cars has entered for the fourth round of the Mainline DynoLog Dynamometers Sprintcar All stars Series at Murray Machining & Sheds Speedway this Saturday night.
The MMS venue has been the scene of some historic 360ci Sprintcar moments in the past and this weekend's All-star showdown promises more of the same.
The Series has been coming to Murray Bridge since 2009 and this is the ninth trip to MMS for the All Stars.
A tense top ten points battle has erupted coming into Round Four with the Solomon brothers Paul (first place) and Chris (third) separated by second placed Riverland racer Dan Evans and a mere 39 points.
The two brothers are like chalk and cheese, "the Cyclone" Paul being the more extroverted and younger sibling Chris being slightly more reserved – when out of the racecar at least!
Chris celebrated the start of the Murray Machining & Sheds Speedway season opener on October 2 with a great win for iconic South Aussie former driver and now car owner Tony Bartlett.
Paul won the previous All Stars round at Heartland Raceway Moama over the weekend and is the 2008/2009 Series champion.
Currently second in the points is second-generation Renmark racer Dan Evans who proudly won the recent SA 360ci Championship at Bordertown.
Victorian 16 year old Rusty Hickman stunned everyone with a round win at Swan Hill earlier this month after just a handful of races in the car owned and prepared by his Dad Darren.
Hickman sits fifth in the All Stars points coming into Murray Bridge.
Defending All Stars Champion young Victorian livewire Brenten Farrer must certainly rate a chance for victory in one of the most competitive 360ci events held in South Australia outside of an Australian Championship.
In addition to the All Stars Series contenders South Australian former Australian 360ci champion and current USC driver Chad Ely has switched motors to be a part of this weekend and that throws a whole new degree of wild card into the mix.
Ely won the All Stars Series in 2013/2014 and is regarded as one of the most versatile racers to come out of the City of Churches.
2010/2011 All Stars Champion Mark Caruso also joins the entry list taking a break from his USC SA aspirations in the always-potent #33 entry.
The 25-car field features an exciting mix of former Series Champions, current Series young guns and established SA and Victorian heroes at a circuit that many believe is perfectly suited to the 360ci Sprintcars.
This is the 10th season for the Mainline DynoLog Dynamometers All Stars Series.
Saturday night is also the fourth round of the "JSR King of the River" mini-series with a $2000 bounty for the highest points driver over the five total rounds thanks to John Sidney Racing.
Current Series Points:
Paul Solomon VIC 1533
Daniel Evans SA 1495
Chris Solomon VIC 1494
Brenten Farrer VIC 1492
Rusty Hickman VIC 1489
Phil Lock VIC 1473
Tregan Gates SA 1470
Kane Newcombe VIC 1451
Cody Atkins SA 1428
Brayden Cooley VIC 1425
Nominations:
V18 Anthony Foster
V34 Brenten Farrer
S75 Chris Solomon
V24 Daniel Ellis
S96 Darryl Guerin
NT4 Jamie McInnes
V65 Kane Newcombe
S85 Lee Dillon
S9 Michael Burford
V7 Paul Solomon
S57 Rory Button
A38 Shaun Forrell
S26 Tyson Chambers
S76 Brayden Cooley
S22 Chad Ely
S69 Cody Atkins
S44 Dan Evans
S16 Jack Gartner
S56 Jarman Dalitz
S78 Keke Falland
S33 Mark Caruso
S90 Michael Lovegrove
V4 Phil Lock
V40 Rusty Hickman
S5 Trigga Gates
Also on the program this Saturday night are Wingless Sprints, Junior Sedans, Ford vs Holden Street Stocks and AMCA Nationals.
Prices and particulars:
Adults $25
Pensioner (with government-issued pension card) $20
Juniors 13-15 years $15
Family (2 Adults & 2 Juniors) $60
Kids 12 & Under FREE (with an accompanying paying adult)
Purchase tickets at the gate or online at www.speedwaytickets.com.au