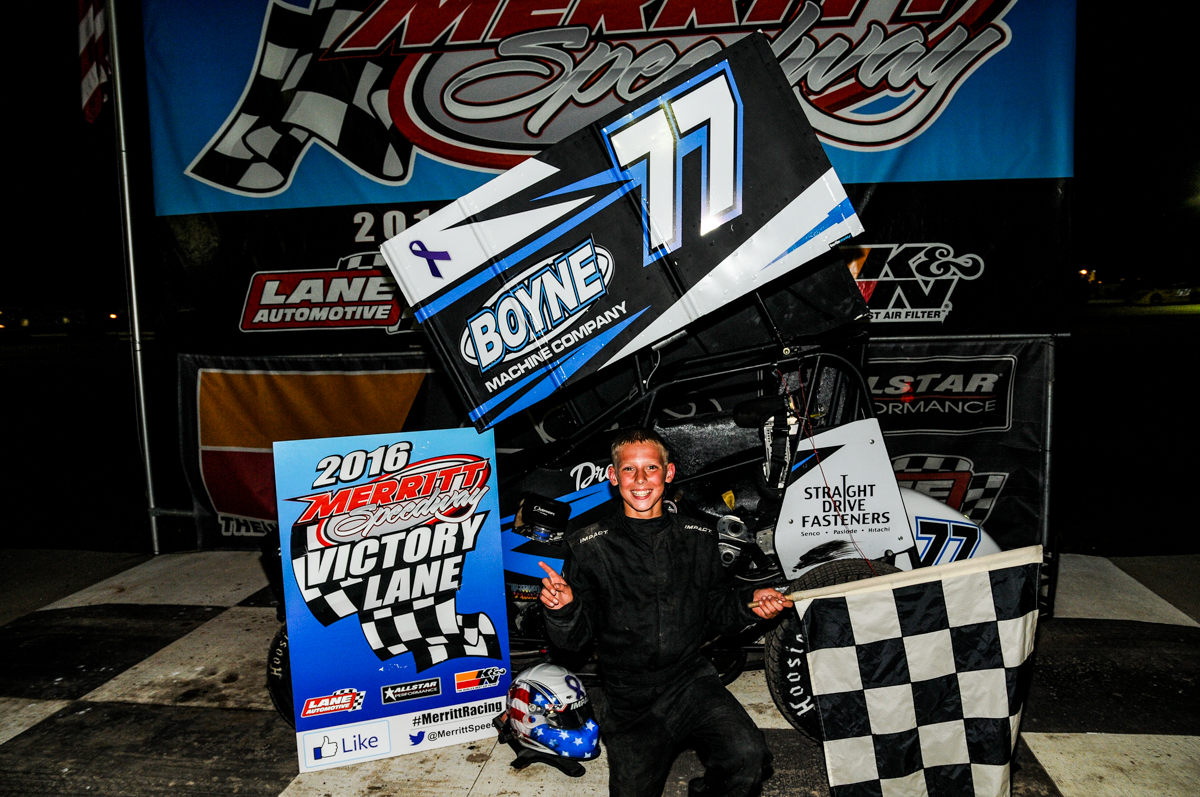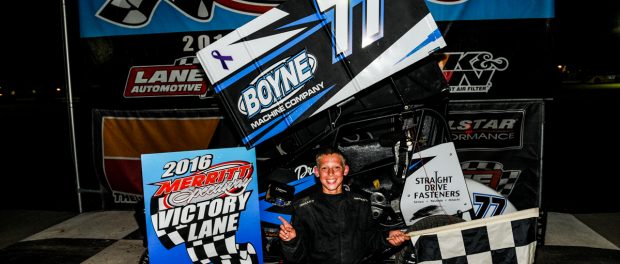 From Kevin Striegle
SPARTA, Mich. (December 5, 2016) — The Scheid Racing team in conjunction with Boyne Machine Racing are pleased to announce the next step in young Andrew Scheid's racing career. In 2017, the to-be 13-year-old racing phenom will climb behind the wheel of a full blown 410 cubic inch winged sprint car.
2016 saw Andrews first full time season piloting a 1000cc winged Lightning Sprint. Andrew and the Scheid Racing team collected the division championship, earning eight feature wins on the season and becoming the youngest driver in the tracks storied history to be crowned a champ. Following the June 18 feature, Andrew finished in the top three in every feature race through the end of the season.
The upcoming season will see Andrew drive the #77 Boyne Machine Racing owned machine tentatively full time with the Engine Pro Sprints on Dirt. The team will also compete at Merritt Speedway when the All Star Circuit of Champions visit Merritt Speedway on Saturday, July 1.
"I am so genuinely excited to be taking such a big step forward in my racing career, and driving for Boyne Machine racing which has been established as one of the finest racing programs in America over the last 20-seasons," stated Andrew Scheid. "Mike Blackmer and everyone at Boyne Machine, along with my dad and our crew are so important to the success of my racing life, and our dream of reaching NASCAR."
Support from area businesses are currently being pursued, but partnerships with Performance Engineering Racing Engines, Engine Pro, and Boyne Machine have been secured. To learn how you can become involved in what will be one of the most watched cars week in and week out, please call Mike Blackmer at 616-669-7178.
Be sure to Like Scheid Racing on Facebook to keep up with the latest news, pictures, videos, and stats for the off-season of racing, and the 2017 season. Andrew Scheid's website is also coming soon.