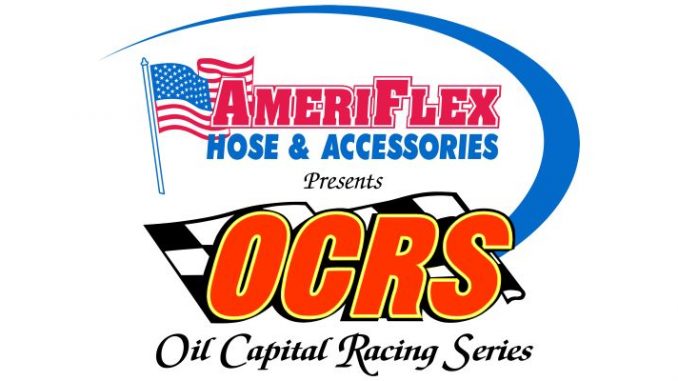 From John Lemon
TULSA, Okla. (February 14, 2017) – Due to recent developments with some area racetracks that had the Ameri-Flex / OCRS series restructure their 2017 racing schedule, the qualification criteria for a car owner to earn a place in the Ameri-Flex Challenge II program at the Salina Highbanks Speedway on August 26th has been restructured from the original announcement.
The $3,000 to win / $500 to start Ameri-Flex Challenge II race will be open to the top 30 in car owner points providing the car owner has participated in a minimum of SIX Ameri-Flex / OCRS events leading up to the date of the event. AFC II will be conducted as a complete racing program versus the single race format held in 2016. Format details will be announced at a later date.
In the event there are added or deleted race dates prior to AFC II, the number of events a car owner must enter and participate in prior to August 26th will remain at SIX with the top 30 in points earning an invitation to participate. In the event of a tie for the 30th and final spot, the car owner with the highest A or B Feature finish in the season earns the tie breaker.
In the event AFC II is rescheduled to a later date due to weather related (or other unforeseen issues), the minimum number of races a car owner must compete in to earn a place in AFC II is 50% of the events held prior to AFC II. For example:
If AFC II requires a date set back to where there becomes 13 or 14 events prior to AFC II, a car owner must make at least 7 events to have a chance to earn a spot in the program. If 15 or 16 races are held prior, the number becomes 8 events and so on. As with 2016, a driver must compete in a minimum of 40% of the Ameri-Flex / OCRS events prior to AFC II to compete in the program.
The Salina Highbanks is also scheduled to present ASCS sprint cars from their Red River Region and race cars from the glory days from the Kansas Antique Racers with the complete program billed as the 'Oklahoma Thunder Nationals'. This will be a night for all race fans to circle on their calendar.
Additional sponsors for AFC II will be announced in the near future. If you are interested in being a part of this spectacular program, contact John Lemon at (918) 850-5341.
The guaranteed purse for Ameri-Flex Challenge II is as follows:
1) $3000
2) $1500
3) $1200
4) $1000
5) $1000
6) $1000
7) $1000
8) $1000
9) $1000
10) $1000
11) $1000
12) $1000
13) $1000
14 through 20) $500 each
Total A-Feature Purse: $19,200. Non Qualifiers receive $125 each
Total purse with 10 non-qualifiers: $20,450