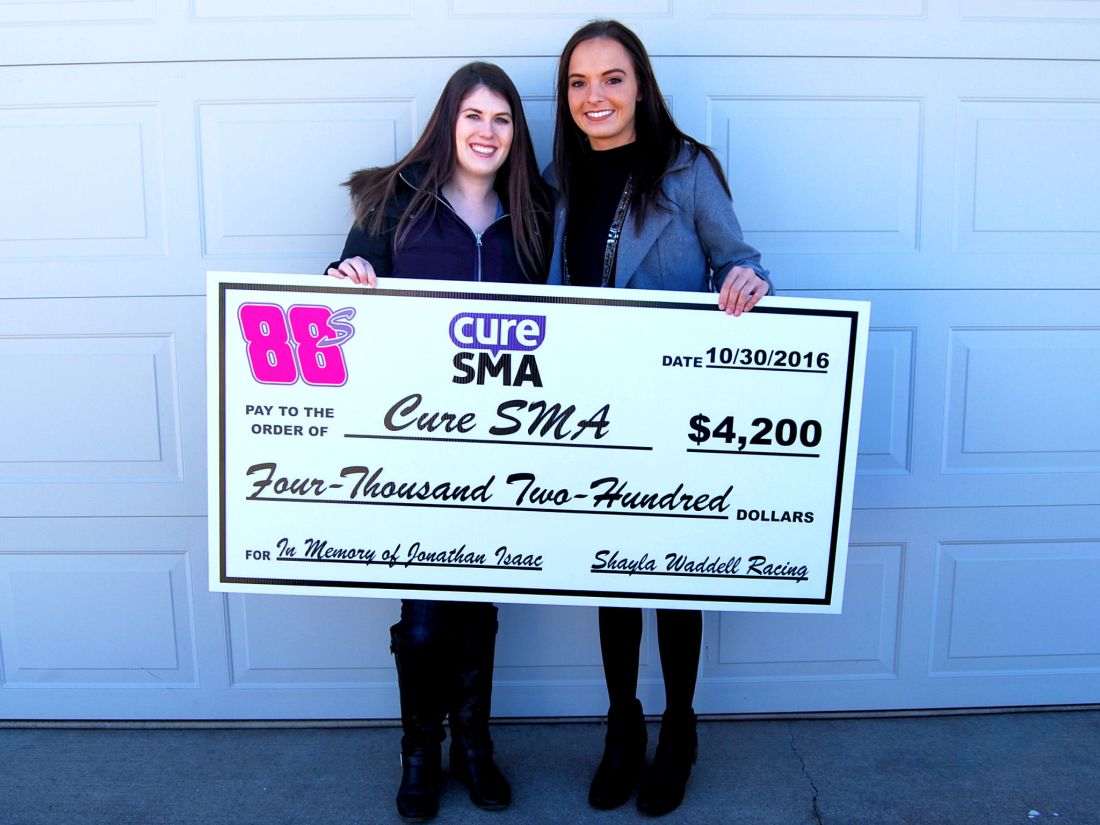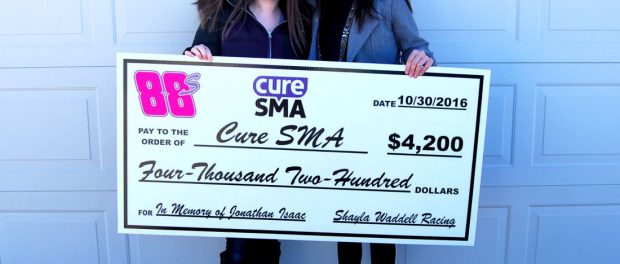 From John Lemon
TULSA, Ok. (February 23, 2017) – In 2016, Shayla Waddell Racing (SWR) set out to embark on their ninth year of sprint car racing in the southern plains. For this racing season, there would be a particular goal to achieve well beyond trophies and cash awards. The goal would be to bring awareness to Spinal Muscular Atrophy (SMA).
SMA is a rare disorder characterized by motor neuron loss and muscle wasting. It is the most common genetic cause of death in infants. There are four types of SMA based on the severity of the disease. SWR was deeply impacted when a young boy by the name of Jonathan Isaac fell victim to this incurable health issue.
It was from Isaac's courageous battle of SMA that the SWR team considered putting together a program to aide in the awareness of the disease while setting out to create a revenue source to assist medical science in finding a cure as time waits for no one.
After addressing multiple options on how to get others involved, SWR decided to raffle off one of Shayla's racing helmets that would also include the autographs of the stars of the hit TV show 'Street Outlaws', a reality drag racing program. The helmet would be professionally enclosed in a plexi-glass case making for a great prize. The team would set up a display stand at various racing events where raffle tickets could be purchased.
Once word began to spread what the SWR team was doing for SMA, donations of racing paraphernalia such as shirts, hoodies, hats and photos were added as additional prizes for the raffle drawing, which would take place at the end of the racing season. In all, and after a late start while some details were being worked out, the SWR team raised in excess of $4,000 for their efforts.
The team plans to continue the cause to fight SMA for the 2017 racing season with an objective to soar past the funds raised from the 2016 season. Shayla Waddell gave her thoughts about the efforts of the team:
"This is by far one of the coolest and most rewarding things I've ever done and we plan to go even bigger for 2017 raising even more funds. Thank you to all who donated, helped set up at the track, sold tickets, and helped pull this together. I'm so grateful that the team was able to raise money for such an important cause while doing what we love to do (racing sprint cars)."
Shayla wishes to thank the following for their support to this cause:
Nick Newton (SWR crew chief and huge supporter of the Cure for SMA efforts), Brand Racing Engines, Andy Gordon, Brian & Justin Potter, Outlaw Wings, Unlimited Products, Royal Purple, Wilwood, Total Seal, Wayne Varley, Brodix, SRP Racing, JE Pistons, Maxima Racing Oils, and Mike Howard Photos are some of those who assisted in SWR's efforts.
Additional information on SMA can be found at: www.curesma.org
From Heather and Mike Isaac, Jonathan's parents:
"We are so grateful and honored that Shayla's racing team chose Cure SMA for a fundraiser in honor of Jonathan. We were so touched by everyone who donated their time and money. We really enjoyed getting to see Shayla race this past season. We are hopeful that because of people like Shayla and Nick, there will someday be a cure for SMA."
Please assist in any way you can to fight this tragic element. An innocent child should not have to endure such a fate. One day, together, we will win this battle so that a child can live the life they are entitled to.