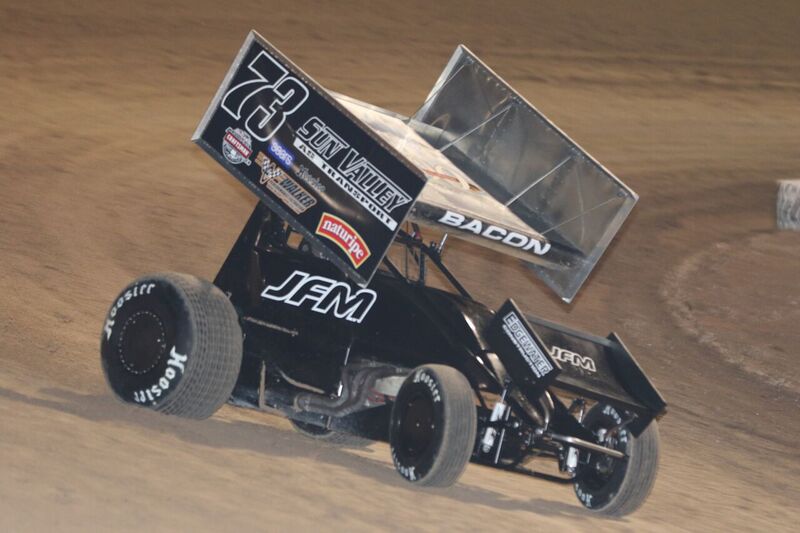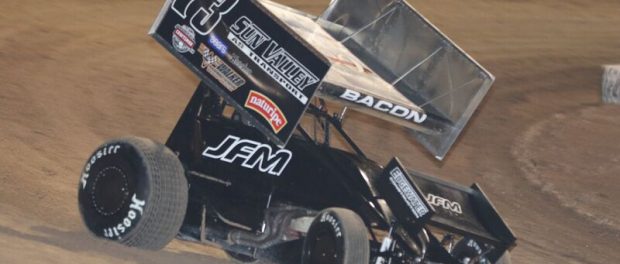 From Bill Wright
March 6, 2017 – Brady Bacon racked up a pair of podium finishes with the Josh Ford Motorsports #73 team in double duty at The Dirt Track at Las Vegas last weekend. A second and third place finish came with the USAC West Coast Sprint Car Series. The Broken Arrow, Oklahoma driver also competed with the World of Outlaws, charging from 23rd to 15th in Friday's feature. This weekend, Brady will begin his quest with the USAC National Midget Series aboard the Frank Manafort Racing #76M as they open with the "Shamrock Classic" at the Southern Illinois Center in DuQuoin.
On the non-wing side of things, Brady timed in eighth quick on Thursday. The track got choppier as the night went on. "The non-wing car was good all weekend," he says. "We didn't expect the track to be so rough on Thursday. It was rough for the wing cars, but it got even rougher when the non-wing cars got out for the feature."
He would put on a charge in the main event. "We were able to go from twelfth to third in six or seven laps," says Brady. "It just got so rough, that we had to maintain. Some of the changes we made to the car were aggressive, because we had to pass a bunch of people. We wanted to make sure we had grip. We ended up third, which wasn't a bad finish to start with."
Brady timed in third quick in the non-wing car on Friday. "It was kind of slick all night," he says. "The wing feature started getting choppy on the top of the track. There were some holes. We weren't expecting that. We were able to get the lead running the bottom (after starting fourth). We went to the top after that, and the car got tighter and tighter. (Ryan) Bernal's car was really good up in the holes, and he was able to get by us in the end. We had a lot of cautions, which also worked in his favor. We were pretty pleased with our finish (second), especially with how rough things were. That's the way it goes."
In World of Outlaws action, the car worked better on Thursday. "The car was pretty good on Thursday," says Brady. "We didn't get qualified well (14th), but we were able to drive from eighth to third in the B, and from 23rd up to 15th in the feature. We had a couple of restarts that didn't go our way. If some things went our way, I think we were capable of a top ten. We had a car good enough to do that."
The finale did not go as well. "We weren't as good Friday night," says Brady. "We got buried in qualifying, and we never really found a balance on the car. We were pretty decent in hot laps, but we had some tire spin throughout the night and just couldn't get going forward."
Brady is looking forward to heading to California with the WoO a week from Friday, but his focus is on DuQuoin. "We'll head back out there with the Outlaws in two weeks at Stockton," he says. "We're looking forward to getting the USAC National midget season kicked off at DuQuoin Saturday. This is the second year for our team, and we got stronger and stronger at the end of last year. We've got a good chemistry, and the team has been working hard all winter."
The team gelled at the end of last season, and took a big win at the Jason Leffler Memorial in Illinois. "The competition has gotten a little tougher heading into this season, but I feel we are comfortable with what we have as a team," says Brady. "We'd like to capitalize on what we built on last year."
Follow Brady on his Website, Twitter and Facebook!
Follow Brady at his website located at www.BradyBaconRacing.com! Also keep up with him on Facebook and Twitter (which also can be accessed at the website) at the following links…
Twitter Link – http://twitter.com/BradyBacon
Facebook Link – www.facebook.com/pages/Brady-Bacon-Racing/278125555137