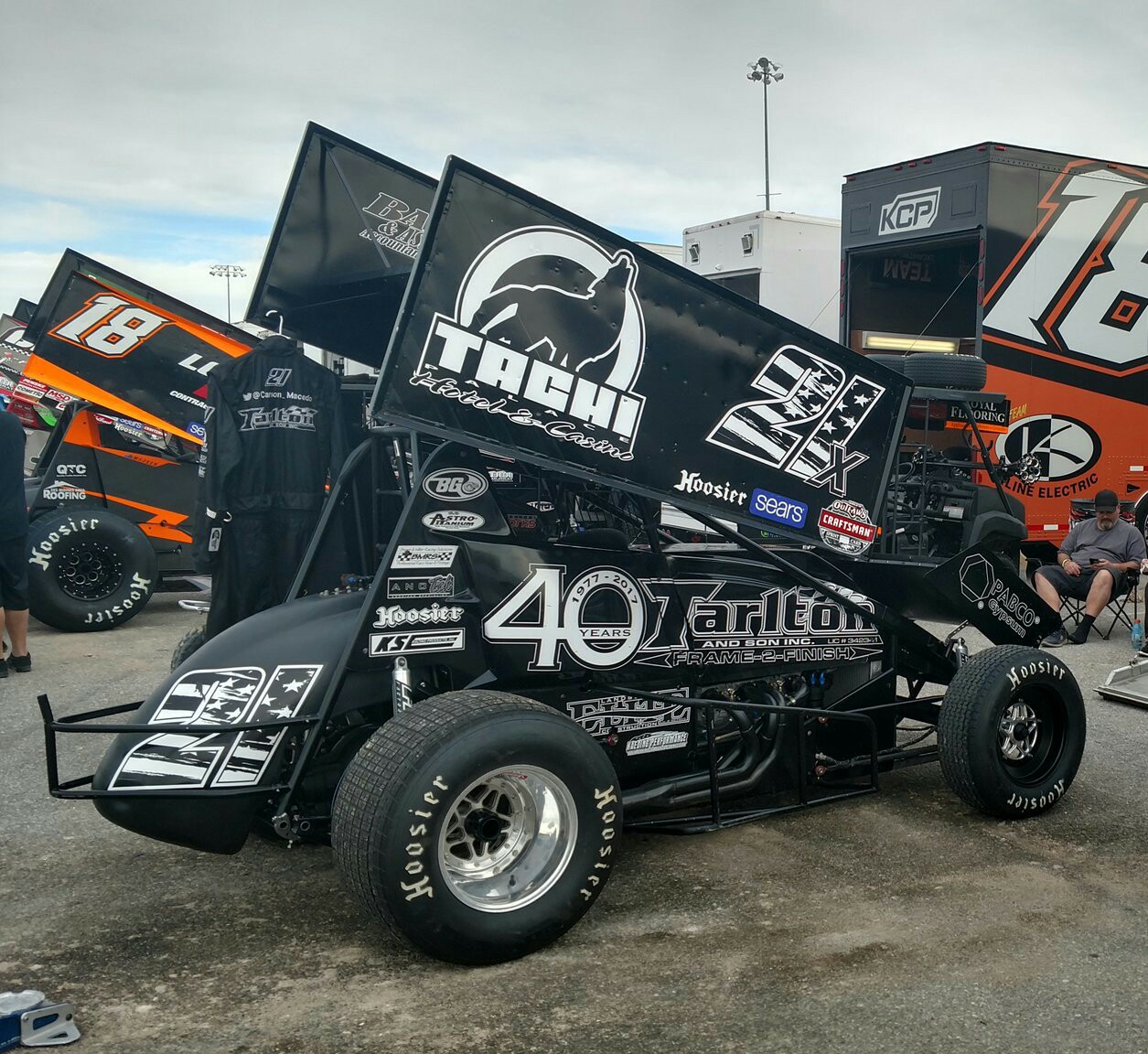 From Dub Publications & Media
Macedo Grabs Top Ten at Tulare
FOR IMMEDIATE RELEASE
TULARE, Ca. (March 19, 2017) – Coming off of a "Hard Charger" award with the World of Outlaws Craftsman Sprint Car Series at the Dirt Track at Las Vegas Motor Speedway, Macedo heads back to his home state of California. Piloting the Tarlton Motorsports 21x machine, Macedo geared up for back-to-back nights at the famed Thunderbowl Raceway (Tulare, California).
Night one started in the right direction, qualifying 16th out of 36 cars and a 3rd place finish in the heat race would reward him with an automatic bid to the Amain event. Trouble struck on lap 9 after Macedo was involved in an incident, getting upside down in turn four on the restart, ending his night.
"I had a good car all night and the results didn't show it," said Macedo. "We were going forward and had good speed. I just got caught up in one of those racing deals on the restart and got upside down. We'll get it fixed and be ready for tomorrow."
The second night of racing action didn't get off to the best start with a qualifying time of 14.442, ending up 27th. Making moves in the heat race with a 5th place finish from the 7th starting position would be good enough to transfer directly into the Amain. Starting deep in the field, at 19th on the grid, Macedo would charge his way to the front to grab a 9th place finish in the Tarlton Motorsports 21x.
"I love racing for Tarlton Motorsports," said Macedo. "They always give me a fantastic car and I was glad we could rebound from last night's crash and get them a top ten."
Macedo was two spots shy of snagging another Hard Charger Award. This was his 7th top 10 of the season in 13 races. You can catch Macedo and Tarlton Motorsports at Stockton Dirt Track on March 24th & 25th with the World of Outlaws Craftsman Sprint Car Series.
Carson Macedo would like to thank the following personal sponsors: Shifty Illusions, Vaportail Clothing, Fiberworks Composites, Port of Subs Sandwiches, and Tarlton and Son Incorporated.
Tarlton Motorsports would like to thank the following sponsors: Tarlton and Sons Incorporated, Elite Landscaping, Tachi Palace Hotel and Casino, Pabco Gypsum, Allstar Performance, Executive Auto Sales, Bandy and Associates, and BG Oils and Lubricants.