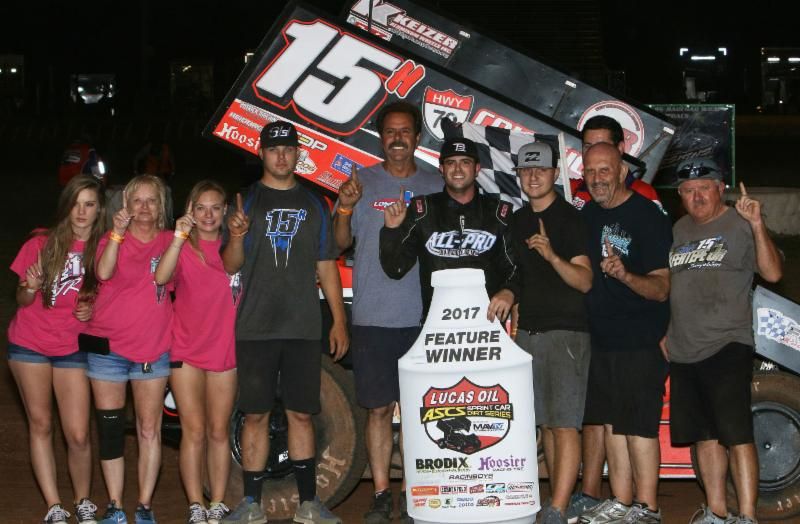 By Bill W
June 20, 2017 – It was "boom or bust" for Sam Hafertepe Jr. and the Keith Dobbs #15H team during Lucas Oil ASCS Speedweek. Two wins and two second place finishes highlighted the week. The other three events ended in DNF's. The wins came at Devil's Bowl Speedway near Mesquite, Texas (his fourth win of the year there) and at Lawton Speedway in Oklahoma. The Sunnyvale, Texas native hopes to repeat as the Skagit Dirt Nationals champion this weekend. The event, at Skagit Speedway near Alger, Washington, again pays $15,000 to the winner.
Speedweek started at West Texas Raceway in Lubbock, Friday, June 9. "We were able to dominate the heat at Lubbock," says Sam. "We drew a five for the feature, and got to third right away. We were trying to go for a little more than we should have, and ended up on our lid that night."
Sam and the team were ready for Route 66 Motor Speedway in Amarillo, Texas June 10. "We had to pull down another car," he says. "We felt good in hot laps, but we got a bad start in our heat and only went from fifth to fourth. We started 11th in the feature, and had a tire cut down about halfway through. That pretty much ended our night."
They rebounded at one of their favorite tracks, Devil's Bowl Speedway a week ago on Tuesday.
"We were able to fix the car that was bent up," says Sam. "After we fixed it, we pretty much dominated at Devil's Bowl. We won our heat and drew a starting spot outside row one for the feature. We took off from the outset and won. That was a great way to get things headed the right direction again."
The momentum continued for Sam on Wednesday at Lawton. "We had heats and Qualifiers at Lawton," he says. "We went from fifth to third in our heat, and third to first in the Qualifier. We started front row outside again. We were able to take the lead on lap two and went on to win by over five seconds there. The back to back wins were great."
Next up was Creek County Speedway near Sapulpa, Oklahoma Thursday. "We won the heat from the pole," says Sam. "We drew the eight. That didn't work out so well. The track was pretty one-lane around the bottom. We got up to fifth and we were passing for fourth. We ended up getting chopped off and that spun us. We went to the back and really couldn't pass anyone back there."
Sam made his first start at Randolph County Raceway near Moberly, Missouri Friday. "We were able to go from fourth to second in the heat," he says. "We really couldn't do anything with (Brian) Brown there. We led early in the feature. (Aaron) Reutzel passed us about lap four, but we got going again, and got back by him. We led a couple laps and he got back by us. Brown came on strong at that point. We really had nothing for him, and we ended up finishing second to him there."
The Speedweek finale came Saturday at Lucas Oil Speedway near Wheatland, Missouri.
"We started fifth in the heat and ran third," says Sam. "We drew a four for the feature. We just kind of rode around there for a while. We finally got to second about lap thirteen or fourteen. We reeled in Reutzel with a couple laps to go. We made a couple of runs at him, but we just couldn't finish the pass. We ended up second, but I believe we had the fastest car. Track position was really key."
Overall, the tiring week was a success. There is no rest for the weary as the series heads to the Pacific Northwest this weekend. "We were happy with the week really," says Sam. "Despite a few DNF's, we were finishing first or second, so we can't complain. We're on our way to Washington, and we're ready to get another $15,000 at Skagit, that's for sure!"
Sam Online
Website: www.Sam15.com
Twitter: @SamHafertepeJr
Facebook: www.facebook.com/pages/Sam-Hafertepe-Jr-and-The-Plumbfast-Racing-Team/116304711773031?ref=br_tf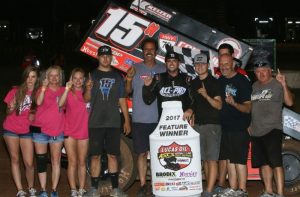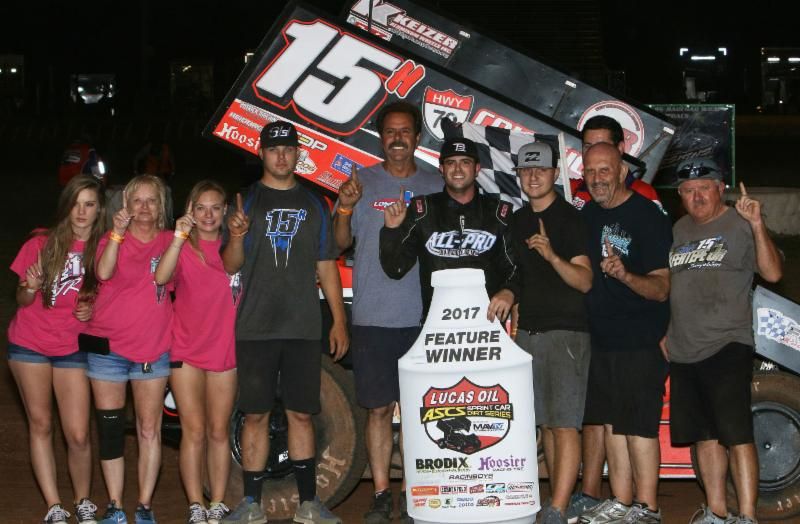 Sam's Weekly Releases
If you'd like to be added to Sam's e-mail list for weekly releases, e-mail sprntcar@hotmail.com with "Sam" in the Subject Line.
Sam would like to thank Highway 79 Collision Center, the Sparks Family, Kiebler & Sons Lawn and Landscaping, Keizer Aluminum Wheels, Champion Oil, NAPA Auto Parts of Franklin and Sherwin Williams, FK Rod Ends, 21R Youth Racing League, Huggins Cams, CP Carrillo, Callie's, Vortex Wings, Simpson Racing Products, Kinsler Injection, Barnes Oil Systems, DMI, Fisher Racing Engines, Moose Blocks, J&J Auto Racing, KSE, Smiley's Racing Products, Hoosier Tire, Brown & Miller Racing Solutions.