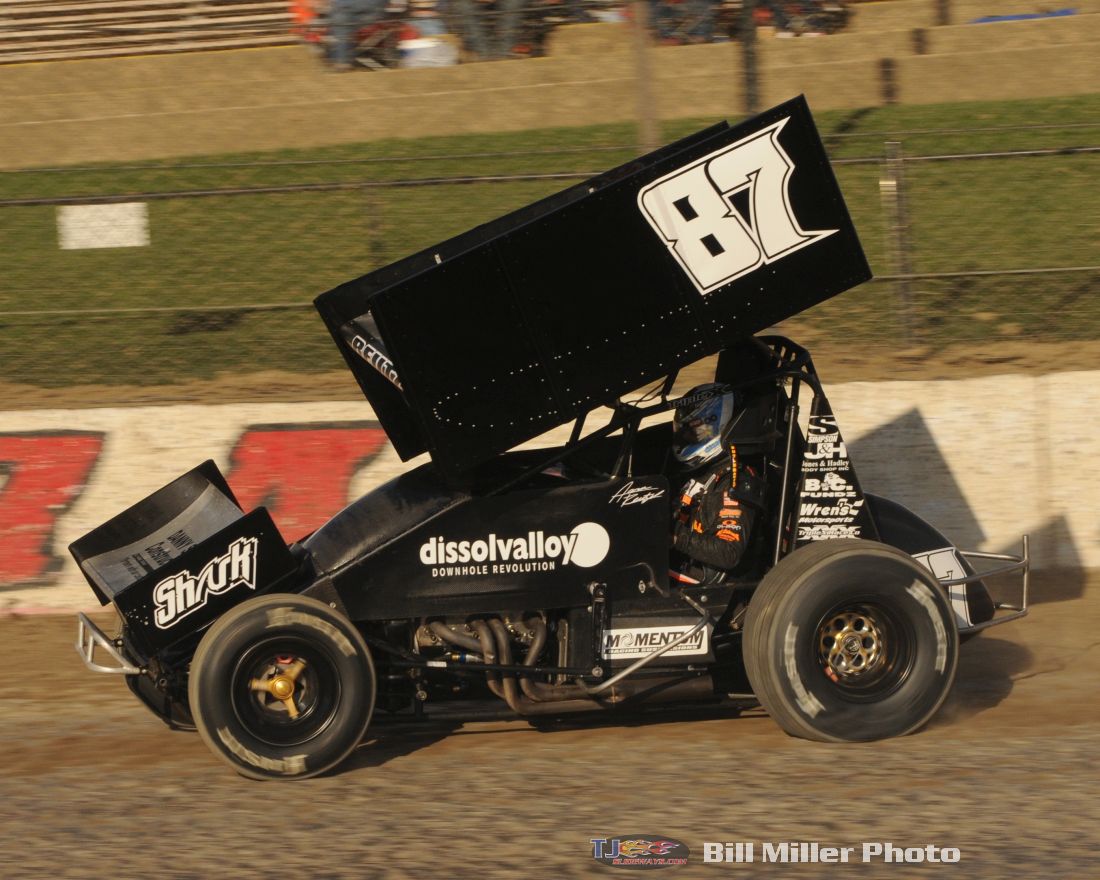 From Inside Line Promotions
JACKSON, Mn. (July 28, 2017) — Aaron Reutzel, Derrik Lusk and Brandon Allen each scored their first feature triumph of the season and Brandon Halverson claimed his second straight victory at Jackson Motorplex on Friday during the Jackson County Fair presented by ABDO, Eick & Meyers.
Reutzel became the seventh different winner in nine 410 Outlaw Sprints Fueled by Casey's General Store A Mains this season as he dominated the $10,000-to-win event, winning by nearly five seconds. Dusty Zomer, who started on the pole and led the first handful of laps, finished in the runner-up position with points leader Mark Dobmeier placing third. Brian Brown ended fourth and Skylar Prochaska was fifth.
Kerry Madsen set a new track record during qualifying before Brooke Tatnell, Tim Kaeding and Justin Henderson each won a heat race.
Lusk was in command throughout the 360ci winged sprint car portion of the night as he powered to the $1,200-to-win Barb Wieskus Memorial victory, making it five different winners in six races this season for the division. Ryan Bickett placed second with Trevor Serbus third, Kaley Gharst fourth and Gregg Bakker fifth.
Bickett and Bakker were the heat race winners.
Allen is the ninth driver to record a Heartland Steel RaceSaver 305 Sprints win in 11 races this season as he held off eighth-starting Dusty Ballenger for the trip into the Winner's Circle. Jesse Lindberg finished third with points leader Kaleb Johnson advancing from 10th to fourth place and Brady Forbrook maneuvering from 12th to fifth place.
Allen, Trevor Smith and Chris Duffy each captured a heat race and Colin Smith won the B Main.
Halverson passed polesitter Alex Schriever for the top spot late in the $500-to-win Heartland Racing Association non-wing sprints presented by HitchDoc A Main before surviving a restart with three laps remaining to score the victory. Schriever held on for the runner-up result with Brandon Stevenson advancing from seventh to third place and Clinton Bruns from eighth to fourth place. Doug Martens rounded out the top five.
Stevenson and Bruns were victorious during the heat races.
Jackson Motorplex will showcase Heartland Steel RaceSaver 305 Sprints, Minnesota West – Jackson Campus IMCA a mods, Bohl's Small Engine IMCA sport mods, Fairmont Awards IMCA hobby stocks and Heartland Racing Association non-wing sprints presented by HitchDoc next Friday during Livewire Printing Company Night.
Jackson Motorplex
Jackson, MN
Friday July 28, 2017
410 Sprints Fueled by Casey's General Store
Heat 1: 1. 55-Brooke Tatnell, [2]; 2. 21-Brian Brown, [4]; 3. 23W-Scott Winters, [1]; 4. 87-Aaron Reutzel, [3]; 5. 41-Dominic Scelzi, [5]; 6. 2M-Kerry Madsen, [6]; 7. 81-Austin Johnson, [7]; 8. 4X-Eric Schulz, [8]
Heat 2: 1. 3-Tim Kaeding, [2]; 2. 13-Mark Dobmeier, [5]; 3. 12-Lynton Jeffrey, [6]; 4. 82-Dusty Zomer, [3]; 5. 7W-Tasker Phillips, [1]; 6. 14-Jody Rosenboom, [7]; 7. (DNF) 09-Matt Juhl, [4]; 8. (DNF) 17B-Ryan Bickett, [8]
Heat 3: 1. 59H-Justin Henderson, [6]; 2. 16-Travis Whitney, [2]; 3. 18-Ian Madsen, [5]; 4. 35-Skylar Prochaska, [4]; 5. 4W-Matt Wasmund, [1]; 6. 26-Tayler Malsam, [3]; 7. 7X-Kaley Gharst, [7]
A Feature: 1. 87-Aaron Reutzel, [2]; 2. 82-Dusty Zomer, [1]; 3. 13-Mark Dobmeier, [6]; 4. 21-Brian Brown, [4]; 5. 35-Skylar Prochaska, [3]; 6. 55-Brooke Tatnell, [9]; 7. 2M-Kerry Madsen, [16]; 8. 41-Dominic Scelzi, [13]; 9. 18-Ian Madsen, [5]; 10. 3-Tim Kaeding, [10]; 11. 59H-Justin Henderson, [7]; 12. 12-Lynton Jeffrey, [8]; 13. 09-Matt Juhl, [22]; 14. 16-Travis Whitney, [11]; 15. 26-Tayler Malsam, [18]; 16. 14-Jody Rosenboom, [17]; 17. 4X-Eric Schulz, [21]; 18. (DNF) 7W-Tasker Phillips, [14]; 19. (DNF) 23W-Scott Winters, [12]; 20. (DNF) 81-Austin Johnson, [19]; 21. (DNF) 17B-Ryan Bickett, [23]; 22. (DNF) 7X-Kaley Gharst, [20]; 23. (DNF) 4W-Matt Wasmund, [15]
360 Sprints
Heat 1: 1. 17B-Ryan Bickett, [2]; 2. 35-Skylar Prochaska, [6]; 3. 32-Trevor Serbus, [7]; 4. 7-Kaley Gharst, [5]; 5. 51A-Elliot Amdahl, [1]; 6. 5T-Mark Toews, [3]; 7. 14K-Victoria (Tori) Knutson, [4]
Heat 2: 1. 11X-Gregg Bakker, [2]; 2. 12L-John Lambertz, [3]; 3. 10J-Justin Jacobsma, [1]; 4. 14-Jody Rosenboom, [4]; 5. 2-Derrik Lusk, [7]; 6. 2H-Bill Boles, [6]; 7. (DNF) 75-Brandon Halverson, [5]
A Feature: 1. 2-Derrik Lusk, [2]; 2. 17B-Ryan Bickett, [3]; 3. 32-Trevor Serbus, [1]; 4. 7-Kaley Gharst, [5]; 5. 11X-Gregg Bakker, [6]; 6. 35-Skylar Prochaska, [8]; 7. 14-Jody Rosenboom, [9]; 8. 10J-Justin Jacobsma, [4]; 9. 12L-John Lambertz, [7]; 10. 51A-Elliot Amdahl, [10]; 11. 5T-Mark Toews, [12]; 12. 2H-Bill Boles, [11]; 13. 14K-Victoria (Tori) Knutson, [14]; (DNS) 75-Brandon Halverson,
Heartland Steel IMCA 305 Sprints
Heat 1: 1. 05X-Brandon Allen, [2]; 2. 2D-Dusty Ballenger, [6]; 3. 4S-Michael Stien, [4]; 4. 5-Brady Forbrook, [8]; 5. 7D-Dave Becker, [3]; 6. 11-Dalyn Cody, [1]; 7. 05-Colin Smith, [5]; 8. 93-Tony Rustad, [9]; 9. 8-Jacob Hughes, [7]
Heat 2: 1. 33-Trevor Smith, [2]; 2. 10-Trevor Serbus, [6]; 3. 11A-Bruce Anderson, [3]; 4. 4SN-Nate Eakin, [7]; 5. 56-Bill Johnson, [8]; 6. 9-Keith Weber, [1]; 7. 51-Corey Kautz, [4]; 8. 13S-Shane Fick, [5]; 9. 35X-Mike Stegenga, [9]
Heat 3: 1. 4D-Chris Duffy, [1]; 2. 7L-Jesse Lindberg, [3]; 3. 22-Kaleb Johnson, [6]; 4. 55-Justin Allen, [2]; 5. 20-John Lambertz, [4]; 6. 77-Lee Goos Jr, [8]; 7. 35-Blaine Stegenga, [7]; 8. 75-Brandon Geldner, [5]
B Feature: 1. 05-Colin Smith, [4]; 2. 75-Brandon Geldner, [9]; 3. 13S-Shane Fick, [8]; 4. 35-Blaine Stegenga, [6]; 5. 77-Lee Goos Jr, [3]; 6. 93-Tony Rustad, [7]; 7. 9-Keith Weber, [2]; 8. 35X-Mike Stegenga, [11]; 9. (DNF) 51-Corey Kautz, [5]; (DNS) 11-Dalyn Cody, ; (DNS) 8-Jacob Hughes,
A Feature: 1. 05X-Brandon Allen, [2]; 2. 2D-Dusty Ballenger, [8]; 3. 7L-Jesse Lindberg, [6]; 4. 22-Kaleb Johnson, [10]; 5. 5-Brady Forbrook, [12]; 6. 75-Brandon Geldner, [17]; 7. 4SN-Nate Eakin, [11]; 8. 56-Bill Johnson, [13]; 9. 20-John Lambertz, [15]; 10. 05-Colin Smith, [16]; 11. 10-Trevor Serbus, [9]; 12. 4S-Michael Stien, [7]; 13. 77-Lee Goos Jr, [20]; 14. 13S-Shane Fick, [18]; 15. 35-Blaine Stegenga, [19]; 16. 7D-Dave Becker, [14]; 17. (DNF) 33-Trevor Smith, [3]; 18. (DNF) 55-Justin Allen, [4]; 19. (DNF) 4D-Chris Duffy, [1]; 20. (DNF) 11A-Bruce Anderson, [5]
360 Non Winged Sprints | HRA – Heartland Racing Association
Heat 1: 1. 0X-Brandon Stevenson, [3]; 2. 0-Alex Schriever, [4]; 3. 91-Doug Martens, [2]; 4. 07-Derek Anderson, [5]; 5. 13-Dave Murphy, [1]; (DNS) 14-Rob Sharits,
Heat 2: 1. 7-Clinton Bruns, [3]; 2. 13MJ-Brandon Halverson, [6]; 3. 0MG-Jeff Davis, [2]; 4. 47-Brant OBanion, [1]; 5. 7X-Rick Jansma, [4]; 6. 38-Miles Grein, [5]
A Feature: 1. 13MJ-Brandon Halverson, [2]; 2. 0-Alex Schriever, [1]; 3. 0X-Brandon Stevenson, [7]; 4. 7-Clinton Bruns, [8]; 5. 91-Doug Martens, [3]; 6. 7X-Rick Jansma, [10]; 7. 0MG-Jeff Davis, [4]; 8. 13-Dave Murphy, [9]; 9. (DNF) 47-Brant OBanion, [6]; 10. (DNF) 07-Derek Anderson, [5]; 11. (DNF) 38-Miles Grein, [11]; (DNS) 14-Rob Sharits,