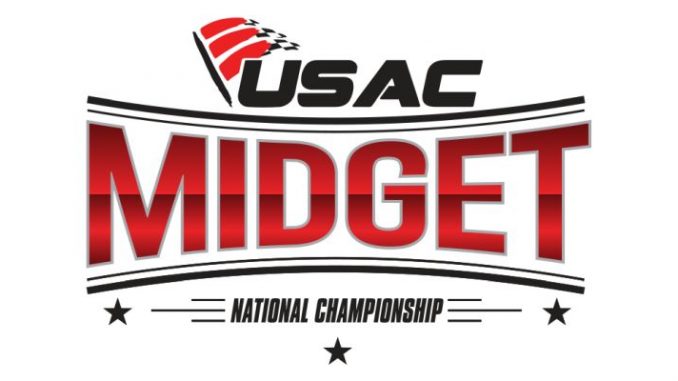 ROSSBURG, Ohio (September 23, 2017) — After an opening lap caution for Tyler Courtney, Bayston drove away from the rest of the field with Justin Grant trying to keep pace. With 13 to go Grant, who was running second, hit the turn one wall and came to a stop to bring out the caution flag.
After the restart Bayston pulled away while Dave Darland found himself in a four car race for second with Shane Golobic, Brady Bacon, and teammate Tyler Thomas. Golobic moved past Darland with Bacon following suit for third. Bayston continued to pull away while Golobic and Bacon raced for second position over the final five laps. Golobic eventually separated himself from Bacon, but could not close on Bayston for the lead.
Bayston was never seriously challenged winning by four seconds over Golobic and Bacon.
USAC NATIONAL MIDGET RACE RESULTS: September 23, 2017 – Rossburg, Ohio – Eldora Speedway – 36th "4-Crown Nationals" – Presented by NKT.TV
SIMPSON RACE PRODUCTS/COMPETITION SUSPENSION (CSI) FIRST HEAT : (8 laps) 1. Dave Darland (#91BT Thomas), 2. Tyler Courtney (#7BC Clauson/Marshall), 3. Justin Grant (#39BC Clauson/Marshall), 4. Brady Bacon (#76m FMR), 5. Tanner Thorson (#67 Kunz/Curb-Agajanian), 6. Chase Jones (#22 Petry/Goff), 7. Tanner Carrick (#71k Kunz/Clauson/Marshall), 8. Brayton Lynch (#1k RKR), 9. Adam Pierson (#76E Mancini). 2:29.81
CHALK STIX/INDY RACE PARTS SECOND HEAT : (8 laps) 1. Shane Golobic (#17w Clauson/Marshall/Wood), 2. Spencer Bayston (#97 Kunz/Curb-Agajanian), 3. Chad Boat (#84 Tucker/Boat), 4. Tyler Thomas (#91T Thomas), 5. Jerry Coons Jr. (#25 Petry/Goff), 6. Holly Shelton (#67k Kunz/Curb-Agajanian), 7. Alex Bright (#77 Bright), 8. Bear Wood (#8jr LW), 9. Rico Abreu (#97k Kunz/Curb-Agajanian).
FEATURE: (25 laps) 1. Spencer Bayston, 2. Shane Golobic, 3. Brady Bacon, 4. Dave Darland, 5. Tanner Thorson, 6. Holly Shelton, 7. Chad Boat, 8. Tanner Carrick, 9. Tyler Thomas, 10. Alex Bright, 11. Jerry Coons Jr., 12. Brayton Lynch, 13. Adam Pierson, 14. Bear Wood, 15. Chase Jones, 16. Justin Grant, 17. Tyler Courtney. NT
——————————–
**Abreu flipped at the start of the second heat.
FEATURE LAP LEADERS: Laps 1-25 Bayston.
KSE RACING PRODUCTS/LARRY RICE HIGH PERFORMANCE HARD CHARGER AWARD: Holly Shelton (13th-6th)
WILWOOD BRAKES 13TH PLACE FINISHER: Adam Pierson
NEW USAC NATIONAL MIDGET POINTS: 1-Bayston-1,363, 2-Bacon-1,297, 3-Golobic-1,286, 4-Thorson-1,256, 5-Courtney-1,200, 6-Grant-1,198, 7-Boat-1,084, 8-Shelton-988, 9-Carrick-906, 10Coons-846.
NEXT USAC NATIONAL MIDGET RACE: October 22- Wayne City, IL – Wayne County Speedway – "Jason Leffler Memorial"