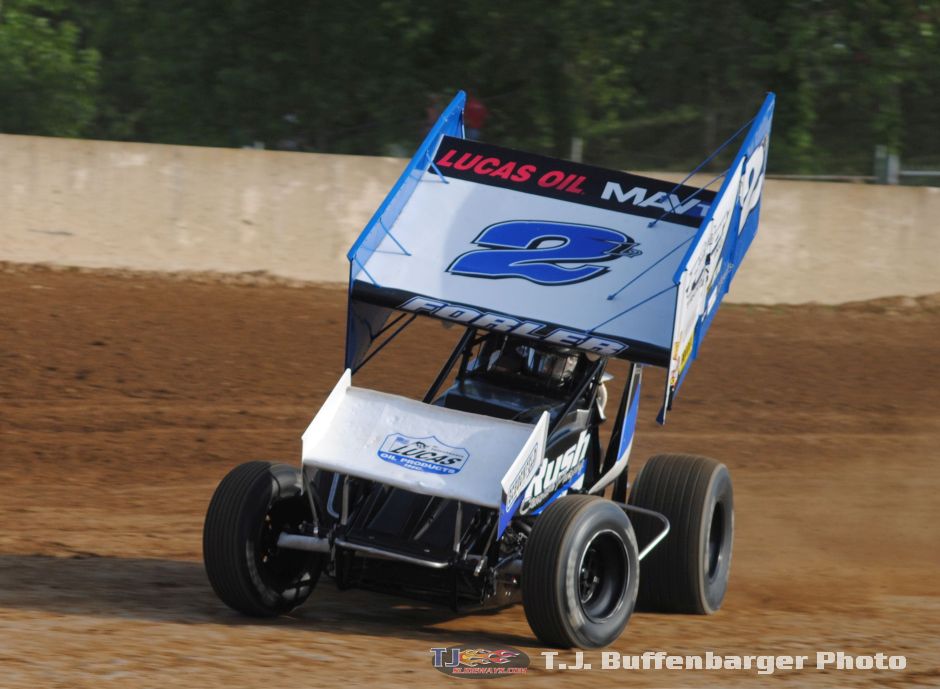 From Kaleb Hart
YAKIMA, Wa. (September 23, 2017) – The 2017 Season came to a close for the Here 2 Wire Summer Thunder Sprintcar Series and the Napa Auto Parts Washington Modified Tour with Logan Forler and Kyler Moore winning the last night of racing at Central Washington State Fair Raceway in Yakima, WA.
Forler was dominant in leading all 30 laps of the main event, holding a five second plus advantage over the field for most of the contest until a red flag with four laps to go flew for Cam Smith. Forler, who has now won races in Washington, Montana and Idaho on the year, hit his marks perfectly in holding off runner up Henry Van Dam and third place finisher Roger Crockett to pick up his first career STSS win. With a ninth place finish, Jason Solwold should be the 2017 STSS point champion. Eric Fisher was the Triple X Hard Charger, gaining seven spots in the main. JJ Hickle was quick time. Heat winners were Steve Vague, Robbie Price, Jay Cole and Smith.
Kyler Moore capped his Washington Modified Tour championship by sweeping the weekend of main event wins. Moore darted underneath Zach Simpson on lap 15 to grab the top spot and held off a challenge from BJ Wild and Doug Davenport late to win his second feature of the weekend and presumably sew up the title. Heat wins went to Lawrence O'Conner, Simpson and Moore.
Summer Thunder Sprintcar Series
Fast Time – JJ Hickle 14.837
Heat 1 – Steve Vague, Jayme Barnes, JJ Hickle, Colton Heath, Kelly Miller, Chauncey Filler
Heat 2 – Robbie Price, Jared Peterson, Derek Roberts, Brandon Harkness, Chase Goetz
Heat 3 – Jay Cole, Henry Van Dam, Roger Crockett, Chris Schmelzle, Steve Reeves, Jeff Dunlap
Heat 4 – Cam Smith, Jason Solwold, Reece Goetz, Logan Forler, Eric Fisher, Jason Thomas
B Main – Chase Goetz, Miller, Fisher, Reed, Reeves, Filler, Dunlap, Thomas
A Main – Logan Forler, Van Dam, Crockett, Heath, R Goetz, Hickle, Peterson, Schmelzle, Solwold, Vague, Cole, Price, Fisher, Miller, Reed, Harkness, Roberts, Reeves, Smith, Filler, Barnes, C Goetz
Lap Leaders – Forler 1-30
Washington Modified Tour
Heat 1 – Lawrence O'Conner, Tiana Berkeley, Austin Kerrigan, BJ Wild, Adam Holtrop, Kevin Quesnell, Shane Kerrigan, Larry Buchanon
Heat 2 – Zach Simpson, Doug Davenport, Duane D'Amico, Kevin Smith, Brandon Berg, BEcky Boudreau, Craig Moore
Heat 3 – Kyler Moore, Tyson Blood, James Wolford, Pat Merritt, Dan Butenschoen, Cliff Ballenger, Jeremy Martin
Main – Kyler Moore, Wild, Simpson, Davenport, Smith, A Kerrigan, S Kerrigan, Buchanon, Wolford, Holtrop, Quesnell, Blood, Berkeley, D'Amico, Boudreau, Butenschoen, Merritt, C Moore, Berg, O'Conner
Lap Leaders – Simpson 1-14 K Moore 15-25