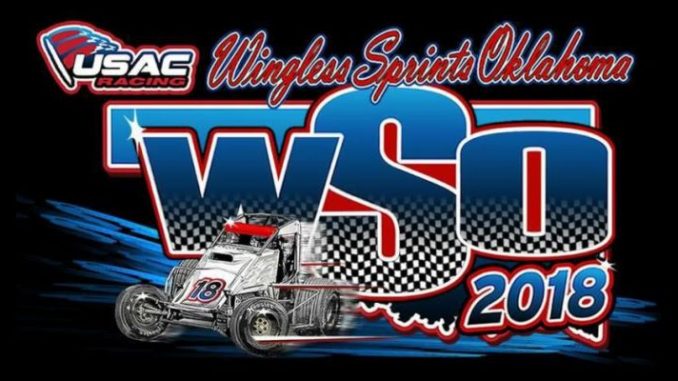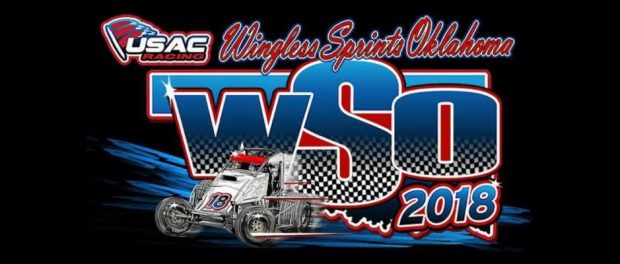 From Richie Murray
INDIANPOLIS (December 5, 2017) — USAC Sprint Car racing is coming to the Sooner State in 2018 as the newly-formed Wingless Sprints Oklahoma (WSO) makes its on-track debut.
A number of dirt track venues have already signed on to host the series in the upcoming season, including Red Dirt Raceway (Meeker, Okla.), Oklahoma Sports Park (Ada, Okla.), Southern Oklahoma Speedway (Ardmore, Okla.) and Enid (Okla.) Speedway.
Wingless Sprint Car racing has been a fixture in Oklahoma for the past handful of years under the WOW Wingless Fast5Fridays banner, but this year, USAC WSO is expanding the rulebook to an economy engine rule that allows racers to utilize existing engines being raced in sprint cars and sport modifieds throughout the region, including current WOW/WLS engines with two or four-barrel carburetor options, current two-barrel champ sprint legal engines and sealed 305 c.i. engines. In addition, a Hoosier tire point fund will reward USAC WSO drivers throughout the season.
"We are extremely excited to join USAC and its great tradition for the 2018 season," WSO Director of Competition Kevin Barksdale said. "We feel this series will allow 90% of the sprint cars in Oklahoma to race wingless and provide an avenue for not only up-and-coming micro sprint drivers, but also seasoned racers who want to go wingless sprint car racing."
USAC Sprint Car history in the state of Oklahoma is fairly brief. Just seven National events have been held there since 1966 with races won by the likes of Larry Dickson, Roger McCluskey, Ralph Liguori, Greg Weld, Mike Sweeney, Rickey Hood and, most recently, Jay Drake in 2004. Over the past few seasons, the USAC Southwest Sprint Car Series has made Oklahoma a regular stop on its "Freedom Tour" with nine appearances since 2013.
Barksdale and Michelle Walden, public relations for WSO, have worked tirelessly to make the series a reality and to make inroads with wingless sprint car racing into a region rich in racing heritage.
"With the growing popularity of wingless racing throughout the U.S., we felt the timing was perfect to join USAC on this venture," Barksdale said. "We believe this series will be popular among competitors and fans as wingless racing's reach expands to the south."
A full USAC WSO racing schedule will be announced at a later date. For more information on the series and the series' rulebook, search USAC Wingless Sprints Oklahoma for all the details.