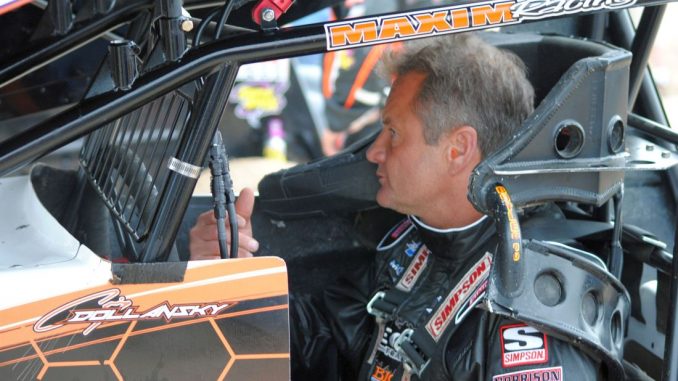 From Craig Dollansky Racing
ZIMMERMAN, Mn. (March 27, 2018) – After more than 22 seasons of racing professionally, Craig Dollansky announces his official retirement from the sport of sprint car racing. Due to complications from past injuries, "The Crowd Pleaser," is calling it quits.
Dollansky suffered a L1 burst fracture at Indianapolis Motor Speedway in 2003 that had the potential to end his racing career. "I didn't want to think about the severity of my injury and still had a burning desire to compete," said Dollansky. He fought back and returned to race in the fall of that year. "I questioned how long I could race at the highest level after my back injury, I have always worked hard to prepare mentally and physically to race," Dollansky commented. He didn't just come back, though, as it wasn't long before he was back to winning.
In another set back in 2008, Dollansky sustained a compound fracture of his right arm in a crash at Eldora Speedway. This injury kept him from completing the season with the World of Outlaws, he was third in the points standings at the time, and had signed a contract to race for Kasey Kahne Racing the following season.
"I have been hit with many things in life, but injuries take their toll on you.I have raced with broken bones and injuries and had to do what I had to do, at times racing in significant pain," Dollansky said. His most recent injury occurred in Yuma, AZ during the Winter Heat Series in January of 2016. Dollansky said, "I knew I was hurt after crashing in Yuma, but tried to ignore the pain and allow it time to heal." He raced that season, without being aware of an additional fractured vertebra in his back below the hardware from his crash at Indy.
Dollansky has been dealing with this injury for nearly 2 years, and recently underwent a vertebroplasty, a minimally invasive surgical procedure to stabilize his spine and the pain and discomfort from the fractured vertebra. That procedure was not as successful as hoped.
After yesterday's assessment with an orthopedic surgery center in Minneapolis, MN, Dollansky and his wife Julie had to discuss the prognosis and make a difficult decision to officially retire from racing. "It has been a very difficult and painful situation and decision for both of us," said Julie. "Craig is a fierce competitor and living with him not being able to do many of the things he enjoys, but mostly not racing, has been excruciatingly difficult for our family."
In the near future Dollansky will undergo a second spinal fusion surgery. This surgery will fuse his spine from the T12 to the L4 vertebrae, and has a recovery time of 8 to 12 months. This news has prompted his decision to retire. "I know what it took to comeback racing the first time," Dollansky commented, "I am 15 years older now and feel it is too much to overcome physically to return to racing. I have been blessed to have the successful career that I did. Thanks to all the fans and friends for their support over the years, and the car owners, teams, crewmembers and manufacturers I have been fortunate to work with. You all have given me so much joy and I hope to see many of you again in the future. This is not the way I thought I would retire but I wouldn't trade any of it for what I have received from racing!"
Dollansky and his family toured with the World of Outlaws Series from 2001 to 2013, winning 66 feature races, and numerous events with other sanctioning bodies. Dollansky is one of a handful of drivers to win at the international level, making it to victory lane not only in the U.S. but also Canada, Australia, and New Zealand.
The 'Iron Man' of racing, Dollansky has earned the undeniable championship title 3 consecutive times at the I-55 Raceway in Pevely, MO.
Always promoting the sport of Sprint Car Racing, Craig & Julie Dollansky established racing events at both Princeton, MN and the Clay County Fair Speedway in Spencer, IA with their CDR Promotions company earning the Promoter of the Year honors in 2008 for their efforts.
Looking towards the future, Dollansky has accelerated his plans to establish a dirt track racing school and driving experience.
Dollansky concluded, "If I am not able to keep doing it myself I would still like to be involved with racing. Many signs are pointing me in the direction of a dirt track driving school. It would be a way for me to remain involved, promote the sport and work with and teach potential drivers the ropes with out going through the 'school of hard knocks' the way I have. The grueling travel schedule with the Outlaws never allowed me to coach my kids in sports or racing, and this was always something I felt like I would have enjoyed. I would have a lot of passion and desire to help guide aspiring drivers young or old to achieve their goals in racing."
Craig Dollansky Racing will continue to provide updates on Dollansky's future, including his surgery and condition post-op. His recovery time will be long, and the family welcomes any thoughts, well wishes and good vibes you can send their way in the next few months.