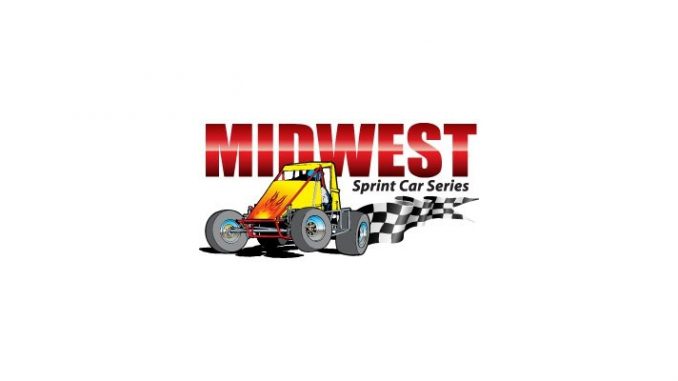 From Eldon Butcher
HAUBSTADT, Ind. (April 24, 2018) – Tri-State Speedway will be presenting the "Spring Showdown" this coming weekend on Saturday evening April 28th. The racing program will feature the AMSOIL United States Auto Club and the Hoosier Tire Midwest Sprint Car Series. This will be a co-sanctioned event with the two 410 non-wing series competing under the USAC format.
The Showdown will be the first actual event of the season for the MSCS sanctioning body. Unfavorable spring weather became an overriding factor on an earlier April date. USAC has also faced two cancellations in Indiana but has already raced in Florida and is scheduled to race at Bloomington Speedway on Friday before traveling to Haubstadt.
This event will be the first of two times this season that USAC and MSCS will compete together on a race card at Tri-State Speedway. The Haubstadt dirt offers one fast and challenging quarter mile battle ground. The 30 lap feature will pay $5,000 to win and $500 to start.
As a reminder, all MSCS licensed drivers will be receiving full points even though the "Spring Showdown" is a co-sanctioned event. However receiving points requires being licensed by MSCS. Annual licenses will be available for purchase in the pits at the track for any drivers still needing to renew or sign up.
The reigning Hoosier Tire MSCS Champion is Brady Short. Short joined Kyle Cummins as the only two four time series champions in 2017. The new season offers new challenges and opportunity. This race is the first of 18 scheduled that will eventually determine this season's champion. Other drivers with high points production last season included Carson Short, Brandon Mattox, Kent Schmidt, Robert Ballou, Kendall Ruble, Ben Knight, Donny Brackett, and Chase Stockon.
Chris Windom took the checkers first in last year's "Spring Showdown" feature. Chase Stockon won it in 2016. Brady Bacon was the winner in 2015. This race originated at Tri-State Speedway in 2012. Other past winners include Kevin Thomas Jr., Hunter Schuerenberg, and Daron Clayton.
USAC has three sprint car events in their record book for 2018. Chase Stockon won the opener in Ocala, Florida, and Tyler Courtney followed with two feature wins. The top five drivers in the points prior to this coming weekend were Kevin Thomas Jr., Chris Windom, Tyler Courtney, Chad Boespflug, and C.J. Leary. Kyle Cummins was sixth in the USAC standings.
The "Spring Showdown" is one great opportunity for race fans to see and experience thrilling dirt track racing. Engine warm-ups on Saturday the 28th begin at 6:00 P.M. Central Daylight Time. Heat races begin at 7:30 P.M. The UMP Open Wheel Modified Cars will also be racing to create a double bill that is sure to add to the action.