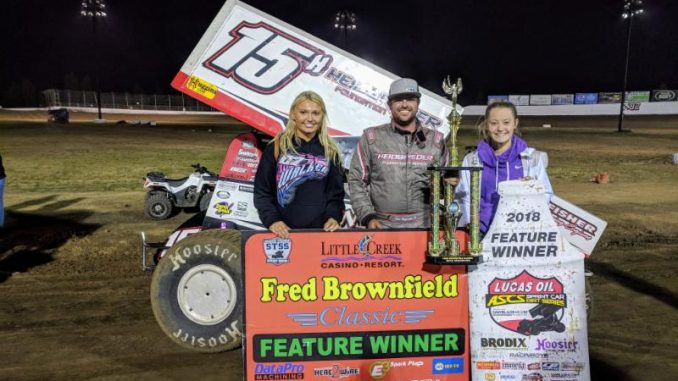 From Bryan Hulbert
ELMA, Wash. (June 30, 2018) No Brakes, broken right front Shock, starting to Rain, and missing his Hat for a moment before Victory Lane; it didn't matter. No one could keep pace with Sam Hafertepe, Jr. as the Heidbreder Foundation No. 15h stormed to victory in the Fred Brownfield Classic at Grays Harbor Raceway with the Lucas Oil American Sprint Car Series presented by Sawblade.com.
With the rain starting to come down, Sam reflected his fourth National Tour win of the season, "To get the win tonight is awesome. I really felt like we deserved to have the chance last night, and we definitely got the job done tonight."
Having to wrestle the car on the closing lap with the front axle bouncing all over through traffic, it allowed Jason Solwold to close the gap from a straightaway, but it didn't prove enough as Sam found the checkered flag with a 1.080-second advantage.
"We had the same thing happen a couple races ago. It's actually happened a couple time this year with the shock coming off and Brake Lines coming off, I honestly thought about pulling in there on Lap 18. Just didn't have any brakes so if someone had crashed in front of me, we could have run right through them. Fortunately, it didn't happen, and we were fortunate to be able to start out front with clean air and limp it home. We had a really good car, just couldn't flex our muscle at the end like we wanted too with the problems we had,"
Green for two revolutions, the race's first caution flew on Lap 2 as Logan Forler and Greg Hamilton came to a stop along the front stretch. Both able to return, Hamilton's night came to a quick end as the No. 96 flipped off the second turn. Greg was unharmed. Pulling away on the restart, Hafertepe found the back of the pack in a matter of laps. Putting several lapped cars in the mix, the caution flew again while working Lap 11 for Kyle Miller.
Chased by Henry Van Dam to the caution, the No. 33v would not see the checkered flag as the rear brakes erupted into flames. Henry was unharmed as Jason Solwold took over second. Under green, Hafertepe again pulled to a comfortable advantage. Losing several car lengths in traffic on Lap 16, Jason Solwold would filter the slower traffic to one between himself and Hafertepe as the caution lights came on again on Lap 18 for the spun No. 44 of Chris Martin.
Diving the low line on the restart, Solwold was unable to get a run. Green until Lap 23 for Garen Linder who stopped off the fourth turn, the restart put Solwold with Joey Saldana in tow from 10th. Keeping pace on the restart, it only took a couple laps for Sam to begin pulling away as Joey Saldana battled to hold third from Austen Wheatley with the position finally going to the No. 45.
Working into traffic at the white flag flying, Hafertepe was not to be denied. Jason Solwold held onto second with Austen Wheatly, Joey Saldana, and Colton Heath to make the top-five.
Charing through the field from 22nd, Matt Covington was the night's CP-Carrillo Hard Charger with a run to sixth. Jared Peterson seventh was trailed by Logan Forler who picked up 10 spots over the 30 lap affair. Making the best of a provisional, Skylar Gee moved from 24th to ninth with Chase Goetz crossing in 10th.
Coming up next for the Lucas Oil American Sprint Car Series presented by Sawblade.com is the third annual NAPA Grizzly Nationals at Gallatin Speedway in Belgrade, Mont. on Friday, July 6 and Saturday, July 7. Both nights open at 5:00 P.M. with racing at 7:00 P.M. (MDT) Tickets are on sale by calling (406) 388-9666.
For other news, notes, and information on the American Sprint Car Series, from the National Tour to any of the Regional Tours that make up the nearly 150 races across the ASCS Nation in 2018, log onto http://www.ascsracing.com, follow on Facebook, on Instagram, and on Twitter (@LucasOilASCS).
Race Results:
Lucas Oil ASCS National Tour
Grays Harbor Raceway – Elma, Wash.
Saturday, June 30, 2018
Fred Brownfield Classic – Night 2
Car Count: 37
Event Count: 39
Heat Races (Top 12 advance to the A-Feature)
Heat 1 (8 Laps): 1. 77X-Alex Hill, [2]; 2. 75-Brian Boswell, [1]; 3. 6A-Kyle Miller, [6]; 4. 33S-Lance Sargent, [4]; 5. 99-Skylar Gee, [5]; 6. 28-Scott Bogucki, [7]; 7. 17W-Harli White, [8]; 8. 25-Michael Hodel, [3]; 9. (DNF) 15-Jeff Dunlap, [9]
Heat 2 (8 Laps): 1. 45-Austen Wheatley, [4]; 2. 5J-Jamie Ball, [1]; 3. 26-Joey Saldana, [6]; 4. 57C-Chris Schmelzle, [3]; 5. 27DD-David Hoiness, [5]; 6. 95-Matt Covington, [7]; 7. 9-Shawn Rice, [8]; 8. (DNF) 1-Travis Rilat, [2]
Heat 3 (8 Laps): 1. 22-Garen Linder, [1]; 2. 33-Colton Heath, [4]; 3. 0J-Jay Cole, [2]; 4. 3-J.J. Hickle, [5]; 5. F1-Rick Fauver, [3]; 6. 97R-Jason Reed, [6]; 7. (DNF) 45X-Johnny Herrera, [7]; 8. (DNF) 96-Greg Hamilton, [8]
Heat 4 (8 Laps): 1. 8P-Jared Peterson, [2]; 2. 44-Chris Martin, [1]; 3. 91-Chase Goetz, [3]; 4. 2L-Logan Forler, [5]; 5. 10L-Brock Lemley, [4]; 6. 52-Blake Hahn, [8]; 7. 2C-Wayne Johnson, [7]; 8. 17-Cam Smith, [6]
BMRS B-Feature (Top 3 in each advance to the A-Feature)
B Feature 1 (12 Laps): 1. 52-Blake Hahn, [3]; 2. 96-Greg Hamilton, [9]; 3. 45X-Johnny Herrera, [8]; 4. 33S-Lance Sargent, [2]; 5. 27DD-David Hoiness, [4]; 6. F1-Rick Fauver, [6]; 7. 17W-Harli White, [7]; 8. 25-Michael Hodel, [10]; 9. (DNF) 3-J.J. Hickle, [1]; 10. (DNF) 28-Scott Bogucki, [5]; (DNS) 15-Jeff Dunlap,
B Feature 2 (12 Laps): 1. 2L-Logan Forler, [1]; 2. 57C-Chris Schmelzle, [2]; 3. 95-Matt Covington, [5]; 4. 17-Cam Smith, [9]; 5. 97R-Jason Reed, [6]; 6. 9-Shawn Rice, [7]; 7. (DNF) 2C-Wayne Johnson, [8]; 8. (DNF) 99-Skylar Gee, [3]; 9. (DNF) 10L-Brock Lemley, [4]; (DNS) 1-Travis Rilat,
Protect the Harvest A-Feature:
A Feature (30 Laps): 1. 15H-Sam Hafertepe Jr, [2]; 2. 18-Jason Solwold, [4]; 3. 45-Austen Wheatley, [6]; 4. 26-Joey Saldana, [10]; 5. 33-Colton Heath, [8]; 6. 95-Matt Covington, [22]; 7. 8P-Jared Peterson, [7]; 8. 2L-Logan Forler, [18]; 9. 99-Skylar Gee, [24]; 10. 91-Chase Goetz, [15]; 11. 57C-Chris Schmelzle, [20]; 12. 52-Blake Hahn, [17]; 13. 45X-Johnny Herrera, [21]; 14. 44-Chris Martin, [14]; 15. 17-Cam Smith, [25]; 16. 0J-Jay Cole, [16]; 17. 75-Brian Boswell, [12]; 18. 33S-Lance Sargent, [26]; 19. (DNF) 77X-Alex Hill, [5]; 20. (DNF) 22-Garen Linder, [11]; 21. (DNF) 5J-Jamie Ball, [13]; 22. (DNF) 33V-Henry VanDam, [1]; 23. (DNF) 23-Seth Bergman, [3]; 24. (DNF) 6A-Kyle Miller, [9]; 25. (DNF) 96-Greg Hamilton, [19]; 26. (DNF) 2C-Wayne Johnson, [23]
Lap Leader(s): Sam Hafertepe, Jr, 1-30
CP-Carrillo Hard Charger: Matt Covington +16
FSR High Point Driver: Austen Wheatley
Provisional(s): Wayne Johnson (ASCS); Skylar Gee (ASCS); Cam Smith (Promoter); Lance Sargent (Promoter)
2018 ASCS National Driver Points (Top 15): 1. Sam Hafertepe, Jr. 2,426; 2. Seth Bergman 2,415; 3. Blake Hahn 2,351; 4. Wayne Johnson 2,221; 5. Johnny Herrera 2,190; 6. Matt Covington 2,143; 7. Scott Bogucki 2,102; 8. Skylar Gee 2,017; 9. Jamie Ball 1,861; 10. Travis Rilat 1,830; 11. Roger Crockett 1,816; 12. Chris Martin 1,800; 13. Harli White 1,771; 14. Alex Hill 1,596; 15. Sammy Swindell 1,410;