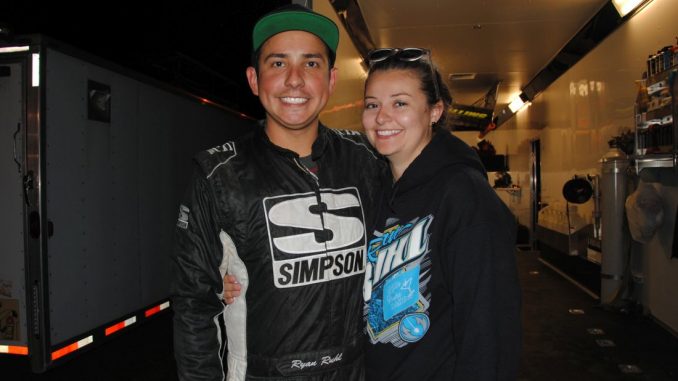 By T.J. Buffenbarger
Every night I go out to the race track I don't care who wins in loses. Being in the position of running TJSlideways.com all I hope is for a safe night and to come away with a great story. Thankfully Ryan Ruhl delivered on both of those last Friday at Hartford.
Ryan Ruhl's weekend sweep of the Engine Pro Sprints on Dirt presented by ARP feature Friday at Hartford Motor Speedway and Saturday at Butler Motor Speedway will be memorable, but more so because of his engagement in victory lane on Friday to his girlfriend Courtney. Ryan and Courtney's story was the most read over the weekend on the website, proving once again any good story can shoot to the top of the most read list no matter what series/track it takes place at.

The win was also the first for Ruhl teamed up with Smith Motorsports. The pairing of Ruhl and Smith along with Terry Stewart coming over to turn wrenches was one of the leading stories in the area going into the 2018 season. After a slow start it appears the team has a handle on their new J&J chassis that debuted at the World of Outlaws program at I-96 Speedway in June.

The plan for the Ruhl/Smith combination following their run on Tuesday at Attica Raceway Park, Michigan on Friday (I-96 Speedway's program as of last Friday), and attempting to make the Kings Royal on Saturday.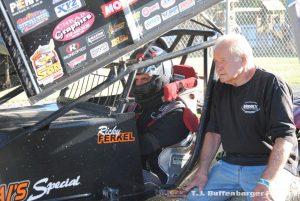 It was nice to catch up briefly with "The Ohio Traveler" Rick Ferkel at Hartford. Ferkel was on hand helping his son Ricky at the SOD event at Hartford. Rick revealed that the entire family now resides in Central Michigan close to Ricky, who is a professor at Central Michigan University. Ricky is putting together a solid season with SOD currently sitting in the top five of the point standings.
With a lot of speculation surrounding the head to head sprint car races taking place in Michigan on Friday at Hartford Motor Speedway and I-96 Speedway, I feel it's a non-story. You are likely to see approximately the same car count for the SOD program at Hartford while I believe there are enough teams that will make the trip to I-96 for their program and increased purse ($3,000 to win, $300 to start). Throw in MTS on the program at Hartford and fans can't go wrong with either option.

Saturday is just as busy with SOD venturing up to Crystal Motor Speedway for the second of their three appearances for the 2018 season. Chad Blonde holds a 55 point lead over the versatile Shawn Valenti. Ruhl currently sits third in the standings.<

/ul>

Boston Mead has been impressive the past two seasons on the Michigan sprint car scene. (T.J. Buffenbarger photo)

Boston Mead will look to extend his significant point lead at Butler Motor Speedway on Saturday. Mead, a second generation driver in his sophomore season in sprint cars, seems to be on an upward trajectory and in my opinion is the best prospect under the age on the sprint car scene in the state. While others seems to garner more mainstream media attention I believe Mead has been the most impressive new driver in the state over the past two season. The best news is we should be able to watch both young stars continue to develop over the next several seasons.

Another area news item that made waves this week was the Auto Value Bumper to Bumper Super Sprints rescheduling their program at Baer Field to September 15th, which is a race date for the Must See Racing Sprint Cars at Jennerstown Speedway. With the amount of teams that are active at this point this is a much more fragile situation than having two dirt races in the area on the same night, but both series are not in existence to keep the other in business. If a track wants a race date, especially for either of these series, it's difficult to turn down. Hopefully it all works out, but until there is enough incentive for a teams to follow the entire tour they will skip the tracks they don't enjoy competing at and split races will continue to have diminished car counts.

I am looking forward to seeing a lot of Michigan sprint car fans at Eldora Speedway during Kings Royal weekend Thursday through Saturday. Myself and Mudclodbob always end up running into a lot of fans from our home state at one of the largest sprint car races in the world. Make sure to flag us down if you do see us running around covering the event. For those heading to the Royal or staying in state to take in one of the four events this weekend make sure to travel safe.