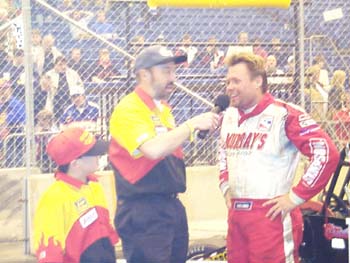 By Patrick Sullivan
Fort Wayne, IN: Tony Elliott put an exclamation point on a magical 1998 season campaign by capturing the inaugural 100 lap "Rumble in the Expo" at the Ft. Wayne Exposition Center. Piloting Mack McClellan's Sleep Tight Matress Company/Miller Brothers Excavating Hawk/Autocraft, Elliott took the lead from J.D. Turner on lap 77 and sailed forth to his third NAMARS Auto Value midget win of 1998.
While indoor racing at Ft. Wayne's Allen County Memorial Coliseum dates back to the early 1950's, the adjacent Exposition Center featured a larger racing surface and easy access for drivers and crews. Nonetheless, as is true in all indoor events, contact is assured and victory goes to those with the right mixture of luck and skill.
The dishes were hardly dry from Christmas dinner before it was back to work for NAMARS drivers, crews, and officials as the two day format called for practice and four heat races on Saturday evening with the top two from each heat transferring to Sunday afternoon's 100 lapper. A near capacity crowd witnessed J.D. Turner, Matt Estep, Kevin Besecker, and Indy Racing League star Brian Tyler take heat victories, and these four, along with Larry Gibson, John Sluss, Mike Mann, and Wayne Chinn, could relax knowing their place in the main was assured.
Sunday afternoon began with two 20 lap semi-features with 8 slots left to be filled. Wisconsin midget ace Nick Lundgreen took the feature in the first semi and was followed by sprint car standouts Elliott, Derek Davidson and Dave Darland. NAMARS series champion Matt Westfall claimed the second 20 lap qualifier and joining him in the feature were Jerry Nemire, A.J. Davis, and Sondi Eden.
With the starting order for the feature event determined by a draw, two tough veterans, Larry Gibson and Jerry Nemire comprised the front row. Gibson was able to lead lap 1 but he was quickly overhauled by Jerry Nemire who remained stout throughout the afternoon. Meanwhile, John Sluss, the 1998 Indianapolis Speedrome champion was mounting a determined charge from his ninth starting position, and the former semi-pro quarterback moved to the inside of Nemire to take the lead on lap 23. Given his success on paved bullrings many conceded the victory to Sluss, who began methodically to collect the lion's share of posted lap prize donations. It wasn't to be. Contact with Sondi Eden on lap 60, who was gamely fighting to gain a lap back, resulted in a predictable chain reaction which left the dejected Sluss resting inside of turn 1 and done for the afternoon.
Cincinnati's J.D. Turner, who had quietly remained up front, inherited the lead and had the biggest win of his young career firmly in sight. However, many in the crowd began to reflect on the summer of 1998 as Tony Elliott, who had been shuffled back in the pack early, began slicing through the field. By lap 75 Elliott was within striking distance and was prepared to exploit any bobble by his less experienced rival. On lap 77 Turner swung wide between turns three and four, and contact left Turner stalled on the track and Elliott in the lead for good. Following Elliott to the checkered were Jerry Nemire, Matt Westfall, J.D. Turner, Sondi Eden, and Aaron Fike who started at the rear of the field on a promoter's option.
In victory lane Elliott noted that "Mack (McClellan) gave me a good race car but you have to have luck to win these indoor deals". In the Hoosier state 1998 will long be remembered as the year of Tony Elliott where his many years of racing, his obvious talent, and yes – a bit of luck here and there resulted in victory after victory.
Results (12/26)
Heat 1 (10 laps): J.D. Turner, Larry Gibson, Nick Lundgreen, Tony Elliott, Tony Reed, Derek Davidson, Donnie Beechler.
Heat 2 (10 laps): Matt Estep, John Sluss, Aaron Fike, Mel Kenyon, Walt Stearly, Rob Parrish, Donnie Moore, A.J. Fike.
Heat 3 (10 laps): Kevin Besecker, Mike Mann, Jim Sawyer, Matt Westfall, A.J. Davis, Donnie Lehmann, David Gough, Dave Darland.
Heat 4 (10 laps): Brian Tyler, Wayne Chinn, Sondi Eden, Jerry Nemire, Rich Corson, John Meyers, Chad Davenport, Mike Fedorcak, Roy Caruthers.
Results (12/27)
Semi # 1 (20 laps): Lundgreen, Elliott, Davidson, Darland, Kenyon, Reed, Parish, Fedorcak, Stearly, A.J. Fike, Joncox, Moore.
Semi # 2 (20 laps): Westfall, Nemire, Davis, Eden, Lehmann, Meyers, Corson, Gough, Caruthers, Davenport, Sawyer.
Feature (100 laps): Elliott, Nemire, Westfall, Turner, Eden, Aaron Fike, Besecker, Estep, Sluss, Davis, Lundgreen, Chinn, Gibson, Davidson, Mann, Darland, Tyler.
Notes from Ft. Wayne:
The Ft. Wayne Exposition Center was lauded by all involved. The facility provided an intimate atmosphere for fans, and crews had easy access to and from the racing surface. The additional racing room was welcomed, and is true in most indoor events, the racing surface improved as rubber was laid down. It was interesting to watch the drivers walk the track much as you see in a dirt event – here the quest is to find the sticky spots. Jack and Rose Calabrase noted that the event took two full years to plan and execute. Most agreed the results were first rate on any scale, and miraculous for a first time event.
An agreement between Thunder in the Dome organizer Ted Hollingsworth and the NAMARS Auto Value midget series resulted in an invitation to Matt Westfall, the 1998 champion, and subsequent NAMARS champions to participate in the popular Indianapolis event. A bid was also open to the winner of the Rumble in the Expo but given that Tony Elliott was already an invitee – the offer was extended to runner-up Jerry Nemire. While Jerry demonstrated that he can still get around handily in a midget he also revealed that he would be assisting former NAMARS Most Improved driver Sarah McCune in 1999.
The list of participants for the inaugural Rumble in the Expo represented 7 states and included several series champions headed by Matt Westfall (NAMARS), Donnie Lehmann (MARA), David Gough (UMARA), John Sluss (Indianapolis Speedrome) and Tony Elliott (USAC Sprint).
Two champions, Westfall and Gough, noted the strain of a points championship and were unsure if they would strive to win a points title again. We will see how they feel in April.
The talented teenagers A.J. and Aaron Fike were assisted by long time pavement standout Jim Mahoney. Mahoney has been largely absent for the past several seasons but suggested that he may get back in the cockpit more in 1999. A.J. Fike, NAMARS runner-up and two time winner in 1998, had nothing but bad luck while Aaron was added to the field as a result of a scoring misunderstanding between officials. NAMARS chief Jack Calabrase gave the 16 year old a choice between tagging the rear of the starting field as a promoters option or accepting his original starting position at the front of one of the two semi's. If Fike would have transferred from the B he may have significantly improved his starting position through the random draw. Fike elected to join the tail of the field and did superb work with his sixth place run. It is interesting to note, however, that the top three finishers all transferred through a B main!
It has been fashionable in recent years to note how many drivers in a given field were born after Mel Kenyon began racing. However, given the youth movement in midget racing you begin to wonder how may of these kids parents were around when Mel began his legendary career.
Several former Ft. Wayne indoor winners were spotted over the weekend. Two "Rumble in the Expo" participants were among those former winners – Mel Kenyon, the 1967 & 1973 Ft. Wayne Indoor Champion, and 1983 race winner Mike Fedorcak. Also in attendance was 1946 Night Before the 500 winner, 1953 A.A.A. champion, and 1959 Ft. Wayne indoor titlest Leroy Warriner.
A review of previous Ft. Wayne indoor winners reveals that at least 18 have made Indy 500 starts totaling 106 races. Three winners captured Rookie of the Year honors, Art Cross, Johnny White and Larry Rice. Several Rumble in the Expo participants would like to join that list including winner Tony Elliott who confirmed that he will be heading to Orlando to "pound the pavement". In victory lane Tony suggested that his recent I.R.L. test at Texas Motor Speedway whetted his appetite for more. With an Indy Racing League show car on hand, along with the appearance of two I.R.L. vets Donnie Beechler and Brian Tyler, the link between short track open wheel racing and the I.R.L. was much in evidence. Beechler was buoyant about the upcoming season feeling that his Cahill racing team has the necessary equipment and personnel in place for a strong year. Brian Tyler is also prepping for Orlando and is hopeful that sponsor negotiations fall his way to secure his 1999 future.
Ronnie Johncox replaced Donnie Beechler for Sunday's activities but was unable to crack the main. In a Saturday conversation we were a bit amused by Donnie's comments that he had never ran indoors – but of course he has with great success winning the Chili Bowl Nationals in 1995 and preliminary features at Tulsa in 1996 and 1997. Obviously, Donnie was referring to a more traditional indoor event. Saturday proved to be a bit of a struggle for the classy driver, but he was also clearly worried about his father-in-law who he reported to be quite ill. Our thoughts are with Donnie, Paula and the family.
While Tony Elliott certainly enjoyed good luck, the same cannot be said for several of his peers in sprint car racing. Indeed, the last four spots in the finishing order included sprint standouts Derek Davidson, Mike Mann, Dave Darland, and Brian Tyler.
Allan Brown who does such fine work with his various racing publications was also in attendance and assembled a group of race chasers from across the nation all excited about adding a new venue to their list. Some of these die hard fans had visited upwards of 700 different race tracks. We note that it is one of the few events where we have seen Allan able to sit down and actually enjoy the entire race.
Photo Gallery