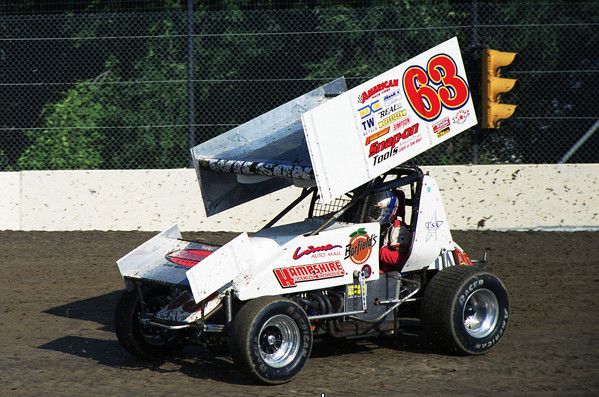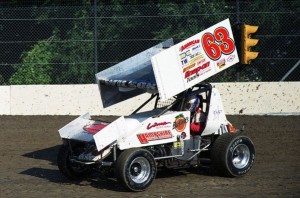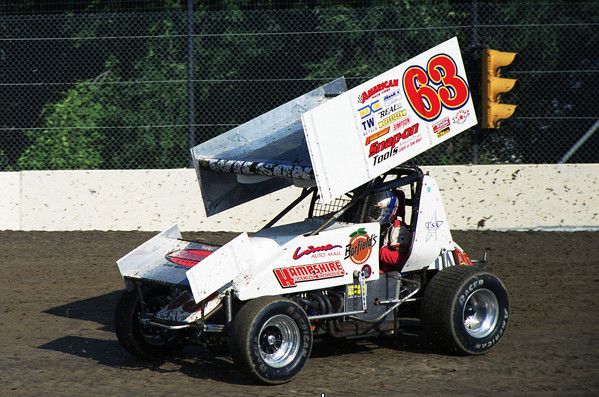 By Scott Hall
ALLENTOWN, OH – Greg Wilson outdueled Kelly Kinser Friday night in the All Star sprint 30-lap Ohio Speedweek feature at Limaland Motorsports Park. His fourth win of the season paid Wilson $6,000 and came in front of another sellout crowd in Bob Hampshire's No. 63.
"First of all I want to thank God above," Wilson said in victory lane. "We've had a horrific week. We got torn up last night and Hamp was worried I knocked my head too hard and couldn't drive tonight," he said with a smile. "We brought out the spare car with a Hampshire Ford and this Maxim, American Race Tires, Barfield Gift Fruits, Lima Auto Mall car was awesome. The car was trying to pull wheelies all night long."
All Star points leader Chad Kemenah started on the ButlerBuilt Hot Seat pole with Kinser alongside him and Tyler Walker and Jerrod Hull started in row two. Kinser took the initial lead in the low groove, with Kemenah ducking in behind for second. Walker rode Denny Ashworth's No. 92 third in the high groove over sixth starting Byron Reed. Kinser led through a pair of yellows for 10th place Kraig Kinser who stopped on the track and had to exit and then a Jack Hewitt spin in the Nickles Brothers No. 31.
Kinser kept Kemenah at bay with Walker using the highest groove of the quarter mile to try and get by the leaders. With a dozen laps in the books, Wilson, who started ninth moved around Reed for fourth, and a pair of laps later he moved under Walker for third. He took second from Kemenah a lap later and closed in on Kinser. The leaders were side-by-side on lap 17, with Wilson driving high around Kinser on the backstretch to lead lap 18.
Wilson led three laps before entering lapped traffic which allowed Kinser to dive back into the lead. Walker's run at the front ended on lap 26 when he tangled with the lapped car of Jason Courtney who flipped. This dropped Walker from fourth to restart at the end of the field when the race restarted after the red.
Wilson drove high on the backstretch following the restart to take the lead again, with Kinser riding the low groove in second. Reed took second high around Kinser on lap 28, but Wilson pulled away on a clear track to win the event. Reed ended up second and Kinser in third earned the $100 TW Metals nightly cash bonus. Dean Jacobs started 11th and ended fourth ahead of Kemenah. John Wisbon drove a nice, steady consistent race in the Burmeister Water Hauling No. 16 for sixth after starting 12th. Jason Johnson finished seventh,
winning the Team Simpson Racing Lucky Seven award ahead of Kenny Jacobs, Travis Rilat and 18th starter Todd Kane.
"I started to struggle about mid-race and then got going again," Reed recalled. "I might have had something for him (Wilson) in traffic, but in the open he was pretty good. We'll take second tonight."
"The wing cylinder broke about half way through," Kinser said after finishing third. "And the wing kept going forward and back. I had him in traffic but I knew it would be tough in the clear. I was fighting that wing problem."
The K-T Equipment heat went to James Fisher, the JB Enterprise Racing Products heat to Travis Rilat, the Crown Battery heat to Kenny Jacobs and the Engler Machine & Tool heat fell to Jack Hewitt. Blake Feese won the B Main and Chad Kemenah captured the Haulmark Dash. Tyler Walker pounded the outside concrete during his heat race and flipped. He was not injured.
Time Trials: 1. Byron Reed, B&S 5, 11.969; 2. Jimmy Stinson, Stinson 84, 12.096; 3. Blake Feese, Feese 1, 12.166; 4. Jerrod Hull, Webb 51, 12.254; 5. Tyler Walker, Ashworth 92, 12.275; 6. Kelly Kinser, Kinser 4k, 12.309; 7. Chad Kemenah, Harble 15k, 12.328; 8. Rob Chaney, Courtad 9x, 12.369; 9. Jason Johnson, Elden 22e, 12.374; 10. Greg Wilson, Hampshire 63, 12.412; 11. Kraig Kinser, Kinser 11k, 12.434; 12. Dean Jacobs, Daugherty 7r, 12.452; 13. John Wisbon, Burmeister 16, 12.454; 14. Jim Dayton, Dayton 2x, 12.540; 15. Bruce Robenalt, Robenalt 98, 12.632; 16. Tom Busch, Busch 4B, 12.698; 17. James Fisher, Fisher 17, 12.765; 18. Mark Keegan, Steinbrick 92, 12.780; 19. Kenny Jacobs, Jacobs/Honecker 6, 12.866; 20. Mike Wagner, Wagner 55, 12.900; 21. Todd Kane, Pullins 29, 12.902; 22. Travis Rilat, Archer U2, 12.941; 23. Danny Smith, Baker 4, 12.950; 24. Jack Hewitt, Nickles 31, 12.991; 25. Alvin Roepke, Roepke/Ford 99, 12.997; 26. Chuck Wilson, Wilson/Jones 55, 13.068; 27. Rodney Duncan, Harrison 22, 13.093; 28. Curt Traner, Traner 29%, 13.128; 29. Steve Lieber, Lieber 62B, 13.186; 30. Jeff Williams, Schriber 5w, 13.219; 31. Jason Courtney, Courtney 9c, 13.333; 32. Brad Powley, Powley 92x, 13.407; 33. Tom Rhoades, Jr., Bailey 20r, 13.415; 34. Mark Wilkins, Cove 48, 13.460; 35. Barry Ruble, Ruble 63r, 13.470; 36. Mike Hogan, Hogan 75, 13.549; 37. Hud Horton, Mossbarger 95, 13.800; 38. John Hawk, Seeling 97, 13.843; 39. John Buchy, Buchy 28, 13.850; 40. Keith Baxter, Baxter 1B, 14.650.
K-T Equipment Rental Heat (10 laps): 1. Fisher 2. Johnson 3. Kane 4. Wisbon 5. Reed 6. Roepke 7. Leiber 8. Rhoades 9. Horton 10. Walker.
JB Enterprise Racing Products Heat (10 laps): 1. Rilat 2. Keegan 3. Kelly Kinser 4. Dayton 5. G. Wilson 6. Williams 7. Stinson 8. Hawk 9. Wilkins 10. C. Wilson.
Crown Battery Heat (10 laps): 1. K. Jacobs 2. Smith 3. Kemenah 4. Courtney 5. Duncan 6. Feese 7. Buchy 8. Robenalt 9. Ruble 10. Kraig Kinser.
Engler Machine & Tool Heat (10 laps): 1. Hewitt 2. Wagner 3. Chaney 4. D. Jacobs 5. Hull 6. Traner 7. Powley 8. Hogan 9. Baxter 10. Busch (DNS).
Haulmark Dash (4 laps): 1. Kemenah 2. Johnson 3. Hull 4. Reed 5. Kelly Kinser 6. Chaney.
B Main (15 laps): 1. Feese 2. Walker 3. Roepke 4. Kraig Kinser 5. Stinson 6. Hawk 7. Williams 8. Leiber 9. Traner 10. Rhoades 11. Baxter 12. Buchy 13. Wilkins 14. Ruble 15. Powley 16. C. Wilson 17. Robenalt 18. Hogan 19. Horton (DNS).
A Main (30 laps): 1. Greg Wilson 2. Byron Reed 3. Kelly Kinser 4. Dean Jacobs 5. Chad Kemenah 6. John Wisbon 7. Jason Johnson 8. Kenny Jacobs 9. Travis Rilat 10. Todd Kane 11. Jerrod Hull 12. Blake Feese 13. Danny Smith 14. Mark Keegan 15. Alvin Roepke 16. Rodney Duncan 17. Rob Chaney 18. Jim Dayton 19. Mike Wagner 20. Tyler Walker 21. Jack Hewitt 22. James Fisher 23. Jason Courtney 24. Kraig Kinser.
Speedweek points:
1 4k Kelly Kinser 476
2 7r Dean Jacobs 475
3 15k Chad Kemenah 473
4 5 Byron Reed 465
5 9x Rob Chaney 464
6 63w Greg Wilson 458
7 6 Kenny Jacobs 453
8 U2 Travis Rilat 447
9 4 Danny Smith 444
10 22e Jason Johnson 439