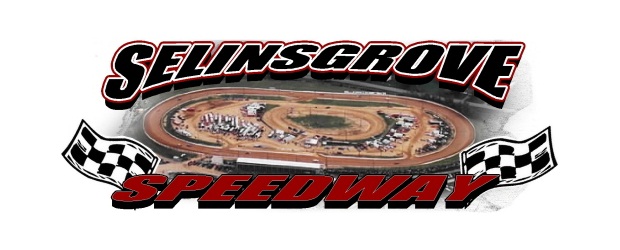 SELINSGROVE, Pa. – With one of the largest crowds in recent years looking
on, Daryn Pittman of Owasso, Okla., made a thrilling last-lap pass by
Stevie Smith of Broken Arrow, Okla, in turn two to win Sunday night's
30-lap main event for 410 sprint cars at Selinsgrove Speedway.
For Pittman, driving the Mike Heffner-owned No. 27, the $5,000 victory
marked his third straight in the fourth annual Keystone Cup Series and his
first career at Selinsgrove Speedway. He leads the point standings entering
the series' final event Monday afternoon at Port Royal Speedway.
Mark Smith of Tower City was the night's fast qualifier out of a field of
30 cars with a lap time of 17.794.
Second-place starter Fred Rahmer beat polesitter Daryn Pittman into the
first turn for the early lead in the sprint car feature. For the first
several laps, an intense battle for the runner up position unfolded between
Pittman and fourth-place starter Stevie Smith. Then fifth-place starter
Mark Smith made it a close three-car battle for second.
Once Smith secured the second position, he quickly reeled in Rahmer in a
race for the lead. On the 14th circuit in lapped traffic, Smith took the
lead when he powered around Rahmer coming off turn four following a
wheel-to-wheel duel. Pittman then passed Rahmer for second and closed the
gap with Smith.
The event's first caution flag unfurled on lap 26 when Colby Womer stopped
on the fronstretch with a flat tire. Prior to the caution flag with only
four laps remaining, the field was on track to eclipse nearly 13 seconds
off of the 30-lap track record that was set in 1985 by Doug Wolfgang.
When the race resumed, Pittman cleared the lapped traffic and attempted to
run down Smith in the final laps. Then another caution flag for Steve
Buckwalter regrouped the field for a one-lap chase to the checkered flag.
On the final restart, Pittman used the inside lane to pull alongside of
Smith through turns one and two. Pittman took the lead exiting the second
turn and held off Smith's charge through turns three and four. At the
checkered flag, Pittman took the win by a mere .14 of a second over Smith.
Seventh-place starter Lance Dewease, Rahmer, and sixth-place starter Pat
Cannon completed the top five.
SELINSGROVE SPEEDWAY RACE SUMMARY
410 Sprint Cars – 30 Entries
30-Lap A-Main: 1) 27 Daryn Pittman 2) 1 Stevie Smith 3) 30C Lance Dewease
4) 51 Fred Rahmer 5) 3 Pat Cannon 6) 7M Mark Smith 7) 17 Tyler Walker 8) 25
Aaron Ott 9) 11 Mike Erdley 10) 15 Adam Wilt 11) 48 Danny Dietrich 12) 0
Rick Lafferty 13) 88 Todd Shaffer 14) 12 Blane Heimbach 15) 7 Chad Layton
16) 19M Brent Marks 17) 71 Brian Leppo 18) 49 Bob Howard 19) 18 Ryan
Bohlke 20) 35 Justin Henderson 21) 66 Ryan Kissinger 22) 37 Scott
Flammer 23) 17B Steve Buckwalter 24) 19W Colby Womer
Time Trials: 1) 7M Mark Smith 17.794 2) 1 Stevie Smith 17.816 3) 12 Blane
Heimbach 17.916 4) 3 Pat Cannon 17.935 5) 71 Brian Leppo 18.020 6) 35
Justin Henderson 18.025 7) 30C Lance Dewease 18.037 8) 48 Danny Dietrich
18.057 9) 0 Rick Lafferty 18.213 10) 17 Tyler Walker 18.268 11) 27 Daryn
Pittman 18.271 12) 11 Mike Erdley 18.307 13) 3B Bob Bennett 18.368 14)
19M Brent Marks 18.425 15) 15 Adam Wilt 18.529 16) 25O Aaron Ott 18.568
17) 51 Fred Rahmer 18.608 18) 88 Todd Shaffer 18.631 19) 66 Ryan
Kissinger 18.691 20) 19W Colby Womer 18.701 21) 17B Steve Buckwalter
18.733 22) 49 Bob Howard 18.794 23) 37 Scott Flammer 18.870 24) 21 Rod
Stroup 18.962 25) 18 Ryan Bohlke 19.180 26) 31 Jim Campbell 19.656 27) 5
Dylan Cisney 19.691 28) 3J Jack Thorton 20.470 29) 22 Greg Hodnett 21.728
30) 7 Chad Layton DNT
Heat Winners: Stevie Smith, Mike Erdley, Fred Rahmer
B-Main Winner: Justin Henderson