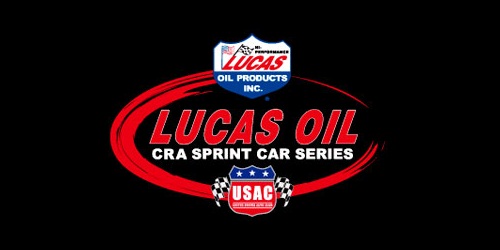 CARDEY LEADS LAST 3 LAPS AGAIN TO WIN AT THE PAS
By Dick Jordan
Mike Spencer finished second to David Cardey Saturday night at Perris (Calif.) Auto Speedway and has a 24-point AMSOIL USAC/CRA Sprint Car lead over Danny Sheridan in the new series standings going into back-to-back races this weekend. Friday night's race is at Ocean Speedway in Watsonville, Calif. and Saturday night's event is at the Petaluma (Calif.) Speedway.
Cardey, of Perris, took the lead from Spencer on a lap 28 restart and led the final three laps to win Saturday night's 30-lap feature at the Perris Auto Speedway. Trailing Cardey and his Circle Track Performance Viper/Picks at the finish were Spencer, Danny Sheridan, Cory Kruseman and Blake Miller.
Sheridan led the first 10 laps and Spencer led the next 17.
Friday's race will be the first for USAC Sprint cars at Watsonville, while Cardey is the defending winner at Petaluma, where last year he beat Blake Miller to the checkered flag.
AMSOIL USAC/CRA SPRINT SERIES POINT STANDINGS
1-Mike Spencer-400, 2-Danny Sheridan-376, 3-Cory Kruseman-300, 4-Blake Miller-292, 5-Jimmy Crawford-291, 6-Matt Mitchell-288, 7-Tony Jones-264, 8-David Cardey-240, 9-Greg Bragg-231, 10-Richard VanderWeerd-213.