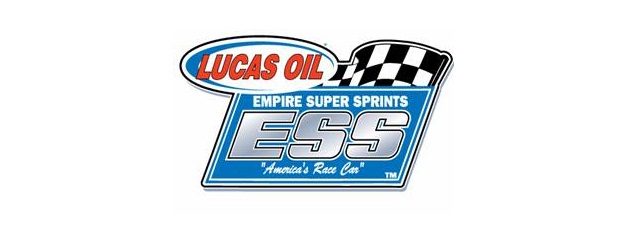 By Dean Reynolds
SYRACUSE, NY – Mike Blok and his very successful Engine Research, Inc. from Cobden, Ontario, Canada has returned to the Lucas Oil Empire Super Sprints (ESS) for the second consecutive season. His contribution goes two-fold as he will be the A-Main sponsor at both events at Autodrome Edelweiss Speedway as well as helping out with the Northwood 2 Construction/LaSalle Motorsports Canadian Sprint Car Series.
Autodrome Edelweiss is the closest track to his Cobden location and with the help of his backing and added travel tow both A-Mains will pay $2,000 to win, $1,200 for second, $1,000 for third on down to $375 just to take the green. The sponsorship makes these two of the most lucrative stops on the ESS trail. The first stop is this Friday, June 18th with a follow up visit on Friday, Aug. 13th the night before the Quebec Sprint Car Nationals.
Engine Research is involved mainly in high performance and race application engines but we also can help you in street and stock engine areas. Our machine shop is well equipped to handle any job from antique engine restorations to all out race units. A great deal of time and effort goes into each and every job, be it a prototype cylinder head and piston or a simple machine operation. Every job gets priority treatment with personal interest to add.
Our experience comes from all forms of racing, such as, drag, oval track, dirt, super modified, sprint, off-road, endurance, marine, home-built aircraft and motorcycle. As well as, diesel, heavy truck, tractor, and passenger car. With this broad base of experience we are confident in what we do. Although we do not call ourselves a speed shop, a full line of performance and stock restoration parts are available from E.R. as well as those hard to find items. For more information you can log on to www.engineresearchinc.com
The Northwood 2 Construction/LaSalle Motorsports Canadian Sprint Car Series is brought to you by 730 Truck Stop in association with Les Constructions Ultra, Engine Research, Mohawk Racing Parts, Coffrage Daniel Lampron and Total Race Supply.
The Lucas Oil backed tour is celebrating its 27th Anniversary Season celebrating the very best in America's Race Cars…for the latest up to date information please log on to www.empiresupersprints.com where it's excitement guaranteed!
The Lucas Oil Empire Super Sprints are brought to you by: Lucas Oil, Northwood 2 Construction/LaSalle Motorsports, SUNY Canton, 730 Truck Stop, Hoosier Racing Tires, Les Constructions Ultra, Cooks Contracting Services, Fondations 4 Saisons, Car Mate Trailers, The National Parts Peddler Newspaper, WestFront Construction, Cobra Coaches, The Ohsweken Speedway, Mohawk Racing Parts, Engine Research, Brodix Cylinder Heads, Total Race Supply, Riverside Bar and Grill, Coffrage Daniel Lampron, Mohawk Valley Community College, FX Chevy and many, many associate sponsors.