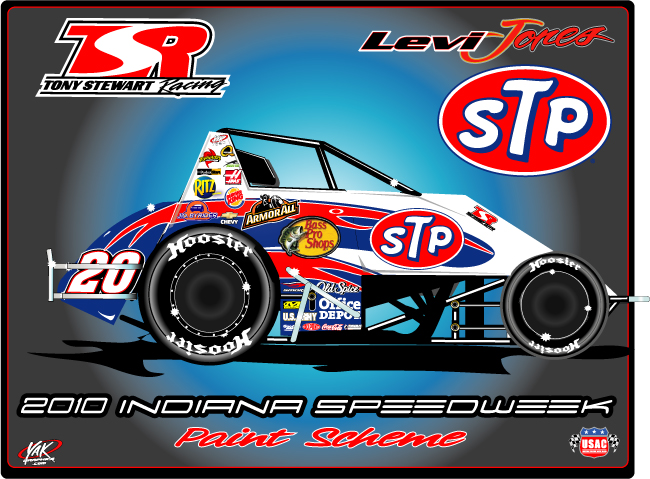 From Misha Geisert
INDIANAPOLIS (July 7, 2010) – Tony Stewart Racing's (TSR) Levi Jones will once again put the STP brand at center stage later this week as he's set to debut a new paint scheme during the USAC Indiana Sprint Week (ISW) series. The No. 20 STP/Armor All/Bass Pro Shops/Maxim entry will carry the STP brand's familiar red, white and blue design as Jones races for his fourth ISW title.
"I am extremely proud to carry the STP colors during this year's Indiana Sprint Week series," Jones said. "The STP brand has such a rich history in the sport of auto racing and it's a great opportunity to drive a car that brings the brand back into the spotlight. Working with Armor All, STP and the Clorox Company has been a lot of fun the past few years, and to be able to represent them and carry the STP colors that have been such a big part of this sport is really going to be an honor."
Jones has already visited victory lane in USAC National Sprint Car Series competition five times in 2010, with his most recent win coming at 34 Raceway in Burlington, Iowa, on June 26. The three-time and defending USAC Sprint Series champion also has a victory in the USAC Silver Crown Series, earning his first career win at USA Raceway in Tucson on Feb. 19.
The 2010 ISW tour will see Jones vie for his third consecutive title. He earned his first ISW title in 2004 behind the wheel of his own car. In 2008, he earned his second ISW triumph behind the wheel of the No. 20 TSR USAC sprinter. Jones followed it up with a repeat performance, earning his third Sprint Week title in 2009 after putting on an unforgettable show during the final race at Tri-State Speedway in Haubstadt, Ind. Jones and current USAC Silver Crown Series teammate Bryan Clauson battled fiercely in the final laps of the 2009 ISW finale, bringing the packed house to its feet as Jones emerged victorious.
Jones will also look to carry on a winning tradition for STP within the TSR stable, as his World of Outlaws Sprint Series counterpart Donny Schatz carried the brand's colors to its first-ever Knoxville Nationals triumph in 2009. The STP paint scheme that will adorn the No. 20 was designed by Yak Graphics of San Jose, Calif., which also designed the 2009 STP/Mario Andretti Tribute car Schatz drove to victory in Knoxville, Iowa, last year.
The No. 20 STP/Armor All/Bass Pro Shops/Maxim will be available for race fans in diecast form, as R&R Enterprises will have 1:18 and 1:64 scale cars available for pre-order online at www.r-ronline.com. Race fans can also purchase Levi Jones/STP tee shirts from the USAC Racing merchandise trailer throughout the Sprint Week event. The shirts will be available beginning with the first ISW event at Lawrenceburg (Ind.) Speedway on Friday.
The 2010 USAC ISW series will open on Friday (July 9) at Lawrenceburg Speedway. The complete schedule:
Friday Lawrenceburg Speedway Lawrenceburg, Ind.
Saturday Gas City I-69 Speedway Gas City, Ind.
Sunday Kokomo Speedway Kokomo, Ind.
July 14 Terre Haute Action Track Terre Haute, Ind.
July 15 Brownstown Speedway Brownstown, Ind.
July 16 Bloomington Speedway Bloomington, Ind.
July 17 Tri-State Speedway Haubstadt, Ind.
For more information regarding USAC Indiana Sprint Week or the USAC Sprint Series schedule, visit www.usacracing.com. TSR's website is currently being redesigned. To keep up with the latest news and information regarding TSR's USAC and WoO Sprint Series teams, please visit their pages on Facebook at "The Official TSR Fan Page." Race fans can also follow TSR on Twitter @TonyStewart_rcg.
Levi Jones, Driver of the No. 20 STP/Armor All/Bass Pro Shops Maxim:
USAC Indiana Sprint Week is one of the most intense portions of the schedule. How do you and the team prepare?
"Fortunately, we've been able to work well together in the past few years as a team and we really have learned what we need to do in order to be prepared for Sprint Week. From making sure the truck and trailer are stocked with the spares and equipment we might need, to making sure the cars are ready to roll from the time they come off the truck, we really put a lot of time into being prepared for whatever might happen during the week.
"For me personally, as a driver, I also know what I need to do in order to mentally and physically prepare for such an intense point in the schedule. I'm taking care of the nutrition and physical side of things, now, and I have learned what helps me cope with the demands Sprint Week puts on you as a driver. As a whole, TSR is going into this week with a lot of confidence and we're looking forward to getting on the track this Friday at Lawrenceburg."
What would winning a fourth USAC Indiana Sprint Week title mean to you as a driver?
"Winning a fourth Sprint Week title would really mean a lot to me. You realize as you get further into your career that each title means more and more to you. When I was younger, it was about this time of the year that Kevin Thomas would start pumping me up, telling me I had to beat (Dave) Darland because he didn't want him to tie him by winning a fourth title. He doesn't do that, anymore, as he realizes it could be me who ties his four-title mark.
"If we're able to win the Sprint Week title again this year, I think it would really help me to assert myself as one of the leading contenders in the state of Indiana. A lot of people don't look at me as one of the best drivers in Indiana. I'm more known for winning races outside the Hoosier state. I'd really like to win this year as I think it would show people I'm a threat at any Indiana track, not just in other states. I feel like we're pretty good here in our home state and winning the title would help show that."
With Donny Schatz winning the 2009 Knoxville Nationals behind the wheel of the Mario Andretti/STP Tribute car, is there any friendly team pressure to win the Sprint Week title?
"There's definitely some pressure coming from the other side of the shop to keep up the winning ways with the STP car. But isn't that why we all do this? Racing is such an intense, adrenaline-fueled sport, and that's why we love it and why we keep working to try to be the best. I'd love to win Sprint Week with the STP car and carry on the winning tradition for the brand and TSR. I don't want to be the one who stops the tradition."
About Armor All/STP
The Armor All/STP Products Company is a subsidiary of The Clorox Company, headquartered in Oakland, Calif. Clorox is a leading manufacturer and marketer of consumer products with fiscal year 2008 revenues of $5.2 billion. With 7,600 employees worldwide, the company manufacturers products in two dozen countries and markets them in more than 100 countries. For more information about Clorox, visit www.TheCloroxCompany.com. For more information on Armor All, go to www.armorall.com or www.aa-ownercenter.com.
About Bass Pro Shops
In less than three decades, Bass Pro Shops has grown from a small display in Springfield, Mo., into the nation's leading retailer of premium outdoor gear. Bass Pro Shops has established itself as a cutting-edge innovator in the highly competitive world of outdoor retailers. Now totaling 53 locations nationwide, and planning to add up to two more stores in 2009, Bass Pro Shops have become destination locations for over 80 million consumers each year with their unique combination of entertainment, outdoor education and conservation appreciation. Bass Pro Shops has won the prestigious "Trendsetter of the Year" award, as well as Chain Store Age's "Retailer of the Year" award and Sporting Goods Business' "Specialty Retailer of the Year" award. Bass Pro Shops and brand founder, Johnny Morris, also won "2008 Retail Innovator of the Year" from the National Retail Federation. The company also has been named the #1 Outdoor Retailer in America by Sporting Goods Business magazine for the past two years. For more information regarding Bass Pro Shops, store locations and racing involvement, log on to www.basspro.com.