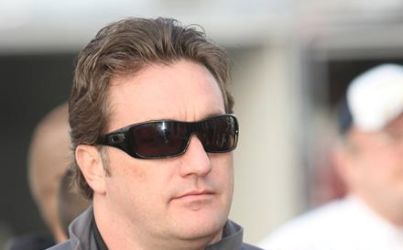 By Bill W
July 13, 2010 – On Fourth of July weekend, Terry McCarl returned to the seat of a sprint car and recorded two podium finishes. Last Saturday night, he found Victory Lane at the Knoxville Raceway in the first of two features (he drove from 19th to 8th in the second). He followed that up with a second place finish at the Huset's Speedway on Sunday night.
TMAC registered the quickest time of the night in time trials and drove from sixth to fourth, to lock down the pole position in the first fo the Twin Features at Knoxville. "Getting through the heats is nerve-wracking on Twin Features night," he says. "Getting a transfer is as tough as it is all year on that night."
A unique situation happened when son Austin registered the second quick time of the night, setting up the father/son on the front row of the main event. TMAC led wire to wire, while Austin finished a strong fourth. "It was great," says TMAC. "I will look more fondly on the fact that Austin started beside me and ran well than I will the win. That was pretty awesome that we were on the front row. He is doing a good job. I just wish he could race more. I think he's showing people not only that he is a good driver, but a smart level-headed person."
Finding the tires needed to set up the TMAC Motorsports entries seems to be getting harder. "It's frustrating going to the tire truck," says the Altoona, Iowa driver. "They have gigantic sizes that we are expected to run, and nothing to go with it (left rear). It's not just at Knoxville, but everywhere. You are stuck with tires you don't want to run. I tried to make do with what they had."
The second feature started slow, and without many cautions, TMAC worked his way to eighth. "I had a horrible start and struggled through the first three or four laps," he says. "We just needed a yellow there later on. We really weren't that fast. We got to eighth, but we weren't good."
TMAC is complimentary of the crew he has assembled in short order. "We're doing the best we can," he says. "Brandon Ikenberry is there, Tony Sposato is too. I really like having Ron Wignall back so soon after his mother (Judy) passed. Austin's crew chief, Steve Fitzpatrick, even helps us out during the week."
The feature paid $5,000 to win on Sunday night at Huset's Speedway near Brandon, South Dakota. That prompted TMAC to pilot the #17a. He led much of the way, before Shane Stewart was able to get by at the halfway point while utilizing rubber laid down on the track. "When you are out front on the cushion and catching lapped traffic, it's hard to know there is rubber down," says TMAC. "Shane was able to get by us there, and we had to fall in line a bit."
TMAC came home second. "Huset's was a big test for me both mentally and physically," he says. "It's a very demanding racetrack. I was a little nervous coming in, but I think we came through with flying colors."
Things seem to be getting back into form on the track after the long layoff. "The arm is fine while I'm racing," says TMAC. "I'm disappointed in second more that it paid $1,200 as compared to $5,000 for winning. I was glad Shane was there, because that is a good gauge for us. He and Paul Silva have a top notch team."
It looks like TMAC will have to miss out on one of his favorite races this weekend. "I wanted to go to the King's Royal (Eldora Speedway in Ohio), but we just aren't as organized as we need to be to run it right now," says TMAC, who won the "Knight Before the King's Royal" last year. "We've been a contender the last few years to win that, and I really want to do it, but it's going to have to wait it looks like."
For now, TMAC will stay local this weekend with his racing as he continues to seek a quality ride. "We're looking for opportunities," he says. "I think people want to see if I can still drive before they make a change. I think that we've shown that now…that physically we can do it. We've put five solid finishes together coming back."
Front Row Challenge/Ultimate Challenge
The 15th Annual Front Row Challenge and the 9th Annual Ultimate Challenge will be held Monday and Tuesday, August 9 and 10, 2010 at the Southern Iowa Speedway in Oskaloosa, Iowa. Order your seats NOW by calling McTwo Promotions, Inc. at 515 957-0020. Visit www.OskyChallenges.com for further details.
Websites for the McCarl Gang!
Driverwebsites.com has developed websites for the McCarl boys. Check out www.TerryMcCarl.com, and check out www.AustinMcCarl.com and www.CarsonMcCarl.com!
In"Terry"gation
Curtis Berleue asks: How hard has it been after coming back from your injury, and what are your thoughts on the theory that your actually better after coming back from being laid up with an injury? It appears that it hasn't slowed you down too much! Good luck from Upstate NY!
TMAC Answers: If I would have been rolling back into the team I had, we could have won three or four of them already. The injury isn't a big deal, it's the fact I had to put together a new team, and I'm driving a different car (Eagle). We're trying to get everything put together after starting scratch mid-season. When I get in the car I feel great. I can deal with the pain afterwards. That's part of my job.
Got a question for TMAC? Send it to us at sprntcar@iowatelecom.net, and we may answer it in this section! Put "? for TMAC" in your subject line.
This Day in TMAC History!
On this day in 2003, Terry drove the TMAC Motorsports #24 to victory over Mark Dobmeier, Ricky Logan, Dusty Ballenger and Lynton Jeffrey at Huset's Speedway. Nine of his 26 wins that year came at Huset's. He also won the Jerry Richert Memorial, the Huset's Gold Cup, the Tournament of Champions, the Pella Classic and an All Star show in Wichita that year.
Website Updates
Keep up to date with McCarl Motorsports at www.TerryMcCarl.com. We keep it fresh for TMAC fans!
"Tuesdays with TMAC" is an up close and personal look at colorful sprint car veteran Terry McCarl. To receive "Tuesdays with TMAC", send an e-mail to sprntcar@iowatelecom.net with "TMAC" in the subject line.
TMAC Motorsports would like to thank sponsors Deanfield Farms, AmeriCashAdvance.com, DeBerg Concrete, and Rossie Feed and Grain.