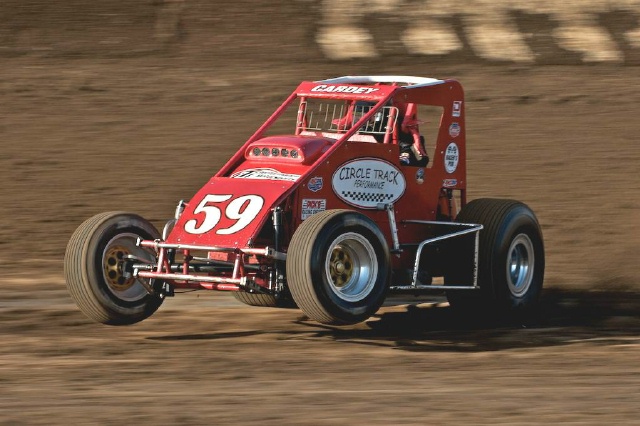 By Scott Daloisio
(JULY 21, 2010, RIVERSIDE, CA) For Riverside, California Sprint Car racer David Cardey, one streak came to an end last week at Perris Auto Speedway while another hopes to continue this Saturday at Victorville Auto Raceway. Cardey's winning streak of five straight wins in as many starts was halted by a second place finish at the ASCS race at The PAS, but he hopes to make it three wins in a row on the High Desert this Saturday night.
Getting a ride a little more than 24 hours before last Saturday's race at The PAS, Cardey looked quite comfortable in his first ever ASCS race. Driving for car owner Bob Bishop, Cardey started dead last (ninth) in his heat race. By the time the eight-lap race was over, he had worked his way up to fourth. Not bad for the first time in the car. That placed him in the third row on the inside for his eight lap-qualifying race. Cardey quickly found his way to the front and won the qualifier by nearly a half straightaway.
ASCS does not have qualifying. The starting positions in the heat races are determined by a pill draw. Later in the program points accumulated on the night determine starting positions for the qualifying races and the main event. After his heat and qualifier, Cardey was third in points and started inside the second row in the 30-lap A main. Spending most of the race in the third and fourth spots, Cardey moved up to second late in the race. That was as far as he would get and his five race-winning streak came to an end.
This Saturday, Cardey will climb back behind the wheel of Don Blair's black #12 Sprint Car at the Victorville Auto Raceway as he seeks his third win in a row on the San Bernardino County Fairgrounds. Spectator gates will open at 4:30 at Victorville and the first race will be at 6:00. Cardey will be back behind the wheel of his own red #59 Sprint Car when the USAC/CRA Series returns to Perris Auto Speedway on July 31st.
David Cardey was not the only family member to make the news this past week. One of his biggest supporters and a former racer himself, David's Uncle Carl, was featured in a story in the Press-Enterprise. A copy of that story is attached to this release.
David would like to thank all of the sponsors for making his 2010 season possible. Circle Track Performance, iTi Performance Motorsports, Pick's Racing Engines, Racer's Pub, 5-Star Gas & Gear, Monster Media, Down's Oil, Empire Plumbing, Spin Tech Performance Mufflers, Don Flanders and Scott Daloisio Sports. To add your company to the sponsor list of David Cardey Racing's team for the 2010 campaign, please use the contact information at the start or end of this release.
For more information on David Cardey Racing: contact or text Scott Daloisio at: (909) 226-7768. You can also E-mail: SDaloisioSports@aol.com.
2010 FINISHES
DATE TRACK DIVISION RESULT
February 27 Perris Auto Speedway USAC NAT. & CRA 10th A Main
March 20 Ventura Raceway VRA 11th A Main
March 27 Perris Auto Speedway USAC/CRA 16th A Main
April 10 Perris Auto Speedway USAC/CRA 11th A Main
May 39th Perris Auto Speedway USAC/CRA 1st A Main
June 5th Victorville Auto Raceway Open Comp. 1st A Main
June 12th Perris Auto Speedway USAC/CRA 1st A Main
July 3rd Perris Auto Speedway USAC/CRA 1st A Main
July 10th Victorville Auto Raceway Open Comp. 1st A Main
July 17th Perris Auto Speedway ASCS 2nd A Main