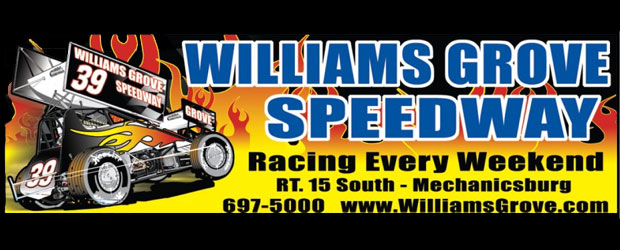 From Williams Grove Speedway
MECHANICSBURG, PA –Jim Siegel and Daryn Pittman took top honors Friday night in sprint car competition at Williams Grove Speedway. Siegel started third in the 25-lap feature for the Williams Grove regulars and took the lead from front row starters Derek Sell and Chris Meleason. While Siegel led every lap to score the third win of his career at Williams Grove and first of the season, his victory certainly wasn't easy. With Siegel glued to the outside cushion, Donnie Kreitz was working well on the inside and took second place from Brent Marks on lap 17. Kreitz was closing on Siegel when a red flag fell for Aaron Ott who flipped in turn two. On the restart Siegel moved to the inside and took away Kreitz's lane, which gave new life to Marks, who drove around Kreitz with two laps left. Brian Montieth, who started tenth, passed Kreitz on lap 24 to set up a wild dash to the finish. Siegel never faltered and held on for the win and a $3850 pay day. Marks, Montieth, Kreitz and Greg Hodnett, who started 12th, finished nose-to-tail behind Siegel. Alan Krimes, Mark Smith, Chad Layton, Keith Kauffman and Adam Wilt finished in positions six through ten respectively. Siegel became the eleventh different driver to win a Williams Grove sprint car feature in 2010. Heats for the 25 sprint cars went to Siegel, Sell, and Justin Henderson. Rick Lafferty won the consolation race. Pittman started alongside Aaron Ott on the front row and took the lead on the first lap of the URC sanctioned Rislone 360 Nationals. Pittman had things under control until he caught heavy traffic on lap 19 at which point Pat Cannon had closed to within striking distance. A caution flag with 20 laps complete gave Pittman a clear track and he rolled to a $4000 victory. Cannon settled for second with Mark Smith third, Gerard McIntyre fourth and Blane Heimbach fifth. Fast time was set by Cannon with a lap of 18.301. Cannon, Curt Michael, Smith and Randy West won heats for the 42 360-sprints. Jessica Anderson won the B-main.
Williams Grove Speedway Feature Finishes – August 6, 2010
Sprint Car Feature – 25 laps – 1. Jim Siegel, 2. Brent Marks 3. Brian Montieth, 4. Don Kreitz, Jr., 5. Greg Hodnett, 6. Alan Krimes, 7. Mark Smith, 8. Chad Layton, 9. Keith Kauffman, 10. Adam Wilt, 11. Justin Henderson, 12. Daryn Pittman, 13. Rick Lafferty, 14. Dylan Cisney, 15. Troy Fraker, 16. Bob Howard, 17. John Rudisill, 18. J. R. Berry, 19. Aaron Ott, 20. Brian Leppo, 21. Danny Dietrich, 22. Chris Meleason, 23. Doug Dodson, 24. Derek Sell. DNQ: Buzz Wilson
URC 360 Nationals Feature – 25 laps – 1. Daryn Pittman, 2. Pat Cannon, 3. Mark Smith, 4. Gerard McIntyre, 5. Blane Heimbach, 6. Kevin Nouse, 7. Curt Michael, 8. Colby Womer, 9. Randy West, 10. Kramer Williamson, 11. Davie Franek, 12. Trevor Lewis, 13. Davey Sammons, 14. Nick Schlauch, 15. Justin Collett, 16. Josh Weller, 17. Bryn Gohn, 18. J. J. Grasso, 19. Becca Anderson, 20. Jessica Anderson, 21. Jonathan Swanson, 22. Kevin Darling, 23. Bill Unglert, 24. Cory Haas, 25. Aaron Ott.