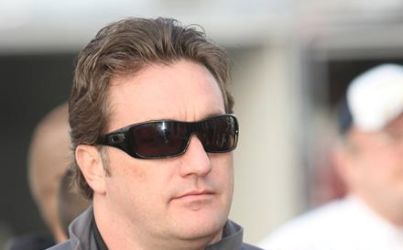 By Bill W
August 7, 2010 – Once again, McTwo Promotions is stepping up to the plate big time for driver giveaways at the $50,000 Musco Lighting Front Row Challenge! The race will be held this Monday night, August 9, at the Southern Iowa Speedway in Oskaloosa, Iowa and is sanctioned by the All Star Circuit of Champions.
Drivers will feel the love early, as the Driver's Meeting will hold a few drawings. Each driver will be in the running for sets of tear-offs compliments of Kear's Speed Shop. In addition, two right rear tires will be given away. For the second year in a row, a driver will also be drawn to receive a free website ($1200 value) from www.DriverWebsites.com!
"We wanted to get the juices flowing early and get the drivers excited about being here," says McTwo Promotions, Terry McCarl. "Giving things away before they even race is a great deal."
Once the cars hit the track, the contingencies keep on coming, as the driver posting quick time will receive a Goodyear right rear tire. Each of the four heat winners will receive a front wing from Hepfner Racing Products. In addition, heat winners will receive a Butlerbuilt Driveline pad. The heat winners will also receive either Keizer wheels, Keizer front hubs, or a left rear Sander wheel.
The B main winner receives new headers from Schoenfeld. The hard-charger in the main event will receive a KSE Power steering pump.
Race Gear X will award the "Front Row Challenge Crew Chief Award". The winner of the award will receive five custom designed crew shirts for their team!
"Over the years, we've had a tremendous relationship with companies that want to be a part of the Challenges," says McCarl. "In fact, we are not done yet. We're still working on some things for Monday and Tuesday. Being a racer myself, I know the value in these giveaways. I want to thank all the teams who spend their night with us."
Of course, there is some serious cash on the line as well. A driver who takes the challenge to go from the front to the back has $50,000 waiting for him in Victory Lane.
Tickets are still available! Call McTwo Promotions at 515 957-0020 today!
Hot laps are scheduled for 7:15 with racing to follow!
Directions: The Southern Iowa Speedway is located 1/2 mile West of US 63 on SR 92, then 1/3 mile North on North I St. (at the Southern Iowa Fairgrounds)
From Knoxville – Take SR 92 East 20 miles to Oskaloosa. Turn North on North I St. and go 1/3 mile to Fairgrounds.
From Hwy 163 – Take SR 92 Exit East to North I St. Go North 1/3 mile to Fairgrounds.