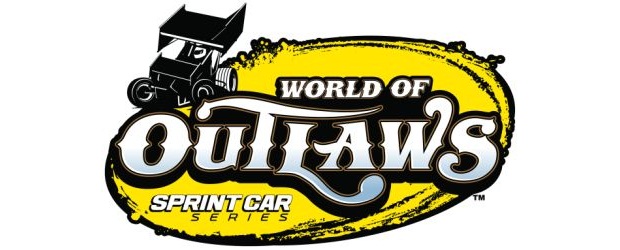 By Tony Veneziano
Concord, NC-August 12, 2010- After the closest championship battle in World of Outlaws history last season saw Donny Schatz claim the title by a scant 19 markers over Jason Meyers, the 2010 title fight is shaping up to be another of epic proportions, with just 46 points between the Top-Three drivers entering the Gold Rush Tour next week. A mere nine points currently separates leader Joey Saldana and 20-time series champion Steve Kinser, with Jason Meyers third only 46 markers out of the top spot, with four-time and defending series champion Donny Schatz, still within striking distance in fourth, 165 markers back. Each of the four has led the series standings at one point or another during the 2010 campaign.
The Gold Rush Tour, which kicks off at Nodak Speedway in Minot, North Dakota on August 20-21, will take the World of Outlaws to six different tracks in four states and one Canadian Province for 11 races, which accounts for over half of the events remaining on the 2010 calendar.
Joey Saldana begins the stretch run leading the series in A-Feature wins with 10. He also has led more laps in main events this season than any other driver, as he seeks his first series title. The second generation driver has been on top of the standings for a majority of the season and has held the largest advantage of any driver this season, as he was up by 62 markers on June 25. He drove a large part of the season with a broken left hand that required extensive surgery back in March to insert 10 screws and a plate into the hand to help regain full range of motion.
"I'm pretty happy with how things are going," said Saldana recently. "Last year we won a lot of races and were third in points, so that was pretty discouraging. This year we've won 10 races and we feel like we could do quite a bit better and have had some situations out of our control that have cost us some. We're still hanging in there and it's been a great effort by this whole team and we are trying to finish off the year strong."
Steve Kinser has been the most consistent driver this season with the World of Outlaws, racking up 44 Top-10 finishes in the firsts 49 races of the season with 31 of those being Top-Five performances to lead all drivers. The Hall of Famer has won seven times and leads the series in money earned through August 7. While he has been putting up stellar numbers on the race track, Kinser is quick to share the credit with his crew, as he continues his first season driving for Tony Stewart Racing.
"The guys I have with me work really hard and they do a great job," Kinser stated. "They've put me in a good position just about every night. We've been strong all season and only had a few nights where we weren't right there. Joey (Saldana) and Jason (Meyers) won a bunch early and we've started to close back in on them. If we keep after it, we'll be in the position we hoped to be in."
Jason Meyers carries plenty of momentum into the Gold Rush Tour, having won the $20,000 Ironman 55 last weekend at I-55 Raceway. The California native has won eight times this season, which is second only to Saldana. He has racked up 38 Top-10 finishes with 25 of those being Top-Fives. He has finished in the Top-10 in 10 of the last 11 races as he continues to gain points on Saldana and Kinser.
"I think we are in a great position," said Meyers. "It's kind of been an up and down season for everybody. The last two years we ran second in the championship and last year by a mere 19 points. At this point last year we were about 100 points back. This is the closest we have ever been to the front at this time of the year and we've run second three times, so I think we are in a great position. We have a great race car and we've made some changes in our program and it's really starting to pay off. The West Coast swing has usually been good to us and hopefully that's our time to shine and get to the front of the point standings."
Donny Schatz enters the Gold Rush Tour fourth in points, the farthest back he has been in any of the last five seasons, though with 21 total races remaining on the schedule, he has plenty of opportunities to make up points. Jason Meyers made up nearly 70 points during the Gold Rush Tour last season and Schatz has traditionally run well at each of the six tracks that comprise the mini-series as well as at all of the 14 tracks remaining on the calendar.
"We're a championship team and I have championship guys," Schatz noted. "Our performance hasn't been quite to the level we expected, but when you set the bar high, it's pretty hard to meet that day after day after day. We've had some issues with some certain things and have been trying to get ourselves ahead. We've had good finishes and real good race cars and our motors have been running well. We have all of the pieces here and sometimes you just have to have a little luck."
Saldana finished second in points with the World of Outlaws in 2007 and has been third twice in his career, including last season as he chases his first title. Of the 14 tracks remaining on the 2010 calendar, he has won at nine of them. He leads the four title contenders in bonus points earned in time trials this season, and is second in that department only to his teammate Paul McMahan. Last season Saldana earned the least amount of qualifying bonus points of the three title contenders. He also leads the series in laps led in 2010 and is near the top of the leader board in Top-10 finishes, Top-Fives and dash wins.
"I've never done it before so I really don't know," shared Saldana when asked what it will take to win a title. "I do know that the West Coast has typically been good for our team and have run extremely well from Knoxville on. I think if we can do what we have done in the past we'll be ok. We just have to do what we can do and everything else is out of our control. If we run like we have last year and in the years before hopefully we can win a championship."
Kinser enters the Gold Rush Tour with one focus, and that is to win races. In 19 of the 20 years in which he has won championships with the World of Outlaws, he has led the series in wins during those seasons. The native of Bloomington, Indiana has been victorious at five of the six tracks that comprise the Gold Rush Tour and has won at 11 of the 14 tracks remaining on the 2010 schedule.
"We are out here to win races and, any time you can stack a few wins together, it's a big plus," noted Kinser. "The competition is tough, so when things go your way, you have to capitalize on them. Right now, we're just trying to keep things going our way."
Meyers is the only driver among the Top-Four in points that has won at each and every track that is part of the 2010 Gold Rush Tour. He was victorious in the $20,000 finale at Skagit Speedway last year. He also picked up a win at Cottage Grove Speedway last season. The veteran won at both Nodak Speedway and Castrol Raceway in 2008 and has won at Silver Dollar Speedway three times with the World of Outlaws, including preliminary features during the Gold Cup Race of Champions in each of the last two years, while he scored a win at Grays Harbor Raceway in 2003.
"You are going to have to be in the Top-Five every night," explained Meyers when asked what it will take to be in contention late in the season for the title. "We have to finish one or two spots ahead of those guys that ahead of us in points, and we have to do that every night. A little bit of luck helps as well. If we can find just a little luck along the road I think we have the tools to do it. We're racing some tough competition and will have to stay after it."
With a number of tracks coming up on the schedule that he has traditionally ran very well at, Schatz seeks to gain some ground on the three drivers ahead of him in points, as he looks to become just the second driver ever to win five consecutive World of Outlaws title. He has won at 10 of the 14 tracks that comprise the remaining 21 events on the 2010 schedule. One track he is looking to win at for the first time with the World of Outlaws is his home track of Nodak Speedway in Minot, North Dakota, which serves as the kick-off of the Gold Rush Tour on August 20-21.
"Those guys are definitely going to have to have some problems, but we had those problems to get in this position," admitted Schatz when asked what it will take to move up in the standings and battle for the title. "It's not beyond happening. I feel real good with how our performance has been. Joey (Saldana) and Jason (Meyers) haven't won championships before, so they are not really sure going forth what it takes to do that, while Steve (Kinser) and I have both been lucky enough to have won them. We kind of know how to do the mental side of it, so it will be kind of unique to see how that plays out with those guys all being pretty close.
The 2010 Gold Rush Tour for the World of Outlaws kicks off on August 20-21 at Nodak Speedway in Minot, North Dakota, before moving north of the border to Castrol Raceway in Edmonton, Alberta, Canada on August 27-28, with a trip south to Cottage Grove Speedway in Oregon to follow on September 1. The series then heads back north to Skagit Speedway in Washington on September 3-4 with $20,000 going to the winner of the finale of the two-day show, before spending Labor Day at Grays Harbor Raceway on September 6. The 57th Annual Gold Cup Race of Champions at Silver Dollar Speedway in Chico, California, wraps up the Gold Rush Tour September 9-11, with $50,000 awaiting the winner of the legendary event.
For more information on the World of Outlaws including the full points standings, visit http://www.WorldofOutlaws.com/sprint.
The World of Outlaws Sprint Car Series is brought to fans across the country by many important sponsors and partners, including: Armor All (Official Car Care Products), Chizmark & Larson Insurance , Goodyear Tires (Official Tire), SuperClean (Official Cleaner-Degreaser), VP Racing (Official Racing Fuel); in addition to contingency sponsors, Jake's Custom Golf Carts, KSE Race Products, Penske Shocks , R2C Performance, Racing Electronics, S&S Volvo; Engine Builder's Challenge participants Don Ott Racing Engines, Kistler Engines, Shaver Specialties and Speedway Engines; and Chassis Builder's Challenge participants J&J Auto Racing, Maxim Racing and XXX Race Company.