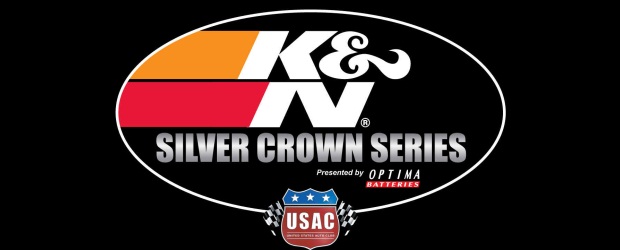 From Dick Jordan
Marne, MI-It was at hot summer day at Berlin Raceway, but that wouldn't hinder some quality racing on the track. The USAC Silver Crown Series and the USAC Midget Series were back and sunny skies set the stage for a great night of racing. Winners for the evening included #2D Levi Roberts (Midget) and #23 Tanner Swanson (Silver Crown).
The first feature of the night was a 25 lap USAC Midget race. On the start/finish line were #64 Chris Phillips and #06 Mario Clouser. The first and only caution of the night came before the first lap was even complete; the #7a of Dalton Armstrong went into the wall going out of turn 3. Out of the complete restart, Clouser jumped out in front, but #2D Levi Roberts was quick to get on his heels. The two separated themselves from the pack. By lap 8 though, #4 Dillon Welch was gaining on them both. Clouser enjoyed the lead for 10 laps until both Roberts and Welch passed him on the front stretch. Roberts and Welch had a 5.626 second lead over Clouser with 4 laps to go. Roberts would go on to take the checker flag, narrowly beating out Welch. Clouser, #84 Grant Galloway, and Phillips rounded out the top 5.
Next up were the USAC Silver Crown's with #22 Bryan Clauson and #07 Jacob Wilson on front row. Clauson was in front with a comfortable lead over Wilson; until a yellow flag was thrown on lap 22 . Slowing Clauson down was the #199 of Cameron Dodson who went off the back stretch. Out of the restart #6 Bobby East passed Wilson on the inside, but East was not stopping there; East passed Clauson on lap 43 to take the lead. A second yellow would come out when the #20 spun out on lap 72. East held his ground until lap 101. Clauson, #23 of Tanner Swanson, and #19 Kody Swanson were all on his tail. Tanner Swanson in the #23 would emerge as the new leader. A few more yellow flags came out for slow cars on the track and it would become a Swanson battle to the end. Tanner Swanson in the #23 would edge out Kody Swanson in the #19 by .267 seconds. Coming out of the finish line, #23 Swanson lost control and hit the wall in turn 1. The driver would be okay and continue celebrating his victory. The rest of the top five would be #19 Kody Swanson, #29 Bud Kaeding, Clauson, and #991 Justin Carver.
Up next for Berlin Raceway is the Fall Shoot Out with car load night. Super Stocks, Pro Stocks, and Modifieds will all be in action. For just $25 a car load of people can get in, otherwise tickets for adults are $12. Seniors who are 60+ are $10, children ages 6-12 are $5 and children under the age of 5 can get in FREE. For more information please visit berlinraceway.com
USAC SILVER CROWN CHAMPIONSHIP RACE RESULTS: August 12, 2010 – Marne, Michigan – Berlin Raceway – "Great Lakes 150"
QUALIFICATIONS: 1. Bryan Clauson, 22, Stewart/Curb Agajanian-16.182; 2. Jacob Wilson, 07, WBR/Team 6R-16.194; 3. Tanner Swanson, 23, Team 6R/TK-16.288; 4. Bobby East, 6, Klatt-16.351; 5. Eric Gordon, 2, Bowman/Canine-16.352; 6. Kody Swanson, 19, Team 6R-16.355; 7. Levi Jones, 10, Stewart/Curb Agajanian-16.365; 8. Bud Kaeding, 29, BK-16.387; 9. A.J. Fike, 3, RFMS-16.424; 10. Brian Tyler, 21, Team 6R-16.424; 11. Tracy Hines, 25, Vance-16.449; 12. Justin Carver, 991, Edwards/RE-16.484; 13. Zach Daum, 50, Daum-16.500; 14. Troy DeCaire, 96, Weesner-16.656; 15. Jerry Coons Jr., 27, RW-16.699; 16. Cameron Dodson, 199, Edwards/RE-16.715; 17. Shane Hmiel, 17, RW-16.784; 18. Shane Hollingsworth, 20, Nolen-16.838; 19. Russ Gamester, 51, Gamester-16.881; 20. Derek Hagar, 91, Hagar-17.134; 21. Zach Martini, 125, Sachs/Yermal-17.606;
FEATURE: (150 laps) 1. Tanner Swanson, 2. Kody Swanson, 3. Bud Kaeding, 4. Bryan Clauson, 5. Justin Carver, 6. Brian Tyler, 7. A.J. Fike, 8. Jacob Wilson, 9. Jerry Coons Jr., 10. Troy DeCaire, 11. Bobby East, 12. Levi Jones, 13. Shane Hmiel, 14. Tracy Hines, 15. Cameron Dodson, 16. Derek Hagar, 17. Eric Gordon, 18. Zach Martini, 19. Zach Daum, 20. Shane Hollingsworth, 21. Russ Gamester. NT
—————————–
FEATURE LAP LEADERS: Laps 1-42 Clauson, Laps 43-100 East, Laps 101-150 Tanner Swanson
NEW SILVER CROWN POINTS: 1-Kaeding-267; 2-Coons-225; 3-Fike-215; 4-Jones-210; 5-K.Swanson-200; 6-Hmiel-197; 7-Hines-190; 8-Tyler-185; 9-Clauson-168; 10-East-154.
NEXT SILVER CROWN RACE: August 21 – Springfield, IL – Illinois State Fairgrounds – "Tony Bettenhausen 100"
xxxxxxxxxxxxxxxxxxxxxxxxxxxxxxxxxxxxxxxxxxxxxxxxxxxxxxxxxxxxxxxxxxxxxxxxxxxxxxxxxxxxx
USAC REGIONAL/WOMS MIDGET SERIES RACE RESULTS: August 12, 2010 – Marne, Michigan – Berlin Raceway
QUALIFICATIONS: 1. Levi Roberts, 2D, Roberts-15.980; 2. Dillon Welch, 4, East-16.211; 3. Dalton Armstrong, 7A, C & A-16.312; 4. David Byrne, 20D, Byrne-16.398; 5. Mario Clouser, 06, MCM-16.419; 6. Chris Phillips, 64, Phillips-16.584; 7. Alfred Galedrige, 26, Galedrige-16.609; 8. Tom Fedorczyk, 21F, Fedorczyk-16.872; 9. Doug Dietsch, 0, Dietsch-17.052; 10. Dick Osborn, 21z, Osborn-17.148; 11. Nick Wagner, 93, Wagner-17.163; 12. Grant Galloway, 84, Grant-NT; 13. Dave Fuhrman, 32, Fuhrman-NT; 14. Buddy Lowther, 31, Lowther-NT.
FIRST HEAT: (8 laps) 1. Roberts, 2. Clouser, 3. D.Armstrong, 4. A.Galedrige, 5. Wagner, 6. Dietsch, 7. Fuhrman. 2:12.76
SECOND HEAT: (8 laps) 1. Byrne, 2. Welch, 3. Phillips, 4. Osborn, 5. Lowther. 2:11.92
FEATURE: (25 laps) 1. Levi Roberts, 2. Dillon Welch, 3. Mario Clouser, 4. Grant Galloway, 5. Chris Phillips, 6. David Byrne, 7. Doug Dietsch, 8. Dick Osborn, 9. Nick Wagner, 10. Alfred Galedrige, 11. Dave Fuhrman, 12. Dalton Armstrong, 13. Buddy Lowther. 6:56.03
—————————————–
FEATURE LAP LEADERS: Laps 1-10 Clouser, Laps 11-25 Roberts.
NEW REGIONAL MIDGET SERIES POINTS: 1-Dalton Armstrong-744; 2-Welch-722; 3-Phillips-614; 4-Lowther-471; 5-Fuhrman-441; 6-Kyle Hamilton-299; 7-Daniel Bedford-288; 8-Roberts-268; 9-Ali Jackson-235; 10-Shannon McIntosh-230.
NEW USAC/WOMS MIDGET SERIES POINTS: 1-Dalton Armstrong-298; 2-Welch-295; 3-Phillips-254; 4-Daniel Bedford-203; 5-Dietsch-162; 6-Lowther-149; 7-Wagner-141; 8-Fedorczyk-131; 9-Fuhrman-126; 10-Roberts-114.
NEXT REGIONAL MIDGET RACE: September 25 – Marne, MI – Berlin Raceway
NEXT USAC/WOMS MIDGET RACE: September 25 – Marne, MI – Berlin Raceway