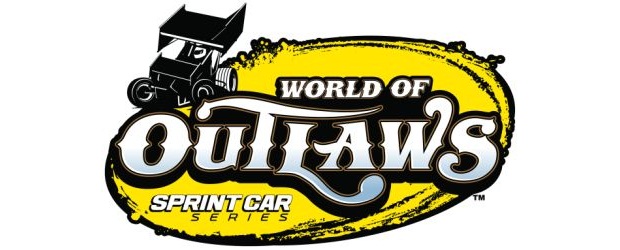 By Tony Veneziano
Concord, NC-August 23, 2010-
Festivities Galore: The Magic City Showdown kicked off with a Meet & Greet featuring several World of Outlaws drivers and teams on Thursday, August 19 in the parking lot of the Sleep Inn & Suites located at the Dakota Square Mall in Minot, North Dakota. Cars were on display with drivers signing autograph for fans and posing for photos. Prior to racing on Friday, August 20 an "Outlaw Hauler Parade" was staged from the Sleep Inn & Suites to Nodak Speedway, going through Downtown Minot to the North Dakota State Fairgrounds, where the track is located. In addition, a second Meet & Greet was held on Saturday, August 21 in the pit area at Nodak Speedway, with all World of Outlaws teams taking part on a sunny and warm afternoon. SLS Promotions also hosted a buffet style banquet dinner for all the teams, series officials, track workers at Nodak Speedway, media and sponsors last Thursday night at the Sleep Inn & Suites in Minot.
A career first: Ben Gregg, the leading contender for the Kevin Gobrecht Rookie of the Year Award with the World of Outlaws this season, turned the quickest lap in qualifying during the finale of the Magic City Showdown at Nodak Speedway, to earn the first fast time honor of his career with the World of Outlaws. He circled the high-banked 3/8-mile in 13.947 seconds at 96.795 mph and was one of just two drivers that were in the 13-second bracket during time trials of the finale of the two-day event.
"It was a great start to the night and a descent couple of laps," said Gregg. "Billy Muller has the car working good and I can't thank Joe Gaerte (Engine Builder) enough. He has been working his tail off all year to give a piece we are happy with and that has a lot of speed in it. We've really been trying to take advantage of the two days shows and it took us until about the feature on the first night to get the car better. We came back with what we learned on the first night and it paid off."
Jac is back: Jac Haudenschild returned to the cockpit at Nodak Speedway this past weekend for the first time with the World of Outlaws, after being sidelined for a few weeks by a broken right hand suffered in a vicious crash at LaSalle Speedway on July 8. The Hall of Famer, who has won twice this season with the World of Outlaws, finished third in the opener of the Magic City Showdown and was eighth in the finale. He is one of just four drivers that has competed in all six of the races staged by the series at Nodak Speedway
"I'm glad to be back racing," shared Haudenschild after a podium finish on Friday night. "The car felt good tonight. We had a few weeks off and it feels good to be back. We're feeling pretty good and the hand feels good.
Welcome aboard: Craig Dollansky recently added crew chief Kirk Dewease to his team. Dewease, the brother of longtime Pennsylvania Posse standout Lance Dewease, began the season working with rookie contender Ben Gregg. Dollansky also has his brother Troy, who began the 2010 season with the team back on the road helping out. In addition, Dollansky has his son Luke helping turn the wrenches on his machine.
"Kirk (Dewease) has been doing a great job for us and we are glad to have him," said Dollansky after his win on Saturday night. "Along with my brother Troy and son Luke, everyone is working together really well right now. I couldn't be happier to pick up a win for everyone involved with this team. We'll just keep working hard and plugging away and are looking forward to the West Coast races."
Oh so close: Donny Schatz, who was born and raised in Minot, North Dakota, continues to seek his first World of Outlaws win at Nodak Speedway, where he has won two other times in his career. The four-time and defending series champion was running second in the opener of the Magic City Showdown on Friday night when he had a flat tire forcing him to the work area. He charged back through the field to finish seventh in that race. He used a late charge in the finale to come home third and has now finished seventh or better in five of the six World of Outlaws events at his hometown track.
"What an awesome facility this is," said Schatz on Saturday night. "Just look at that grandstand, that thing is amazing. Thanks to all of the fans that came out this weekend. It's always great to get back up here and race in front of so many people that I know."
Taking the NOSA Challenge Casey Mack, grandson of Hall of Famer Don Mack, earned a $3,000 bonus following the Magic City Showdown as he was crowned the winner of the NOSA (Northern Outlaw Sprint Association) Challenge, which pit NOSA drivers against the World of Outlaws in five events this season. The Challenge began at River Cities Speedway in Grand Forks, North Dakota in June, continued at North Central Speedway in Minnesota in July and wrapped up this past weekend with the two nights at Nodak Speedway. Mack had solid finishes in most of the races during the five-race mini-series including finishing 14 th on each of the two nights at River Cities Speedway as well as 14th in the opener at Nodak Speedway, which matched the best-ever finishes with the World of Outlaws.
Chris Shirek finished second in the NOSA Challenge to earn $2,000, with his brother Nick Shirek coming home third in the final tally, to earn a $1,000 bonus. Those three drivers, who were the only NOSA drivers to compete in all five events that comprised the challenge, earned event points each time they took to track for time trials, heat races and feature even during the five races.
"It's a blast racing with these guys and I have so much fun," shared Casey Mack. "It's always a good challenge racing against the best of the best. I love this track and race here every year and always have a good time."
Rave reviews; The World of Outlaws competed for the first time at Nodak Speedway this past weekend since a multimillion dollar renovation of the facility was completed. A brand new state-of-the-art grandstand was constructed, which is closer to the racing surface than the old grandstand, providing optimal viewing for the fans. The grandstand also featured a brand new state-of-the-art sound system. The track itself was reconfigured slightly to accommodate the new grandstand and additional lighting was added in the infield. Joey Saldana, who is one of just four drivers that has competed in all six World of Outlaws events at the high-banked 3/8-mile, was immensely impressed with all the changes at Nodak Speedway, which is located on the North Dakota State Fairgrounds. Saldana earned the overall title for the Magic City Showdown, as drivers earned event points each time they took to the track for time trails, heats races and feature events.
"This is a beautiful facility and they got a good show tonight," said Saldana after his win last Friday night. "For what they put into this place, they definitely were paid back tonight with a great race. Thanks to all of the fans for coming out tonight and also for coming out to the parade and the Meet & Greet and all of the other things that were going on this weekend."
A solid weekend: Chad Kemenah, the 2006 World of Outlaws Kevin Gobrecht Rookie of the Year, had a very consistent weekend at Nodak Speedway. He finished fifth in the opener on Friday night, which matched his best finish of the season, and he followed that up with a sixth-place performance in the finale to earn his 10th Top-10 finish of the season. He raced his way into the Dash each night to earn a Top-10 starting spot in the main event. Kemenah came from the 16th starting spot to sixth in the finale to earn the KSE Racing Products Hard Charger Award.
A strong run: Mark Dobmeier competed in the finale of the Magic City Showdown on Saturday night, coming home sixth, after making the tow over from Grand Forks. For Dobmeier, who has one career World of Outlaws win, it was his best finish of the season with the series. He has three Top-10 runs in 2010 with the World of Outlaws in a handful of starts. Following the race on Saturday night at Nodak Speedway, he and his team made the 7 ½-hour trip south to Huset's Speedway in South Dakota, where he finished third in a weekly event.
Up next: The 2010 Gold Rush Tour continues for the World of Outlaws with the Fourth Annual Oil City Cup at Castrol Raceway in Edmonton, Alberta, Canada on Friday, August 27 and Saturday, August 28, followed by a trip south to Cottage Grove Speedway in Oregon on Wednesday, September 1, before a visit to Skagit Speedway in Washington on Friday, September 3 and Saturday, September 4. The series then spends Labor Day at Grays Harbor Speedway in Elma, Washington on Monday, September 6 before heading to Silver Dollar Speedway in Chico, California, September 9-11 for the Gold Cup Race of Champions.
Photo galleries: The Media Gallery section of www.worldofOutlaws.com continues to be updated after each event. Visit http://www.worldofoutlaws.com/sprint/MediaGallery.aspx to see Photo Galleries from all 2010 World of Outlaws events. Photo Galleries from both nights of the Magic City Showdown will be posted soon.
Keep up with all the action: The number of "Followers" keeping up with the World of Outlaws via Twitter online and through text messages on cell phones continues to grow and recently surpassed the 4,800 "Follower" mark. Updates are provided throughout race nights beginning with hot laps and continuing all the way through the final checkered flag of the night. To sign-up visit: http://twitter.com/worldofoutlaws and receive live race updates, anywhere, anytime.
On sale now: Tickets for a number of premier World of Outlaws events are currently on-sale, including the event at Rolling Wheels Raceway Park in New York on October 9 and the World Finals at The Dirt Track at Charlotte, November 4-6. For tickets visit www.WorldofOutlaws.com/tickets.
The World of Outlaws Sprint Car Series is brought to fans across the country by many important sponsors and partners, including: Armor All (Official Car Care Products), Chizmark & Larson Insurance , Goodyear Tires (Official Tire), SuperClean (Official Cleaner-Degreaser), VP Racing (Official Racing Fuel); in addition to contingency sponsors, Jake's Custom Golf Carts, KSE Race Products, Penske Shocks , R2C Performance, Racing Electronics, S&S Volvo; Engine Builder's Challenge participants Don Ott Racing Engines, Kistler Engines, Shaver Specialties and Speedway Engines; and Chassis Builder's Challenge participants J&J Auto Racing, Maxim Racing and XXX Race Company.