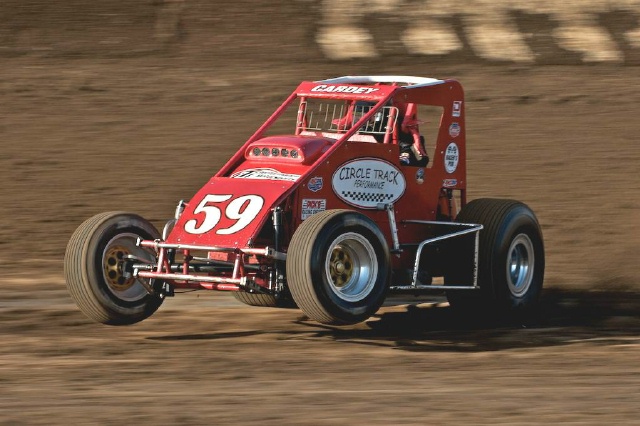 By Scott Daloisio
(SEPTEMBER 2, 2010, RIVERSIDE, CA) The attempt of Riverside, California's David Cardey to set a consecutive win streak record in USAC/CRA Sprint Car competition at Perris Auto Speedway came to a screeching halt before it ever began last Saturday at the start of the 30-lap main event. This weekend Cardey will be in action in the 3rd Annual Louie Vermeil Classis at the Calistoga Speedway on the Napa County Fairgrounds.
The veteran racer came into last Saturday's race with four straight wins on the famous Riverside County clay oval. That tied The PAS USAC/CRA record set by Tony Jones in 2008. Cardey's bid to break that record actually ended before he reached the start line to begin the race. Starting outside the second row, the 34-year-old had a good chance to win the 30-lapper and break the track record. However, when the green flag waved to begin the race, the car starting in front of Cardey got out of shape. He got into the other car's left rear tire and the contact caused a broken torsion arm on Cardey's red #59 Sprint Car. He was done for the night with a disappointing 22nd place finish.
Earlier in the night, the slender racer qualified fifth in the 26-car field and finished fourth in his ten-lap heat race.
Shrugging off the frustration from last week's main event tribulations, Cardey will hit the road to Northern California for this Saturday and Sunday's Louie Vermeil Classic. He will be wheeling a brand new Viper Chassis car supplied by iTi Performance. The car will be the familiar iTi bright red and will have Glenn Crossno's familiar #38 painted on the tale tank and the nose. The engine in the car will be the same won Cardey used on his birthday when he beat the best in the business in one of the Oval Nationals preliminaries in 2008. Many insiders consider that greatest ever-main event in The PAS' 15-season history.
David would like to thank all of the sponsors for making his 2010 season possible. Circle Track Performance, iTi Performance Motorsports, Pick's Racing Engines, Racer's Pub, 5-Star Gas & Gear, Monster Media, Down's Oil, Empire Plumbing, Spin Tech Performance Mufflers, Don Flanders and Scott Daloisio Sports. To add your company to the sponsor list of David Cardey Racing's team for the 2010 campaign, please use the contact information at the start or end of this release.
Attached to this release is a photo of David Cardey. Please feel free to publish the photo and please be sure to give photo credit to surfnsprint.com.
For more information on David Cardey Racing: contact or text Scott Daloisio at: (909) 226-7768. You can also E-mail: SDaloisioSports@aol.com.
2010 FINISHES
DATE TRACK DIVISION RESULT
February 27 Perris Auto Speedway USAC NAT. & CRA 10th A Main
March 20 Ventura Raceway VRA 11th A Main
March 27 Perris Auto Speedway USAC/CRA 16th A Main
April 10 Perris Auto Speedway USAC/CRA 11th A Main
May 29th Perris Auto Speedway USAC/CRA 1st A Main
June 5th Victorville Auto Raceway Open Comp. 1st A Main
June 12th Perris Auto Speedway USAC/CRA 1st A Main
July 3rd Perris Auto Speedway USAC/CRA 1st A Main
July 10th Victorville Auto Raceway Open Comp. 1st A Main
July 17th Perris Auto Speedway ASCS 2nd A Main
July 24th Victorville Auto Raceway Open Comp. 7th A Main
July 31st Perris Auto Speedway USAC/CRA 1st A Main
August 21st Victorville Auto Raceway Open Comp 2nd A Main
August 28th Perris Auto Speedway USAC/CRA 22nd A Main