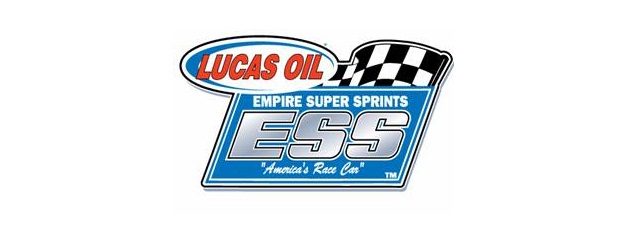 From Dean Reynolds
SYRACUSE, NY – The final checkered flag on the 27th Anniversary Tour for the Lucas Oil Empire Super Sprints (ESS) will be waved this Saturday evening at the Holiday Inn Carrier Circle in East Syracuse, NY. A sold out Grand Ballroom and a record cash point fund payoff will great 21 different drivers that earned their payoffs from ESS' seven different point standings.
St. Mathieu del Beloeil, Quebec's Steve Poirier will be sitting at the head table for the third time in his ESS sprint car career. On the strength of a consistent second half 2010 campaign, the driver of the FM Industries #28FM won six of the seven point standings and will take home the biggest chunk of the record cash point fund that is just a whisker shy of $39,000. With added contingencies which include the Lucky 21 Giveaway Program the total payout is well over $50,000.
While Poirier will be the night's highlighted driver, there will be 20 more top winged sprint car chauffeurs that will be in the celebration with many special awards to be handed out. Those awards include the Lane's Yamaha Rookie of the Year, the Brodix Cylinder Heads Hard Luck Award, the Lucas Oil Most Improved and Mechanic of the Year. Also, two of the most prestigious awards are the annual John Zentner Memorial and Malcolm Lane Award of Excellence will be presented.
Justin Barger, Lance Yonge, Chuck Hebing, Dan Kaszubinski and many of the very best from the ESS ranks will head to the podium in front of fellow drivers, crew members and fans to receive the congratulations that they deserve.
With the National Parts Peddler Trade Show and Auction being held the same weekend you can expect all of the ESS teams to walk the halls of the Center of Progress Building Friday and Sunday. Cocktail hour is at 5:30, the sit down dinner is served from 6:30 – 8:00 before emcee Mike Mallett takes to the microphone.
A reminder that the annual rules meeting will also be held at 10:00 AM where the membership votes on possible rule changes for the 2011 season.
November 20th is the date, Holiday Inn Carrier Circle is the site…It's the Lucas Oil Empire Super Sprints annual awards banquet and it will be excitement guaranteed. For more information, please log on to www.empiresupersprints.com
The Lucas Oil Empire Super Sprints are brought to you by: Lucas Oil, Northwood 2 Construction/LaSalle Motorsports, SUNY Canton, 730 Truck Stop, Hoosier Racing Tires, Les Constructions Ultra, Cooks Contracting Services, Fondations 4 Saisons, Car Mate Trailers, The National Parts Peddler Newspaper, WestFront Construction, Cobra Coaches, The Ohsweken Speedway, Mohawk Racing Parts, Engine Research, Brodix Cylinder Heads, Total Race Supply, Riverside Bar and Grill, Coffrage Daniel Lampron, Mohawk Valley Community College, FX Chevy and many, many associate sponsors.