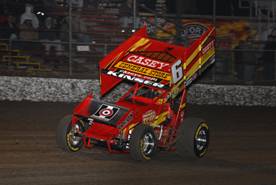 By Parsons Motorsports PR
Granger, IA—March 21, 2011—While the other drivers on the track are certainly the toughest competitors during a World of Outlaws event, Mother Nature can also be a formidable and unrelenting opponent. This past weekend the World of Outlaws were in "hurry up mode," both nights trying to beat impending rain on Friday and Saturday as the California Spring Break Swing continued. On Friday at Giant Chevrolet Kings Speedway, Mother Nature was the victor, just as the 35-lap main lined up on the track, while on Saturday at Groppetti Automotive Thunderbowl Raceway it was the World of Outlaws getting in all 35 laps of the scheduled event before some late night precipitation.
For Kraig Kinser, his first feature start at Kings Speedway will have to wait until Thursday, March 31 as the series will return to the 3/8-mile to run the 35-lap main event, which will set up three races on consecutive nights at three different tracks to wrap up the California Spring Break Swing. The third generation driver is scheduled to line up in the 11th row for the 35-lap contest aboard the Casey's General Store Maxim with Kistler power under the hood, after racing his way into the main event via The Last Chance Showdown last Friday night in his first appearance at Kings Speedway.
In the weekend finale at Thunderbowl Raceway Kinser worked his way to a 15th-place finish after lining up 20th. The native of Bloomington, Indiana finished sixth in the second heat race to earn a spot in the 35-lap main event. He lined up 20th on a double file restart on the 16th lap and picked up four more spots the next lap as a number of cars ahead of him were caught up in an accident. Kinser lined up 14th on the final restart of the night which was a single file one on the 17th lap and ended up running in that spot for the remainder of the contest to pick up his seventh finish of 14th or better on the season.
Kinser is currently 11th in the World of Outlaws standings after nine events, just five markers out of the Top-10 with still nearly 60 races remaining on the season.
After a break this coming weekend, the World of Outlaws return to action on Thursday, March 31 with the main event at Kings Speedway in Hanford, followed by the series debut at Merced Speedway on Friday, April 1 and a return to Calistoga Speedway on Saturday, April 2.
Kraig on the weekend:
"It was definitely a challenging weekend with the weather. It was good to get the race at Tulare in. We were a little off in qualifying both nights and right now qualifying is so important. We are working really hard on that. Everyone will get a little time to regroup this week and we look forward to coming back for the three races to wrap up the California swing the following weekend."
Kings Speedway & Thunderbowl Raceway Results
Date
Time
Trials
Heat
Start
Heat Finish
Dash Start
Dash Finish
Feature Start
Feature Finish
Points
March 18
21st
7th
7th
–
–
21st
–
11th
March 19
20th
7th
6th
–
–
20th
15th
11th
Kraig Kinser By the Numbers: Kings Speedway & Thunderbowl Raceway
1-Career appearance at Kings Speedway
5- Points out of the Top-10 in the World of Outlaws standings
9-Feature starts at Thunderbowl Raceway dating back to 2004
11- Position in points after nine races
12.6- Average finishing position this season through nine feature events
13.405- Lap in time trials at Thunderbowl Raceway
13.613- Lap in time trials at Kings Speedway
15- Finishing position at Thunderbowl Raceway
20-Starting spot at Thunderbowl Raceway
21-Starting spot in the main event at Kings Speedway which will be run on March 31
120-Points earned at Thunderbowl Raceway
1125- Points earned through March 19
11,850- Dollars earned through the first nine events of 2011
Up Next: March 31: Giant Chevrolet Kings Speedway, Hanford, CA
April 1: Merced Speedway, Merced, CA
April 2: Calistoga Speedway, Calistoga, CA