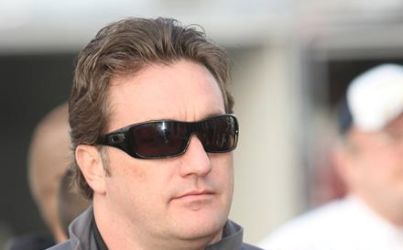 By Bill W
March 29, 2011 – Kosama of Altoona, Iowa is the latest to take advantage of Terry McCarl's nightly sponsors for the TMAC Motorsports team. The fitness club will be sponsoring two nights at Knoxville Raceway, May 14 and July 9. The sponsorship will not only cover the VerMeer Racing #55, but also the T-MAC Motorsports #17A driven by Austin McCarl.
TMAC's wife Lori has benefited from the Kosama program. "I am very impressed with Kosama," says TMAC. "I've watched what it has done for Lori. She's like the Energizer Bunny now. She is in great shape, and is really happy. Austin and Carson are going to start doing it too, and as soon as I think my leg is capable, I'm going to jump in as well."
The program is popular and has taken central Iowa by storm. Those who have gone through it are talking about how great it is! "The program is ten weeks, and they are having over 50% of the people completing it, who want to do it again," says TMAC. "Lori is one of those. She is addicted."
Kosama of Altoona is just the latest in a number of entities who are choosing to partner with T-MAC Motorsports on a nightly basis. That makes for an affordable option in being a part of a sprint car team. There are still nights available. "We're still doing the weekly sponsorships on the #24, Austin's car and on Carson's 305," says TMAC. "It's a really good way to get your company out there, and it's working for the companies who have come on board. That's the important part of it."
For more info or for other pricing info in partnering on a weekly basis, please contact the T-MAC Motorsports office at (515)-957-0020 or e-mail tmacmotorsports@aol.com.
TMAC's next driving duties will be aboard Gary Swenson's popular #24A as they take on the ASCS-Midwest series April 8 and 9 at the I-80 Speedway near Greenwood, Nebraska. Both features pay $3,000 to win.
Websites for the McCarl Gang!
Driverwebsites.com develops the websites for the McCarl boys. Check out www.TerryMcCarl.com, as well as www.AustinMcCarl.com and www.CarsonMcCarl.com!
"Tuesdays with TMAC"!
"Tuesdays with TMAC" is an up close and personal look at colorful sprint car veteran Terry McCarl. To receive "Tuesdays with TMAC", send an e-mail to sprntcar@iowatelecom.net with "TMAC" in the subject line.
TMAC Motorsports would like to thank sponsors Deanfield Farms, Eagle Chassis, DeBerg Concrete, AmeriCashAdvance.com, RFG, Phil and Vivian, Mark Burch Motorsports, Ryan Yager Trucking, Vortex Racing, Hoosier Tire, Schoenfeld Headers, K&N Filters, Don Ott Engines, HRP, All Pro Cylinder Heads, Bob and Beulah Elder, Country Builders Construction, Engler Injection, T&P Brothers, Winters, DriverWebsites.com, CM Rock, Jocko's Sprint Parts, Sander, Brown and Miller, Morris Automotive, Chase Graphics, Pro Shocks, Mac Tools, Ben Cook, Bell Helmets, Burnettt's Rock and Landscaping, Morgan Strawberry Farms, Bulldog Pest Control, Aurora Rod Ends, Crow Safety, Justice Brothers, KSE Steering, CIP Racing Hoods, Strange Performance, Saldana Racing Products, Scribner Plastics, Waterman Fuel Pumps, Weiland Racing, Butlerbuilt and PBS Bushings.