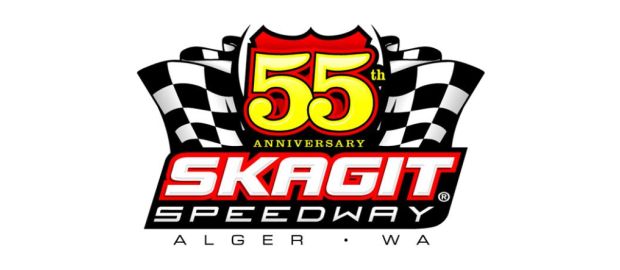 From Kelly Hart
Alger, WA — With the preliminary night win in last years 360 Nationals and some travelling early in the season under his belt, Josh DeWitt nailed the wire to wire win in the 410 Sprints on opening night at ASA member track Skagit Speedway. It was DeWitt leading on the initial start when Barry Martinez spun in turn 2. On the restart he rocketed to a huge lead that was eclipsed on the fifth lap when Austen Wheatley hit the turn the turn one wall and tore out a torque tube and driveline. DeWitt led the rest of the laps with defending champion Jesse Whitney and Travis Jacobson waging a spirited battle for second. Danielle Huson and Eric Fisher passed and re-passed each other numerous times as racers flew around the 3/10th mile clay. At the finish line DeWitt claimed his first ever 410 Sprint win followed by Whitney, Jacobson, Fisher and Huson. Fisher and Wheatley won the heats. Whitney was fast time at 11.645. The Weld Wheels Hard Charger Award was won by Whitney.
Defending 360 Nationals Champion Jacobson did double duty in the Shaylen Rae Motorsports #18 and started the evening by setting fast time in the Budweiser 360 division with a 12.023 second lap. Devin Madonia and Chad Hillier won the heat races. In the 25 lap Main Event Madonia flew out to a huge lead when something went sour on the 10th lap bringing out the yellow. Danny Kirkpatrick took over the lead and held on for his first win in a few years. At the line it was Kirkpatrick over Mack Brown with Jared Peterson third. The Weld Wheels Hard Charger was Peterson.
Former Cook Road Shell Sportsman Sprint Champion Steve Parker led all 20 laps of a wild Sportsman Sprint main. Parker beat Cory Swatzina and James Bundy with Derek Roberts and Rob Schroder rounding out the top 5. Paul Burdick and Derek Roberts won the heats. The Weld Wheels Hard Charger award winner was James Bundy.
For Outlaw Hornet driver Rick Young the monkey is now officially off his back. Young has scored many second place finishes in his Outlaw Hornet career but never a win. Tonight he led all 17 laps for his first ever victory. The first lap saw cars four wide coming out of turn number two and the action was fast and furious going green to checkered. Wade Swatzina and John Gunderson filled out the podium. The heat race winners were Young and Gunderson. Stacey Sims was the O'Reillys Auto Parts Hard Charger.
Next week all 4 classes return to action at Skagit Speedway. Racing starts at 7pm with the spectator gates opening at 530. For more information about Skagit Speedway go online to skagitspeedway.com.
RESULTS
410 Sprints
Fast time Jesse Whitney 11.645
Heat 1: Austen Wheatley, Whitney, Kevin Smith, Danielle Huson, Barry Martinez
Heat 2: Eric Fisher, Chris Schmelzle, Travis Jacobson, Josh DeWitt, Alec Covert
Main: Josh DeWitt, Whitney, Jacobson, Fisher, Huson, Smith, Martinez, Schmelzle, Kelleigh Johnson, Wheatley
Budweiser 360 Sprints
Fast time Travis Jacobson 12.023
Heat 1: Devin Madonia, Randy Price, Travis Jacobson, Tyler Anderson, Jared Peterson
Heat 2: Chad Hillier, Kelsey Carpenter, Mack Brown, Danny Kirkpatrick, Rod Perkins
Main: Danny Kirkpatrick, Brown, Peterson, Carpenter, Jacobson, Anderson, Price, Steve James, Madonia, Hillier, Alan Munn
Cook Road Shell Sportsman Sprints
Heat 1: Paul Burdick, Steve Parker, Eric Thibert, Michael Hodel, Cory Swatzina
Heat 2: Derek Roberts, Bill Rude, Rob Schroder, Cale Brooke, Ben Gunderson
Main: Steve Parker, Cory Swatzina, James Bundy, Roberts, Schroder, Dave Meade, Clayton Sibley, Brooke, Rude, Gunderson, Burdick, Thibert, Hodel
Outlaw Hornets
Heat 1: Rick Young, Freddy Vela, Ken Higby, Matt Ploeg, Clint Meins
Heat 2: John Gunderson, Wade Swatzina, John Edwards, Tom Warner, Tina Thibert
Main: Rick Young, Swatzina, Gunderson, Warner, Vela, Edwards, Ploeg, Cliff Ballenger, Higby, Stacey Sims, Thibert, TJ Campbell, Adam Nelson, Rich Powers, Meins, Matt Powers, Jesse Swint