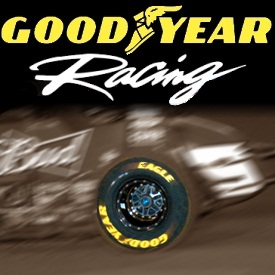 By Lee Elder
MARYSVILLE, Calif. (May 2, 2011) – Willie Croft took the lead before the halfway point and won the Golden State King of the West sprint car race at Marysville Raceway Park.
Goodyear is the Official Tire Company for the series, a circuit for winged sprint cars powered by 410 cubic inch engines. The cars are similar to those campaigned by other touring sprint car programs around the country and the bias-ply Goodyear Eagle tires come from the same line the other sprint car programs use.
Croft's win, his first this season, came after he set a track record for the King of the West series in qualifying. His record lap around the banked, quarter-mile clay oval lasted only 12.111 seconds.
Tim Kaeding finished second, his third podium finish in four races this season. Andy Gregg finished third, followed by Jonathan Allard and Brent Bjork. Allard led the opening laps before Croft went ahead.
There were 25 entrants in the Marysville event.
Kaeding leads the standings with 625 points. Jonathan Allard is next with 596.
More information about Goodyear Racing is available at www.racegoodyear.com. More information about the King of the West program is available at www.kingofthewestsprintcarseries.com.