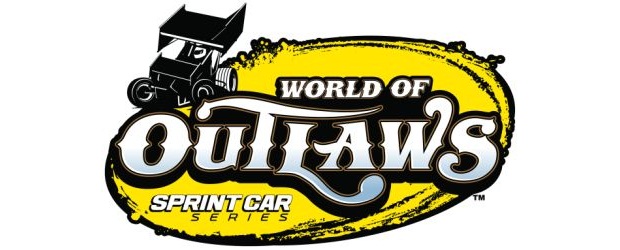 By Kyle Luetters
CONCORD, N.C. – May 4, 2011 – Joey Saldana has a score to settle this weekend at Eldora Speedway when the World of Outlaws Sprint Car Series invades the historic half-mile venue in western Ohio for Outlaw Thunder Weekend presented by Goodyear.
Last fall, Saldana was leading the World of Outlaws Sprint Car Series championship standings when the A-main took the green flag. He had already won twice with the Outlaws last season at Eldora when a caution led to a huge wreck that knocked out Saldana, literally. The incident left him with a concussion that prevented him from competing the next night at Lernerville Speedway and for the most part dashed any hope of contending for the championship.
Now Saldana returns Friday to Eldora back on top of the standings, leading by nine points over 20-time champion Steve Kinser.
"I don't really remember much after I came off the corner," said Saldana, a native of Brownsburg, Ind., who drives the #9 Red Bull Maxim. "I got a little too close to Sammy (Swindell) and he next thing I knew, I was in a hospital bed."
Saldana returned in time last season for the National Open at Williams Grove Speedway in Mechanicsburg, Pa. However, the damage had been done. Saldana lost the lead in the tight points battle and would eventually finish fourth overall behind Jason Meyers, Donny Schatz and Steve Kinser. During the off-season, Saldana focused on improving his mind and his body.
"I started working out with Pit Fit, a company based in Indianapolis, to really work on my hand-eye coordination and my physical well being," said Saldana, a father of two boys. "After you have a concussion, your brain slows down. It only gets worse the more you have. This was my third one but by working with Pit Fit, I was able to recover a whole lot faster and I feel stronger than I ever have."
Saldana, who has eight World of Outlaws wins in his career at Eldora, will use his newfound strength to continue his quest for his first World of Outlaws series crown. After winning the most races the past two seasons, (20 in 2009 and 13 in 2010) the 1996 Kevin Gobrecht Rookie of the Year has his sights set firmly on bringing home the first championship for himself and owner Kasey Kahne.
"We've done a great job of winning races the past two years but we haven't been as consistent as we've needed to be," said Saldana, a two-time winner already this season. "This year we are really focusing on finishing consistently and being there at the end so we can bring home a title."
Saldana will lead the pack of hungry drivers into the Buckeye State and the first of five nights of racing in 2011 at Tony Stewart's Eldora Speedway. The Outlaw Thunder Weekend presented by Goodyear kicks off on Friday and continues through Saturday. Tickets are on sale now at www.EldoraSpeedway.com or by calling the track office at (937) 338-3815.
The World of Outlaws Sprint Car Series is brought to fans across the country by many important sponsors and partners, including: Armor All (Official Car Care Products), STP (Official Fuel Treatment), Goodyear Tires (Official Tire), Chizmark & Larson Insurance , Factory Motor Parts, VP Racing (Official Racing Fuel), Vicci (Official Apparel); in addition to contingency sponsors, Jake's Custom Golf Carts, RacingJunk.com KSE Race Products, Racing Electronics, S&S Volvo; Engine Builder's Challenge participants Don Ott Racing Engines, Kistler Engines, Shaver Specialties and Speedway Engines; and Chassis Builder's Challenge participants J&J Auto Racing, Maxim Racing and XXX Race Company.