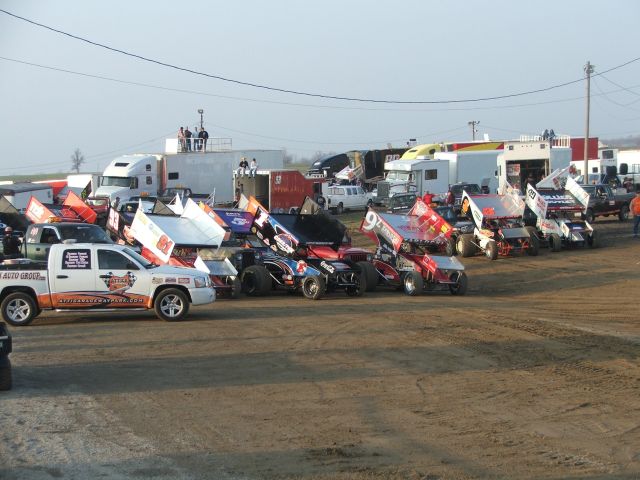 From Brian Liskai
ATTICA, OH – It's time for the talented sprint car teams of Attica Raceway Park to step up and defend their turf…and it could mean a lot of cash.
When the World of Outlaw Sprint Car Series invades "Ohio's Finest Racing" speed plant on Friday, May 20, not only will the Attica stars be gunning for the $10,000 top prize in the Kistler Engines Classic, but for some big bonus money too.
Any driver in the top 25 in the weekly Attica point standings after May 13 will be eligible for several cash and contingency bonuses of over $10,000.
If one of the top 25 in Attica points can defeat the World of Outlaw regulars and win the feature he/she will receive a $2,500 bonus from Attica Raceway Park and a $1,000 bonus from the O'Reilly Auto Parts All Star Circuit of Champions if the winner of the race is in the All Star's national Top-10 in points through May 14.
Additional bonus contingency's are from Kistler Engines, Gressman Powersports and Level Performance. If the feature winning driver – who is in Attica's top 25 in points – is running one of their engines, he/she will receive a $2,000 gift certificate from that winning engine company. Also, All Pro Aluminum Heads is giving a $250 gift certificate if the winner is using All Pro Heads.
Attica Raceway Park will also give the highest finisher in the A-Main who is in the track's top 25 in points a $500 bonus. If a driver in the top 25 in points wins the race then the second highest finisher in the top 25 in points will get the $500 bonus.
And if all of those bonuses aren't enough, as an extra incentive for the Attica regulars, track promoter John Bores will pay the World of Outlaws membership fee for any team in the top 25 in the track's points after May 13 (if that team does not already have a membership).