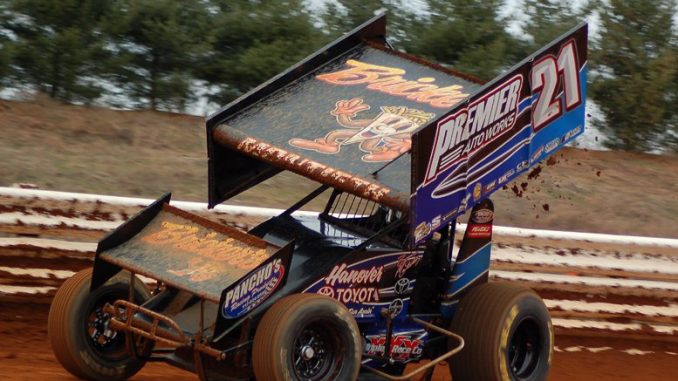 From Lincoln Speedway
Abbottstown, PA — (May 28, 2011) — Lincoln Speedway is Brian Montieth's house.
He proved it again Saturday night, leading from start to finish to claim the $5,000 top prize over a stellar field in the 30-lap Keystone Cup Series feature event.
"It was mine to lose," said Montieth matter-of-factly upon exiting his Premier Auto Works/Auto Locator #21 in victory lane, "You start on the front row of a track like this…the bottom sorta slowed down…and, obviously, it was tough getting through traffic…and I was sorta glad to see the yellows come out, I know it was going to get interesting."
Some would have challenged that, with both Aaron Ott and Daryn Pittman looking strong in their qualifying events and starting first and third.
"Daryn scared me there in the heat race, because he was getting through the middle well," said Montieth, "And Aaron actually looked a lot better tonight than he has in a while, so congrats to that team."
But Lincoln's three-time defending track champ started on the outside of the front row and road the cushion to the lead through the first two turns and never looked back. Although he encountered lapped traffic as early as lap five and raced wheel-to-wheel while trying to hold off Ott over the middle stages of the race, Montieth pulled away after a 26th lap caution (for Doug Esh stopped on the front stretch) to a 3.03-second win.
It was Montieth's third win of the year, moving him into a tie with Stevie Smith and Greg Hodnett for 12th on Lincoln's all-time win list with 23.
Ott settled for second, with fourth-starting Fred Rahmer, Mark Smith, and ninth-starting Lance Dewease completing the top five. Sixth through tenth were Pittman, Greg Hodnett, Gerard McIntyre, Jr., Sam Hafertepe, Jr., and Danny Dietrich.
Rahmer's third-place finish vaulted him into the Keystone Cup Series points lead with two races remaining (Selinsgrove Sunday night and Big Diamond on Monday). Rahmer has tallied 288 points after the Grandview and Lincoln shows, with Montieth second (265 points). Dewease, Mark Smith, and Pittman are all tied for third with 249 points.
Heats for the "410" Sprinters were won by Ott, Bill Stine, Montieth, and Dietrich, with Sam Schlosberg winning the consolation.
Fast time in time trials over the 35-car field was set by Brian Leppo with a one-lap time of 13.606 seconds (99.221 MPH). Leppo suffered mechanical problems while dominating the first qualifying event and scratched for the night.
Hanover's Justin Mong started on the pole and led every lap en route to his first career Lincoln Speedway Thundercar win in the 20-lap feature. But the win didn't come easy.
Point leader Sam Gallagher came from the rear of field to finish third, with Mike Slaybaugh fourth and Jimmy Combs fifth.
Completing the top-10 were Rick Weaver, Mikey Guise, Danny Beard, Jamie Zentmyer, and Kyle Martin.
Outside frontrow starter Will Walls pulled onto Mong's bumper at the drop of the green and pressured him every lap, and made it side-by-side several times. But Mong was determined and held of Walls for his inaugural Lincoln win by 2.23 seconds.
Heats for the 20 Thundercars were won by Justin Mong and Rick Weaver.
Wrightsville teenager Bill Diehl, who will graduate from Eastern High School next weekend, scored his first Lincoln win in the 15-lap Central PA Legends feature. Diehl, 18, started on the pole and led every lap despite heavy pressure from Blaine Leppo over the second half of the race.
The first half of the event saw five cars challenge Diehl for the top spot, and that was only after two-time defending series champ Lucas Montgomery and Chad Glatfelter collided right under the flagstand. Both drivers were done for the night.
Blaine Leppo settled for second, with Harlon Leppo, Bob Stough, and Tim Henry completing the top five.
Heats for the 24 Central PA Legends were won by Henry, Chad Glatfelter, and Blaine Leppo.
Lincoln Speedway swings back in to action for a special mid-week show this coming Wednesday, June 1st, with the much anticipated return of the USAC "Eastern Storm" AMSOIL National Sprint Car Series. The traveling wingless sprinters will be joined by the 600cc Micro-Sprints. Time Trials will begin at 7:30 PM, with gates opening at 5:30 PM.
Then next Saturday night, June 4th at 7 PM, Lincoln Speedway will present the 8th Annual Weldon Sterner Memorial for the Lawrence Chevrolet 410 Sprinters and will be joined by the Keizer Aluminum Wheels 358 Sprints & Thundercars. Gates will open at 5 PM.
To get all the latest news, results, schedule changes and rule changes, visit Lincoln Speedway's website at http://www.lincolnspeedway.com to stay up-to-date on all the action or pending weather conditions at Central Pennsylvania's "Premier" Saturday night race track – The Fabulous Lincoln Speedway.
RACE RESULTS
Saturday, May 28, 2011
LINCOLN SPEEDWAY
Abbottstown, PA
5th ANNUAL KEYSTONE CUP
LAWRENCE CHEVROLET 410 SPRINTS
Feature (30-Laps) – 1. 21-Brian Montieth ($5,000); 2. 77-Aaron Ott; 3. 51-Fred Rahmer; 4. 7M-Mark Smith; 5. 30C-Lance Dewease; 6. 27-Daryn Pittman; 7. 39-Greg Hodnett; 8. 85-Gerard McIntyre, Jr.; 9. 93-Sam Hafertepe; 10. 48-Danny Dietrich; 11. 1-Stevie Smith; 12. 15-Adam Wilt; 13. 71X-Bill Stine; 14. 6-Brad McClelland; 15. 87-Alan Krimes; 16. 17-Tyler Walker; 17. 11C-Cory Haas; 18. 70-Sam Schlosberg; 19. 7-Chad Layton; 20. 35-Justin Henderson (DNF); 21. 30-Doug Esh (DNF); 22. 12-Mike Bittinger (DNF); 23. 84C-Chad Criswell (DNF); 24. 59-Jim Siegel (DNF). No Time
Lap Leaders – Brian Montieth (1-30)
1st Heat (10 Laps/5 to qualify) – 1. 77-Aaron Ott; 2. 7M-Mark Smith; 3. 30C-Lance Dewease; 4. 6-Brad McClelland; 5. 30-Doug Esh; 6. 59-Jim Siegel; 7. 747-Davey Sammons; 8. 65-Johnny Mackison, jr.; 9. 71-Brian Leppo (DNF). No Time
2nd Heat (10 Laps/5 to qualify) – 1. 71X-Bill Stine; 2. 93-Sam Hafertepe; 3. 39-Greg Hodnett; 4. 17-Tyler Walker (2-spot penalty for jumping); 5. 87-Alan Krimes; 6. 69-Tim Glatfelter; 7. 21K-Kyle Pruitt; 8. 44-Frank Cozze; 9. 4-John Rudisill. Time – 2:35.927
3rd Heat (10 Laps/5 to qualify) – 1. 21-Brian Montieth; 2. 51-Fred Rahmer; 3. 85-Gerard McIntyre, Jr.; 4. 15-Adam Wilt; 5. 7-Chad Layton; 6. 12-Mike Bittinger; 7. 14-Doug Dodson; 8. 70-Sam Schlosberg; 9. 26-Pat Cooper. No Time
4th Heat (10 Laps/5 to qualify) – 1. 48-Danny Dietrich; 2. 27-Daryn Pittman; 3. 1-Stevie Smith; 4. 11C-Cory Haas; 5. 35-Justin Henderson; 6. 19M-Brent Marks; 7. 84C-Chad Criswell; 8. 92-Justin Collett. Time – 2:41.717
Consolation (12 Laps/4 to qualify) – 1. 70-Sam Schlosberg; 2. 12-Mike Bittinger; 3. 84C-Chad Criswell; 4. 59-Jim Siegel; 5. 65-Johnny mackison, Jr.; 6. 14-Doug Dodson; 7. 92-Justin Collett; 8. 4-John Rudisill; 9. 26-Pat Cooper; 10. 747-Davey Sammons (DNF); 11. 69-Tim Glatfelter (DNF); 12. 19M-Brent Marks (DNF); 13. 21K-Kyle Pruitt (DNF); 14. 44-Frank Cozze (DNF). No Time
Time Trials – 1. 71-Brian Leppo, 13.606 seconds (99.221 MPH); 2. 71X-Bill Stine, 13.687; 3. 21-Brian Montieth, 13.811; 4. 48-Danny Dietrich, 13.826; 5. 77-Aaron Ott, 13.834; 6. 93-Sam Hafertepe, 13.863; 7. 51-Fred Rahmer, 13.931; 8. 35-Justin Henderson, 13.986; 9. 30C-Lance Dewease, 13.992; 10. 69-Tim Glatfelter, 14.008; 11. 12-Mike Bittinger, 14.033; 12. 1-Stevie Smith, 14.047; 13. 7M-Mark Smith, 14.085; 14. 87-Alan Krimes, 14.093; 15. 70-Sam Schlosberg, 14.096; 16. 84C-Chad Criswell, 14.105; 17. 30-Doug Esh, 14.110; 18. 17-Tyler Walker, 14.111; 19. 85-Gerard McIntyre, Jr., 14.141; 20. 27-Daryn Pittman, 14.158; 21. 6-Brad McClelland, 14.193; 22. 39-Greg Hodnett, 14.259; 23. 15-Adam Wilt, 14.283; 24. 19M-Brent Marks, 14.285; 25. 59-Jim Siegel, 14.383; 26. 21K-Kyle Pruitt, 14.435; 27. 14-Doug Dodson, 14.457; 28. 11C-Cory Haas, 14.540; 29. 65-Johnny Mackison, Jr., 14.700; 30. 4-John Rudisill, 14.722; 31. 7-Chad Layton, 14.734; 32. 92-Justin Collett, 14.763; 33. 747-Davey Sammons, 14.797; 34. 44-Frank Cozze, 14.825; 35. 26-Pat Cooper, 15.129
THUNDERCARS
Feature (20-Laps) – 1. Justin Mong; 2. 21W-Will Walls; 3. 25-Sam Gallagher; 4. 61-Mike Slaybaugh; 5. 54J-Jimmy Combs; 6. 70-Rick Weaver; 7. 93-Mikey Guise; 8. 60-Danny Beard; 9. 81J-Jamie Zentmyer; 10. 54-Kyle Martin (DNF); 11. 3-Todd Miller (DNF); 12. 44-Tom Walls (DNF); 13. 2W-Brian Walls (DNF); 14. 3W-Duane Watson (DNF); 15. 54W-Roy Warehime (DNF); 16. 18-Bob Johnson (DNF); 17. 36-Gary Warehime (DNF); 18. 14-Andrew Walls (DNF); DNS – 11-Chuck Walls, 33-Kenny Kluge. No Time
Lap Leaders – Justin Mong (1-20)
1st Heat (8 Laps/all qualify) – 1. 77-Justin Mong; 2. 44-Tom Walls; 3. 60-Danny Beard; 4. 3W-Duane Watson; 5. 54W-Roy Warehime; 6. 93-Mikey Guise; 7. 18-Bob Johnson (DNF); 8. 33X-Kenny Kluge (DNF); 9. 3-Todd Miller (DNF); 10. 14-Andrew Walls (DNF). No Time
2nd Heat (8 Laps/all qualify) – 1. 70-Rick Weaver; 2. 21W-Will Walls; 3. 54J-Jimmy Combs; 4. 61-Mike Slaybaugh; 5. 81j-Jamie Zentmyer; 6. 54-Kyle Martin; 7. 25-Sam Gallagher (DNF); 8. 2W-Brian Walls (Penalized – no radio); DNS – 11-Chuck Walls, 36-Gary Warehime. No Time
CENTRAL PA LEGENDS
Feature (15 Laps) – 1. 53-Bill Diehl; 2. 10-Blaine Leppo; 3. 15H-Harlon Leppo; 4. 07-Bob Stough; 5. 94T-Tim Henry; 6. 44-Scott Gobrecht; 7. 28-Brent Marquis; 8. 46-Pat McDermott; 9. 222-Josh Morrow; 10. 5-Scott Haudeshell; 11. 4-Shane Glatfelter; 12. 21-Greg Burd; 13. 38-Rick Miller; 14. 890-Tim Bauer; 15. 49-John Hall; 16. 14W-Ed Wentz; 17. 79-Ed Trump; 18. 77-Randy Fetterhoff; 19. 9-Rick Hartwig; 20. 911-Mark Roberts; 21. 75R-Randy Minnich (DNF); 22. 15-Lucus Montgomery (DNF); 23. 27-Chad Glatfelter (DNF); DNS – z-Jim Black. No Time
Lap Leaders – Bill Diehl (1-15)
1st Heat (6 Laps) – 1. 94T-Tim Henry; 2. 07-Bob Stough; 3. 15H-Harlen Leppo; 4. 222-Josh Morrow; 5. 28-Brent Marquis; 6. 5-Scott Houdeshell; 7. 14W-ed Wentz; 8. 9-Rick Hartwig. Time – 2:04.22
2nd Heat (6 Laps) – 1. 27-Chad Glatfelter; 2. 44-Scott Gobrecht; 3. 75R-Randy Minich; 4. 49-John Hall; 5. 79-Ed Trump; 6. 46-Pat McDermott; 7. 77-Randy Fetterhoff; 8. Z-Jim Black (DNF). No Time
3rd Heat (6 Laps) – 1. 10-Blaine Leppo; 2. 15-Lucas Montgomery; 3. 53-Bill Diehl; 4. 4-Shane Glatfelter; 5. 38-Rick Miller; 6. 21-Greg Burd; 7. 911-Mark Roberts; 8. 890-Tim Bauer. No Time