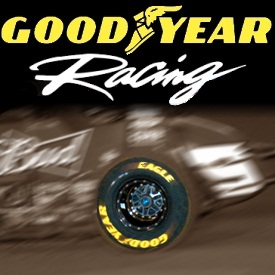 By Lee Elder
CALISTOGA, Calif. (June 1, 2011) – Tim Kaeding increased his lead in the Golden State King of the West sprint car series when he won the Salute to Walt Ross race at Calistoga Speedway here.
Goodyear is the exclusive tire provider for the King of the West series, as well as for other touring series for winged sprint car racing. The bias-ply Goodyear Eagles supplied for the western series are from the same line of tires as those the tiremaker manufactures for the World of Outlaws Sprint Car Series.
Kaeding, a former King of the West series champ, expected to compete with another former series titlist, Jonathan Allard, for the win at Calistoga after Allard recorded the fastest time in qualifying. But Allard crashed out of the race.
Kaeding was followed to the finish by Kyle Larson, Ian Madsen, Evan Suggs and Toni Lutar. The event attracted 28 entrants.
Kaeding has 1,060 points. Suggs is second with 1,025 and Brent Kaeding, Tim's Dad, is third with 1,000.
More information about Goodyear Racing is available at www.racegoodyear.com. More information about the King of the West Series is available at www.kingofthewestsprintcarseries.com.