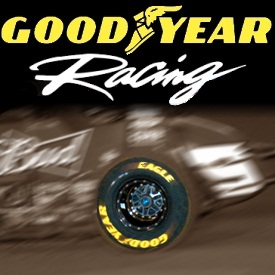 By Lee Elder
Peter Murphy and Jonathan Allard won races and Allard set a record in two Golden State King of the West Series sprint car races.
Murphy's win came at Silver Dollar Speedway in Chico, Calif., while Allard won at Southern Oregon Speedway in Medford. Allard set a track qualifying record at Silver Dollar.
Goodyear is the exclusive tire provider for the Series. The bias-ply tires used by the King of the West competitors come from the same line of tires Goodyear supplies for various other touring series and weekly track programs across the country.
Murphy's win came in the Tribute to Gary Patterson/Dave Bradway Jr. race. Roger Crockett finished second, followed by Tim Kaeding, Brent Kaeding and Ian Madsen.
Allard's win came just ahead of Tim Kaeding. Madsen was third, followed by Evan Suggs and Brent Kaeding. Kenny Allen had the fastest time in qualifying.
More information about Goodyear Racing is available at www.racegoodyear.com. More information is available at www.kingofthewestseries.com.